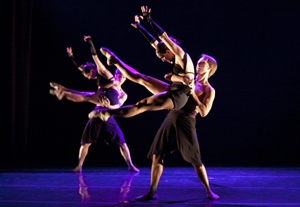 Chicago's dance scene is bursting with impressive jazz and contemporary companies. At the top of the heap, among stalwarts such as
Hubbard Street Dance Chicago
, is
Thodos Dance Chicago
. The group presents work by nationally recognized masters, including Paul Taylor and Lar Lubovitch, as well as a large amount by troupe founder Melissa Thodos. A classically trained dancer who fell in love with modern dance at Skidmore College, Thodos danced with a variety of Chicago companies before establishing her troupe in 1992. She is continually evolving her choreographic style, and her work is known for its earthy, athletic, sensual aesthetic.
In addition to building a Chicago home for American-made choreography, Thodos' company has created a safe, fertile breeding ground for new choreographers; all of her dancers are current or aspiring dance makers. "When I danced with the now-defunct Chicago Repertory Dance Ensemble, not only was I a dancer but I was also teaching and choreographing," Thodos says. "My work was being produced, and it was so enriching as a complete artist." To manifest her desire to support new artists in the same way, each year Thodos presents "New Dances," a program of eight new pieces choreographed by her dancers, capped by one piece from an established choreographer. The company will offer the 12th round of this community favorite July 27-29 at the Ruth Page Center for the Arts.
"My company structure is unique," Thodos says. "I bring in diverse, nationally recognized choreographers, along with presenting my own work, for the benefit of our audiences as well as my company dancers, who can learn from them. Then, after this mentoring, their own voices develop. This not only increases their own artistic capabilities, but also, when they're working in the room as dancers, they're much smarter and [more] empathic. They can understand what it's like to be in the choreographer's shoes throughout the whole process. They pick up material faster and are more engaged because they are choreographers themselves."
Along with nurturing company members in this way, Thodos Dance encourages non-troupe dancers with a
summer intensive
, this year running Aug. 6-11 at the Drucker Center. Geared to preprofessionals and professionals 16 and up, the intensive is yet another way to support budding artists, both in technique and in creation. "All of the programs are based on our mission of education, creation, and performance in dance," she says. "In addition to training in ballet and modern dance and learning repertory of the company, we also activate the participants' choreographic skills with daily composition class. Then we end the day with body wellness class for the health of the whole artist, which matches the premise of our company."
For dancers interested in the company and its mission, Thodos says the intensive is a smart way to gain mutual exposure. "Dancers can explore what our company's about, what our repertoire feels like on their body, and the opportunities we offer," she says. "And it's a great way for us to see who they are as a dancer in a substantial way."
Looking forward, Thodos hopes all of these initiatives will grow to include even more programming that fosters artistic growth in the Chicago community. She'll keep a keen eye on the business side of her company to maintain stability and prosperity, and use the immense Chicago network to underpin her efforts. "Between Billy Siegenfeld,
Winifred Haun
, Glenn Edgerton, and many other esteemed colleagues, there's tons of sharing and opportunity in Chicago's dance community. It's important to keep those artistic resources thriving."