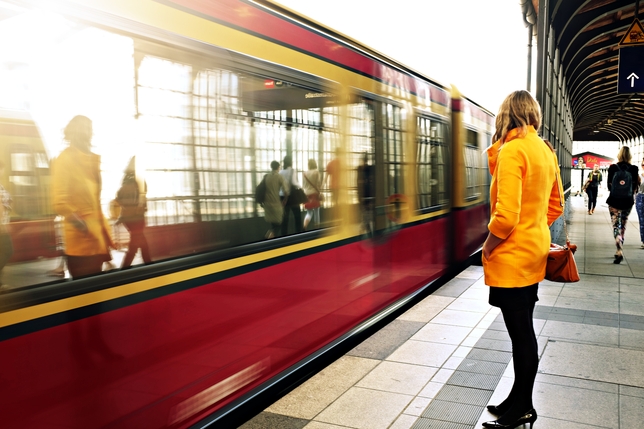 Whether your dream is to play Othello at the National or to be the next TV star, it's easy to think that there's only one place to be. But do you really have to be in London to be successful as an actor in the UK?
Well, I don't want to sugar coat the facts. Over 70% of the UK's film production companies are based in the South East of England and 54% of theatrical performances are in London, so there's no escaping the fact that the industry is heavily skewed towards the capital.
However, as an actor, especially a struggling one, London has its downsides. "When you're out of work, quality of life is so important and if you can afford to have a good quality of life and you're in London then that's brilliant", says Maria Crocker, a Newcastle-based actor and director. "But if you can't–which I certainly couldn't–then you can work regionally and build a network and a career in that way."
Of course basing yourself elsewhere doesn't have to mean cutting ties to London. "As long as you've got enough money to catch the train or the bus, then you can get anywhere", says Yorkshire-based casting director, Nicci Topping. So it's perfectly possible to base yourself in Newcastle or Edinburgh or Leeds and then travel to meetings, auditions and jobs. To get over any 'Southern' bias, Nicci even suggests to actors living in the north that they borrow a London friend's address to add to their CV.
As with any creative career, connections are key. "There's a lot to be said for building on the network that you've got. That pays off", says actor Zoe Lambert. "If you've studied in Manchester then you've probably established yourself there to some extent." And whilst conventional wisdom might say that it's in London—or at least working on projects that started life in the capital—where you'll get your 'big break', there are plenty of examples of actors who contradict that. Rising star Vicky McClure's breakout role was in the film and subsequent TV series, "This is England", directed by the Nottingham-based filmmaker, Shane Meadows. Despite her current fame, McClure prefers to live in Nottingham, just around the corner from her parents.
It's also not always necessary to head to London for auditions. There's the option to self-tape, and increasingly, there are agents and casting directors keen to seek out talent outside of London. When Nicci Topping started out as a casting director, she decided to stay in the north of England. And whilst she has offices in Manchester and London, and works all over the world, her main base is in Huddersfield. "I think there's a pool of talent here in the North", says Topping.
Of course once you get a name for yourself, the work can take you anywhere. "Hinterland" actor Richard Harrington, who moved out of London in 2010, has a flat in Cardiff, but as he says, "I kind of float around really. If you haven't got the Phileas Fogg about you as an actor then you're not really going to make it because your whole life can turn on a sixpence."
Being away from the 'beating heart' of London can also be quite liberating, as dancer and actor, Belinda Chapman discovered when she moved out of London nine years ago to live in a village in Devon. "I'm less affected by all the rules and boundaries. I'm less worried about failing and more willing to take chances."
And with London increasingly becoming liveable only to those on a City or A-Lister salary, there's likely to be an inevitable shift to other places in the UK. Added to that, there's a push to make Manchester a hub for film and TV production and plans being drawn up for film studios in Scotland and Birmingham.
Of course as an actor, only you get to decide what works for you. As Harrington says, "Did I not get any work because I moved out of London? No. Were my kids better off? Yes. And that trumps everything."