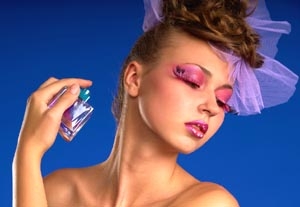 Summertime—full of sun, sand, surf, and, of course, sweat and sunburns. But if you're on camera or on stage, it's often imperative that you not show any signs of the summer heat. You must effortlessly appear cool and comfortable.
Your body's natural response to sunlight and heat does not make this easy. The most obvious problem is sweat, but many people also sunburn easily or get red in the face. Aside from wearing a strong antiperspirant, makeup is probably the most effective way to mask the effects of high temperature. However, makeup during the summer can also turn disastrous. If you're not careful, you could end up looking like a hot, melted mess. It's a thin line to walk, because without makeup you can appear red and blotchy in the heat, but with it you can look muddy and gross.
So when it comes to wearing makeup in hot weather, "less is more" is a great mantra. The less makeup you wear, the more your skin can breathe and the less you'll sweat.
There's often a lot of downtime on set, so try to stay in the shade and drink lots of water. Always wear a sunscreen on your face and body. Aveeno makes a wide array of sunscreens. I especially like the Continuous Protection Sunblock Lotion formulated for the face. It is oil-free and water-resistant. Remember, your skin is your No. 1 asset, so make protecting it a priority. Sunburns are not only bad for your health; they're bad for aesthetic reasons: A beet-red, blistering actor is probably not what the director is looking for.
For foundation, your best option is a sheer or lightweight product. Use concealer strategically and only as needed. Many of these products contain a built-in sunscreen, so when possible opt for the one with the highest SPF. Unless your skin is extraordinarily dry, choose an oil-free foundation. L'Oreal True Match is an amazing and affordable foundation that dries to a light powdery finish, lasts for hours, and has a built-in SPF. It comes in such a wide array of colors that you can easily match your skin tone. I also recommend Colorescience, a line of sun-savvy products from  sunscreen to lip colors, created by Bare Escentuals founder Diane Ranger.
A light application of a cream or gel cheek color, softly blended, can add a glow. Eye shadow in a long-lasting cream-to-powder formula will set into a clean look. Benefit makes a creaseless cream eyeshadow-eyeliner in neutral shades, perfect for creating a pretty lid. Using regular mascara followed by a coat of waterproof mascara will keep your lashes smudge-free for hours. Max Factor 2000 Calorie Mascara comes in a regular and waterproof formula that is very lush and buildable. Be sure to use an eyeliner that's labeled "smudge-proof" or "waterproof." MAC Cosmetics Fluidline is a water-resistant gel formula that applies easily and stays put for hours. Another fave from MAC Cosmetics is a line of Powerpoint Eyepencils, which provide effortless application along with water-resistant staying power. There are plenty of great long-lasting lip liners and lipsticks available. Another option is a lip stain, which will also last well and can be topped with a light gloss. One of my best-kept secrets is L'Oreal's Colour Riche Anti-Feathering Lipliner, which comes with a built-in sharpener. It lines flawlessly and defines lips perfectly, without smearing or smudging.
Always—yes, always—carry a blot powder or blot papers, so you can quickly blot away unwanted shine from your face. MAC has a great selection of blot powders and blot papers. Don't rub your face; just gently press and lift the excess moisture from your skin, leaving the foundation intact. You can touch up as needed with a light dusting of blot powder to ensure a matte, camera-ready finish.
It's best to prepare for the worst, so if you anticipate a long day, keep an antiperspirant on hand. Mists for the face are also available at drugstores and some cosmetics counters. My favorite option, and very economical, is all-natural rose water, found in health food stores. It's so refreshing to spray it lightly over your skin (both face and body), and it has a light natural fragrance as well. Heritage Products makes a great inexpensive mist.
Whether on a hot stage or on location in the desert, it's always important to put your best face forward. You don't want to be bothered by sweat—and you don't want the audience distracted by it either—so take these small steps to ensure a clean, fresh, flawless look.
Now you're ready to shine—not from your face, but from within!
Rachel G. Halsey
(
www
.
rachelgmakeup
.
com
)
is a freelance makeup artist in Los Angeles. In addition to her work in beauty and makeup for television and print, she frequently works with fitness models and athletes. She also specializes in grooming for men
.