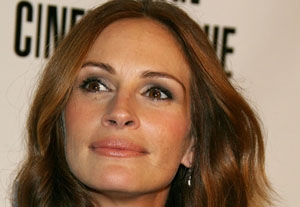 Pamela Guest on Julia Roberts
In 1985 or '86, I was hired to cast "Blood Red," an independent film starring Eric Roberts and directed by Peter Masterson, thanks to my mentor and friend Ellen Chenoweth. I had to go to New York to cast, and because Pete had connections at the Actors Studio, we held our auditions there. In Eric's contract was a clause that we had to either cast or audition his younger sister for a part in the film—I can't remember which. She'd been in New York a short time, and Eric wanted to help her get a start. The producer asked me to meet her, read her, and decide whether including her in the cast would ruin the movie. I spoke to her manager, Bob McGowan, about setting up a time, and he convinced me to just meet her that night. I agreed to a quick meet-and-greet at a restaurant and found Bob seated with a number of his friends and clients, who one by one stood up to greet me. At the opposite side of the table sat a completely unremarkable-looking young woman with mousy-brown, wavy hair pulled back in a babushka, dressed in jeans and a peasant blouse. As she stood, I noticed heavy thighs and a pleasant face, but certainly no one who would rate a second glance on the street…and this was Julia Roberts.
She came in the next day to read for the small part of (surprise!) Eric's sister in the movie, dressed almost as she had been the night before—a character choice, apparently. The film was about an immigrant Italian family settled in Northern California in the 1800s. She was actually good; there was just something about her. I brought her to Pete at callbacks. I remember we joked that it was too bad she was his sister, because her talent warranted a bigger part and the only one we had was that of Eric's love interest! We cast her. The producer was relieved knowing that it would make Eric happy that we were using her.
A year or so later, I was director of talent for Atlantic Releasing, an independent film production company, and was asked to submit to the boyfriend of my boss a list of up-and-coming actresses for a small film he was producing. I put Julia on the list and raved about her to my boss. That film turned out to be "Mystic Pizza."
Then in 1987-88, I was hired to cast the film "Jericho" by Donald Cammell. The screenplay was written by and starred Marlon Brando. We needed someone to play his daughter. I can't remember if "Mystic Pizza" had come out by then, but, in any case, Julia auditioned eight times for Donald and me. At one point I found myself in the William Morris office of her agent after a lunch meeting with Bob McGowan, who was still her manager then. The call came in literally while I stood there that Julia had been cast in "Steel Magnolias," her first mainstream film. Bob was ecstatic and I a bit worried, because by now we really wanted her for "Jericho." Our film eventually fell through over a contract dispute between Marlon and the producer, but not before I had lined up a spectacular cast. During this time, Donald had a meeting at Disney where, in his enthusiasm for his young "discovery," he informed everyone in the meeting that they should use Julia for "Pretty Woman"—apparently a very good idea indeed and one that he took full credit for whenever the topic of Ms. Roberts came up in conversation.
The "Blood Red" auditions at the Actors Studio were notable for one other reason: Viggo Mortensen came by every day—barefoot, with long, dirty blond hair—wanting to audition in the worst way for one of my Italian immigrants. His dirty feet and hair scared me just as much as his blue-eyed blondness wasn't right for the cast I was building. After days of just being rude to him, I finally threw him out of the studio and told him never to darken my casting door again. I have since apologized to him for my lack of artistic vision and behavior. It's the one truly bad casting mistake I ever made. He's such a talented actor; he could have played Italian or anything else he made up his mind to do. I often use him as an example of how one-pointed, dedicated, and willing to be rejected an actor has to be.
Pamela Guest is currently reviving her acting career and doing a little producing after years of casting other actors. She's worked as an actress for Elia Kazan and John Cassavetes and acted opposite Robert De Niro, Gena Rowlands, Nick Nolte, and Barbara Streisand. She has cast for Paul Schrader and David Lynch, and helped the early careers of Kiefer Sutherland, Ving Rhames, Mickey Rourke, Antonio Banderas, and Peter Berg early in their careers. She's blogging about her current adventures in Hollywood.

Donise L. Hardy on Mallory Eckert
About twice a year, I teach a class for teens in Austin, Texas, for those interested in commercials. About two years ago, one of the kids in the class was actually only 9, but based on a recommendation from her agent, Heather Collier, and her previous training, I'd made an exception.
And am I ever glad that I did. I met Mallory Eckert that day and just fell in love with this talented, well-mannered, feisty, adorable kid. She had quirky good looks and a talent way beyond her years. She followed direction beautifully, took copious notes, and exceeded any expectations that I had. A true professional at 9!
In August of last year, I was hired to cast the SAG feature "A Mind of Its Own." The character Lilly was 10–12, an obnoxious little sister to our hero, and a little bit of a nightmare to her parents. She was fun, sassy, and very good with rhyming words she could use—with curse words she'd get into trouble saying. The entire time I read the script, all I could see was Mallory.
We auditioned young girls from Austin, Dallas, Houston, and other parts of Texas. We flew to L.A. for days of auditions where the competition was amazing. Mallory held her own, and the writer-director, Jason Kabolati, went with her, providing Mallory with her first starring role. During filming, they became extremely close friends, and Mal couldn't be happier. She did an excellent job and was completely prepared on a daily basis.
The icing on the cake is that I was able to get her a single card, last position, main titles: "And introducing Mallory Eckert as Lilly." 
Donise L. Hardy, CSA, has been a casting director since 1991, when she started her company in San Francisco. She spent six years working in L.A. and moved to Austin, Texas, in 1999. She quickly established herself as a busy commercial CD and enjoys casting three to four features a year, plus many industrials.


Ducan Stewart on Caitlin Mundth
If you want to talk about persistence and dedication, then I must, in the same breath, talk about Caitlin Mundth. While there are numerous other (and possibly "starrier") examples, I think Caitlin's story is particularly impressive and inspiring. Over the course of one and a half years, Caitlin got herself on my radar and, through sheer perseverance, went from being a casual recommendation from a colleague to a respected and valuable cast member of my latest show, the Broadway production of "La Cage aux Folles," starring Kelsey Grammer and Douglas Hodge.
Caitlin was first brought to my attention via a conversation with one of my dance captains in "Chicago." Soon thereafter, Caitlin sent me a hand-delivered package with the requisite picture and résumé and one of the most effective handwritten letters I had ever received. Smart, passionate, and to the point, it grabbed my attention. Despite the fact that her résumé listed few theater or musical theater credits (Caitlin came from the ballet world), I called four days later regarding an upcoming audition. As it turned out, the session was canceled, but this didn't stop Caitlin. Three months later, another envelope with new headshots arrived at the "Chicago" stage door. I knew I wanted to bring her in, but there were no opportunities. Yet another package arrived—this time with a note saying that she had decided to leave her "post" as a soloist with Carolina Ballet and was moving to New York to pursue her musical theater dreams. Game on!
In September 2009, Caitlin came to my open call for "La Cage" and was the only non-Equity actor to make it through to the final round. A month later, I brought her back in for my London creative team, and while she impressed us all with her dance skill and chutzpah (there is something about Caitlin that "pops" in the room), the singing wasn't quite up to par and we went with someone else. Undeterred, Caitlin came in for another "Chicago" open call (non-Equity were not seen that day, but she dropped off her pic/rez again, figuring that "at least maybe they'd know I'd come") and also sent me a postcard invitation to see her in Paper Mill's production of "On the Town."
While I didn't see her in that show, I was impressed that she was obviously making her dreams of being in musical theater a reality. She was booking gigs. Three months later, in March 2010, the original woman we had hired to play one of our "Cagelles" (swing/understudy positions) pulled out. I was in crisis mode. We started rehearsals in a matter of days! I quickly threw together a session and phoned Caitlin. Actually, she had been in the "no" pile and I had pulled her out of it. Because I had a hunch her singing had improved and that she could possibly book this job, I gave her a shot. I asked her if she had worked on her singing. Could she come in to audition? "Yes" was the answer to both questions. Caitlin worked the songs and sides—while performing in a road production of the opera "Carmen"—and flew in on her day off. March 2, 2010, she blew us away with how much she had progressed with her singing. She had done the work, and it paid off big-time. March 3, I called her directly to let her know that she had booked the job. And March 5—a year and a half from the day I originally heard about Caitlin and nine months to the day from her leaving the ballet world—Caitlin started the first day of rehearsals. She is now a proud cast member of the 2010 Tony Award–winning musical "La Cage aux Folles."
Aside from her obvious talent, Caitlin Mundth's dream of being on Broadway was backed up with a solid plan and course of action. I applaud and admire her audacity and commitment. Those are the elements that make me want to work with her.
Duncan Stewart is the director of casting for the National Artists Management Company, for which he is responsible for casting the current Broadway revival of "La Cage aux Folles" (starring Kelsey Grammer) as well as the Broadway, London, and international touring companies of "Chicago" and all other projects for Broadway producers Barry and Fran Weissler. Other theater credits include the West End premiere of Neil LaBute's "Fat Pig" and various productions with CD Alaine Alldaffer at Playwrights Horizons, Huntington Theater, Long Wharf, and Coconut Grove Playhouse.
Matthew Lessall on Zosia Mamet
Zosia came into my office for a general a few years ago. The next day, I received the nicest handwritten thank-you note that I have ever received from an actor. It was short, sweet, and sincere. I could tell from that meeting that I was going to be bringing her in whenever possible. Very soon after our initial meeting, Zosia came in for a film I was casting called "Cherry." She fit the role so well that within the first few moments of the audition, the director and the producer were sold and she was offered the part. The film had a great reception at this year's SXSW festival, and I think that without Zosia in the role, the film would not have been the same. The best part about Zosia is that she really seems to love the audition process. You can tell that she has done her homework. She has such great energy that she is bound to impress anyone she meets. It's great to see her on one of my favorite shows, "United States of Tara." The most telling thing about Zosia is that when I discuss her with my colleagues, the following words are used to describe her: "professional," "lovely," "unique," and "talented."
Matthew Lessall, CSA, is a freelance casting director whose work includes several award-winning independent features, including "Rocket Science" and "Mean Creek." He has also cast film and television projects for Warner Bros./Legendary Pictures, the Hallmark Channel, WB Television/John Wells, and NBC. From 2005 to 2006 he was director of feature film casting at 20th Century Fox. He has been nominated for three Artios Awards. Most recently Lessall cast "After.Life," starring Liam Neeson, Christina Ricci, and Justin Long, and "The Wheeler Boys," which premiered at the Los Angeles Film Festival in June.
Gary Zuckerbrod on Cynthia Gibb
Working on an episodic show such as "Without a Trace" was a unique situation. The guest-star roles carried most of the emotional weight of the show. The roles were incredibly well developed and written, and wonderful actors would come in and audition. Our process on the show was to audition about six actors per role, narrow it down to two top choices, and send those choices to the executive producers to make the final decision. As a result, many actors came in again and again for roles.
Cynthia Gibb, a truly lovely person and wonderful actress, came in year after year and was almost always the second runner-up to a major guest role. Because she came in often, I got to spend a few moments with her occasionally talking about life, her family, seeing photos, etc. I was always rooting for her to get the part and always felt awful when she didn't.
At the time, I had a beautiful dog that I would bring to the office with me. She created a great energy in the office. When she was 18 years old and her legs had given up on her and she was in pain, I had made the very painful decision to put my dog to sleep, but I had to leave a casting session to get to the vet. Cynthia was coming in to audition that day for a role on "Trace."  I was carrying Maggie, my dog, out of the office, and Cynthia was there. We barely exchanged words but I indicated what I was doing, and the warmth and care in Cynthia's face somehow calmed me and said more than words could ever say.
So the one time I wasn't reading with her in the audition, Cynthia got the part! Cynthia later sent me a wonderful note and a beautiful book on dogs.  
I like to believe good things happen to good people, and Cynthia is one of the best.

Gary Zuckerbrod has been a member of the casting community for 28 years. Career highlights include "Pulp Fiction," "Weapons of Mass Distraction," "The Ron Clark Story," "Touched by an Angel" (pilot), "Cold Case" (pilot), and seven seasons of "Without a Trace." He is most proud of his participation in helping to bring casting directors and associate casting directors into the Teamsters union.

Reported by Simi Horwitz, Sarah Kuhn, Dany Margolies, Jamie Painter Young, Jenelle Riley, David Sheward, Tamara Tamzoke, and Janelle Tipton