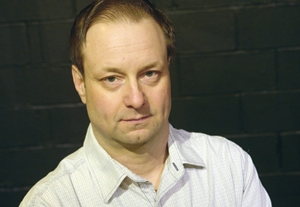 Burned out on the service industry after a decade waiting tables at the same Times Square restaurant, and—having had four full-length plays and countless one-acts produced in New York City and Los Angeles—feeling that, maybe, my playwriting career had peaked, I was finally determined to get a "real" job. This is what I'm contemplating on the deck of the Staten Island Ferry, on my way home from a particularly trying Tuesday lunch shift at the restaurant. Arriving at my apartment, I check my voice mail. There's a call from Lissa Moira, from Off-Off-Broadway's Theater for the New City. She's interested in including "Age Out," my play about struggling for years as an artist while waiting tables, in the theater's Chrysalis Workshop. When I call Lissa back, my intention is to decline the offer, but she persuades me to consider it. A couple days later, I tell her yes.
"Age Out" is developed throughout the 16-week workshop. The play is cast. Rehearsals begin. Fact and fiction become very blurry with an autobiographical play when the lead actor—the one playing Tim, the character based on me—is about my age, looks something like me, and happens to have gone to Rutgers, majoring in communications with a concentration in advertising, just like I did. He even wears the same blue suede Pumas. But things get downright uncanny when the actor, Bob Homeyer, has a dire prediction for what becomes of his character: me. One night, a miscommunication about a canceled rehearsal leaves Bob and me alone in the theater lobby, where we get into a revealing conversation.
"I think I know what happens to Tim," he declares.
"What happens to Tim?" is the question that everyone asks. My reply is always that I don't know. Though it makes perfect sense that the actor playing Tim would be concerned with this, given the actorly practice of creating a character bio, it never occurred to me that someone else would attempt an answer.
"What?" I finally ask, unable to mask my desperation.
"Well, he's done with the restaurant business, that's for sure," Bob says. 
"I think you're right," I say.
We stare at each other.
"...So...he goes to work for his father selling real estate, and that's it for him."
Tim's father owns a real estate agency in north Jersey. Mine is a retired state worker. That's where the similarity between my life and Tim's ends. Our existential crises, however, are identical, and in the days leading up to the show, Bob's words play as a refrain in my mind: "And that's it for him."
The stress of watching a play about your life—with people in the audience who've lived it with you—soaks my shirt with sweat that doesn't dry until I realize the show is a success. After the theater has emptied, Lissa pledges to fight for "Age Out" to get picked up for a full production. Awaiting word from the theater, I fall back into my routine at the restaurant. As the summer draws to an end, one afternoon I peruse the website for the College of Staten Island's graduate education program, looking for registration information. A couple days later, during family meal at the restaurant, I check my email. There's one from Jonathan Weber, the play's director, with the dates for a full production.
Guess that's not it for him, yet.
Playwright Tom Diriwachter has had five full-length plays produced, including "Avoid Direct Sunlight," "Asterisk," "Great Kills," and "Californication," as well as numerous one-acts. His play "Age Out" runs Jan. 13–30 at Theater for the New City, 155 First Ave., NYC. For tickets, call
(212) 254-1109 or go to www.theaterforthenewcity.net.