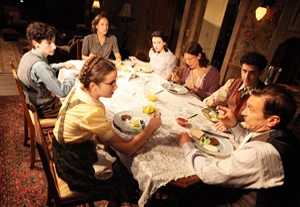 Broadway is still reeling from the abrupt closing Sunday of the revival of "Brighton Beach Memoirs" after only nine performances. It's not that the show failed, but the suddenness of the shuttering despite mostly positive critical reaction is what has got the Main Stem down. The reaction of Newsday's Linda Winer was typical, calling the show "even better" than the original. Back Stage's Erik Haagensen called David Cromer's direction "sparkling." Yet the opening week's attendance was about 45 percent of potential, and the take was a meager $119,561 out of a possible $1,282,580.
The production was a risky proposition. In addition to this 1983 Neil Simon play about the Jeromes—a 1930s family coping with Depression-era hardships—producers were planning on running Simon's sequel "Broadway Bound" with the same cast on the same set in repertory. "Bound" was set to open Dec. 10, but the second production has been canceled before it even got out of rehearsals. In a season heavy with big box-office names (Jude Law in "Hamlet," Daniel Craig and Hugh Jackman in "A Steady Rain," Sienna Miller in "After Miss Julie," Catherine Zeta-Jones and Angela Lansbury in "A Little Night Music"), the Simon plays' largest name was Laurie Metcalf, a highly regarded theater actor but best known to the general public for her role on the sitcom "Roseanne."
Yet "Superior Donuts," another straight play with no major movie stars, is doing relatively well at the Music Box. This production received the same kind of positive notices as "Brighton Beach," and its biggest name is Michael McKean, another theater stalwart whose largest movie box-office credits are the satiric films of Christopher Guest. The name keeping "Donuts" alive is the playwright's, Tracy Letts, whose "August: Osage County" won the Pulitzer Prize and was the dramatic hit of two seasons ago. Letts' success and Simon's failure may be proving the belief that Broadway has room for only one nonstar-driven, straight-play hit per season.
At one time, Simon's name was enough to sell out theaters for years. Throughout the 1960s and into the 1980s, he turned out a play a year, many of them long-running hits. In the late 1960s, he had four shows running simultaneously. The original production of "Brighton Beach" ran for 1,530 performances, while "Broadway Bound" ran up 756.
Some have blamed the shuttering on the public's familiarity with the title, which was filmed in 1986. But theatrical familiarity does not necessarily breed contempt. Many musicals have benefited from their connections with hit movies ("Hairspray," "Legally Blonde") or top-40 music of past generations ("Jersey Boys," "Mamma Mia!," "Rock of Ages"). Despite critical brickbats for inept staging and miscasting, Roundabout Theatre Company's revival of "Bye Bye Birdie" is enjoying a successful run at the newly reopened Henry Miller, thanks in part to the public's fondness for the show, a staple of community and high school theaters.
Another possible culprit is changing tastes. A New York Times analysis points to a lack of "wow" in "Brighton," citing the success of the breakneck farce "Boeing Boeing." Director Cromer achieved notoriety with an intimate, small-scale production of "Our Town" (still playing Off-Broadway). His staging of the Simon play was similarly naturalistic and not laugh-a-minute with punched-up punch lines, like the initial production by Gene Saks. Watching this edition was like eavesdropping on a real family, joking and crying together as they eat dinner, read the paper, and grow up together.
The "Brighton Beach" bomb points to a dark future for Broadway. Without a bankable name above the title or spectacular musical numbers, a well-written, excellently reviewed look at real life hasn't got a chance. And actors will have fewer opportunities to play truthful characters on stage.