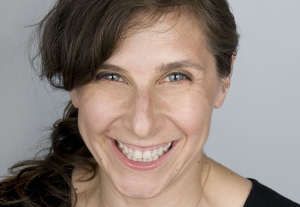 The L.A. Times recently ran a piece about the director Mike Leigh and his mysterious "process." The article praises Leigh's amazing movies (they are amazing) but lapses into weird, generalized language when trying to describe the filmmaker's "process"—which, the Times writer assures, "can't be taught." I had to laugh, because Leigh comes from the theater. And this "process" that the film critic found so exotic and baffling is what we theater people have been doing for decades if not centuries: getting the players into a room for a prolonged period of time to discover the story and how best to tell it. We discover what the play (or movie) is through an ensemble's guided exploration—reading text, asking questions, improvising, playing games, and basically figuring it out "on its feet." Sometimes this looks like table work, sometimes improv, sometimes movement on a grid. But whatever form it takes, actor-playwright collaboration leads to a stronger play.
Paula Vogel once said that "we rise in circles"—and it's true. Every playwright is dependent on the actors who intuitively "get" our voice. Thus one of the most important things a young actor can do is to become familiar with emerging playwrights. Figure out whose voice speaks to you. And offer your services.
I develop my plays with actors from the earliest drafts. They are integral to my understanding of what a piece of material wants to become and what it lacks. Before I've even finished a play, odds are I've invited actors to my apartment (wherever that may be—there have been 39 in 20 years) or to New Dramatists to read it out loud and grill me. Actors ask the best questions because they need to know how to do the thing. Actors ask, "How do I get from A to B?" And if I haven't yet provided a way to get them there, they let me know. As a result, I get a play that's doable, actable, a play that I can understand as a three-dimensional creature because I have seen actors work on it. And the actors develop a relationship with the play, one that ideally helps them stay attached to it.
In today's casting world, with its mania for "stars" and "names," it isn't always possible for an actor to travel the entire journey with the play. But I have fought for actors that I've developed work with and campaigned for their inclusion in Off-Broadway productions. And my plays are the better for it. No one knows the life of a play so well as the actor who developed the role in readings and workshops.
And for playwrights, there's no substitute for an actor who gets it. These partnerships endure. Think about Mary-Louise Parker and Craig Lucas, Paul Sparks and Adam Rapp, Marylouise Burke and David Lindsay-Abaire. These collaborations endure over time. And in each case, the actor's career and the writer's career advanced simultaneously. What is good for one is good for the other.
And so I will say it again: As an actor, find new writing, read new plays, and discover the writers whose work you want to do. Attend readings; drop off headshots at theaters that specialize in new work; hang out at New Dramatists. Find the voices that speak to you. And get involved in the new-play development process. We need you. And you need us.

Brooke Berman is a playwright and the author of "No Place Like Home: A Memoir in 39 Apartments."