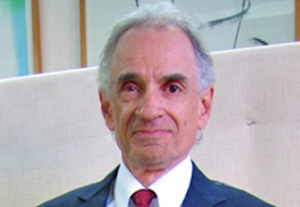 Funny how a phone call or chance meeting can seemingly change your life, right? Isn't that what we all dream about—that just like the unknown Lana Turner in that Hollywood soda shop, we'll be miraculously discovered and whisked away to instant stardom? Well, folks, I ain't no Lana Turner! Aside from not being a neophyte blond bombshell, I've acted and directed as far back as Yale Rep, the New York Shakespeare Festival, and London's Royal Court Theatre in the late 1960s and '70s. In 1978, I established the Simon Studio, where I've taught and served as artistic director ever since. Through all those years, I've harped at my students, "Sheer luck and wild good fortune is not enough. It's hard work on your craft and the hanging in there that's the answer to making it!" But when I got a magical phone call last summer from casting director Kathleen Chopin's office inviting me to audition for Oliver Stone's "Wall Street 2," my head was spun around and I began to question that hard-line teaching philosophy.
But I later realized that call was not "out of nowhere." Stone had seen a DVD of "The Sublet," an award-winning, low-budget indie film in which I played the lead. I got to audition for "The Sublet" because my critically acclaimed filmmaker son, Dan Simon, had been the cinematographer for director Georgiana Nestor's previous feature. My son and my daughter Abigail, a professional dancer currently with the Joffrey Ballet, were both educated at the Simon Studio. I always said that having kids (or talented students who become pros) is the best way to get work as you get older. Playing the lead in "The Sublet" gave me my first real chance to work on camera in a major way. I soon realized that my many years of teaching and demonstrating on-camera technique had kept me in pretty good shape.
Three weeks before I was scheduled to work on "Wall Street 2," I decided to show up on the set, watch, and get myself indoctrinated. I always love to watch the rehearsals of other actors and the director I'll be working with, if I'm allowed. I advise my students to do the same. It's like being an athlete on the bench learning where the game is when you finally get to play. During a brief break, Oliver invited me to sit with him. We talked as colleagues. He was relaxing me, preparing me for the collaboration ahead. I wished my students could have been there. I tell them that a good director does this to get the most from his actors. This director seemed to be really enjoying himself. In fact, the entire time I worked on the set, I admired how he made the whole experience like a party, with himself as the charming host. Another pleasant surprise was discovering how good Oliver was at working with actors. Every scene I was in was carefully rehearsed in his production office well before we got on the set to shoot it. In this way, he would develop the characters and the writing and get the chemistry going between the actors well ahead of time—a rare occurrence on most films. What a joy to sit around the table, talk, throw lines and questions with Oliver and Michael Douglas, Josh Brolin, Eli Wallach, Shia LaBeouf, and Carey Mulligan. These were not just movie stars. They were just being good actors—most of them with strong theater backgrounds.
I was rediscovering who I was. Mostly I was reconfirming my belief that the best teachers are those who also practice their craft professionally. For me, one last huge scene on the film summed it all up. We were all dressed to the nines in tuxedos and evening gowns for a big benefit scene. As I looked around, I realized that many of the background players were current or former students. One by one they came up to congratulate me on my scene and tell me how excited and proud they were to actually be on the set with me. I shared this with Oliver, who of course kidded me about it. I laughed too. But I was really proud.  It was truly a most fitting way to celebrate the 30th anniversary of the Simon Studio.
Roger Hendricks Simon has acted in, directed, and produced international premieres for Yale, the New York Shakespeare Festival, London's Royal Court Theatre, Dublin's Abbey Theatre, the Williamstown Theatre Festival, Lincoln Center Theater, the Brooklyn Academy of Music, La MaMa ETC, L.A. Theatre Center, Roundabout Theatre Company, the O'Neill Playwrights Conference, the Folger Theatre, the Great Lakes and Colorado Shakespeare festivals, PBS, Metromedia, BBC-TV, and NPR. He recently celebrated 30 years of teaching and directing at his Simon Studio in New York and in India, Pakistan, Iran, Nigeria, South Africa, and throughout the U.S. and Europe. He can be reached at www.simonstudio.com or (212) 841-0204.