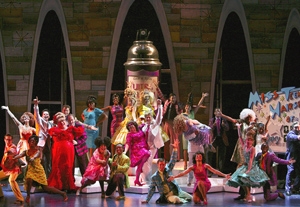 I write to applaud Back Stage for covering the story of Joel Vig's wrongful termination from the Broadway production of "Hairspray" ("I Can Hear the Gavel," June 10–16). To my knowledge, Back Stage is the first magazine or newspaper other than a legal journal to publish the news of the Appellate Division of the New York State Supreme Court's unanimous five-judge decision in Mr. Vig's favor, which allows this disability case to move forward and be heard.
As a board member of the Theater for the New City, I organized an event last December at our theater on First Avenue to help bring awareness and support to Joel Vig's important case. Entertainment industry stars, including Patricia Neal, Tammy Grimes, Lee Roy Reams, Caitlin O'Heaney, Donna English, Anna Bergman, and Alex Rybeck, spoke and performed. Letters of support came from persons including the late Rue McClanahan, Donna McKechnie, and even a lifetime member of the Broadway League, Philip Langner of the Theatre Guild. Letters of support also came from other original Broadway cast members of "Hairspray," including Mary Bond Davis and Laura Bell Bundy.
As an actress myself, both on Broadway and in regional theaters for many years, I am aware of the difficulties and dangers of performing on stage. A search of a union database has found that no actor employed simultaneously under Broadway's Actors' Equity Production contract and the American Federation of Musicians Local 802 contract has ever been denied the right to return to work after a disability leave. This database goes back to 1991, which predates the Americans With Disabilities Act by two years.
I feel that the actions of the management of Broadway's "Hairspray" were shameful and wrong. I applaud Joel Vig for having the courage to stand up for what is right. I hope that when he wins this case, it helps to set a precedent that will lay the foundation for protecting all artists and performers. Actors and musicians must have the same rights and protections afforded every other worker in this country.
Sincerely,
Betsy Von Furstenberg