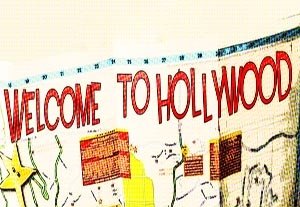 Upon my arrival in the City of Angels 10 years ago, one of the first things I did was race to the legendary street known as Hollywood Boulevard. After all, movies and TV had taught me that this was the epicenter of showbiz, where you could be discovered sipping a milkshake at Schwab's and there was a star everywhere you turned. So imagine my, shall we say, dismay when I arrived at the rather unhygienic street in one of the seedier areas of town and realized I was instead surrounded by cheap souvenir stores and grown men dressed as superheroes. It was soon explained to me that the majority of studios, where the real work happens, is actually over the hill in that legendary place known as the Valley.
In order to help you avoid making the same mistakes I did, here's a little primer on what many people believe Hollywood is all about…and the truth behind the myths.
It's Always Sunny In Hollywood
Despite what you may have heard, Los Angeles does indeed have seasons—and I don't just mean pilot season. Temperatures are known to dip down to an average of 47 degrees Fahrenheit in the winter months, and L.A. averages 15 inches of precipitation annually. Okay, so people in Chicago and New York are probably rolling their eyes at this, but just so you know, it's not always shorts-and-tank-top weather in Hollywood.
L.A. Is Not A Theater Town
L.A. far exceeds New York in terms of number of theaters. Notes Mark McClain Wilson, a Hollywood-based actor and company member at Theatre of NOTE, who moved here from New York in 2002, "The first thing I noticed and probably the biggest surprise I felt about the Los Angeles theater scene was just how much theater was out here." Also surprising, according to Wilson? "The quality and breadth of Los Angeles theater was easily comparable to New York. There is a great expanse of work being produced here in terms of style and genre." Of course, there's a flip side. "In time, I have discovered that, unfortunately, Los Angeles also has just as much bad theater as New York does," Wilson admits. "However, the best work I have seen in Los Angeles easily stands up to the best I saw in my time in New York."
Everyone's A Liberal
There are actually several recognizable actors—Bruce Willis, Tom Selleck, and Shannen Doherty to name a few—who proudly espouse conservative values. And let's not forget the biggest actor-Republican of all: Gov. Arnold Schwarzenegger. There's even a website, www.hollywoodrepublicans.com, that, as the site says, "promotes Republican ideas and focuses on those concerns and issues that impact the entertainment industry."
The Camera Adds 10 Pounds
The main justification I continually hear from actors starving themselves is that they have to be underweight because the evil camera automatically adds 10 pounds to their appearance onscreen. Having spent the better part of the last decade seeing movie stars up close, I can say this is patently untrue. Maybe we're just not used to seeing ourselves from all angles. Or, as director Ben Rock (
Alien Raiders
) puts it, "I think the camera adds back the 10 pounds that our brains subtract when we look in the mirror."
No One's Originally From Los Angeles
Because so many people move to Hollywood with the plan to pursue an acting career, it often seems as if there's no such thing as a native. According to actor David LM McIntyre, when people hear he was born and raised in Los Angeles, they're always surprised. "They have to comment, 'Wow, I didn't think
anyone
was from here.' It's almost like an automatic gag reflex," McIntyre remarks. As for the advantages of growing up in L.A., McIntyre attended a school where the drama teacher would get regular calls from casting directors. As a result, he auditioned for his first pilot at 14 and his first major motion picture at 15. Other benefits he notes: "One thing about growing up here is that I've always been aware that L.A. does indeed have a history—even if it is constantly getting covered over and rewritten."
Traffic Is Hell, and the Drivers Are Insane
Actually, I'm not going to argue this one.