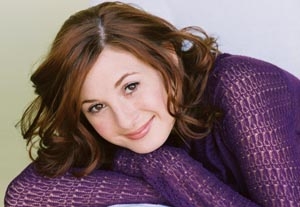 So, last time I blogged I mentioned that I booked a gig. I know, that seems like forever ago. My awesome sister came to visit for the week, and I've been a bit distracted. We toured my neighborhood establishments, went to Santa Barbara, Solvang (Danish town), and the Santa Ynez Valley and hopped on many a wine tour. We even visited the Firestone Vineyard. I was hoping that former bachelor Andrew Firestone might appear with wine in hand, sweep my sister off her feet, and make her stay in California forever. But no, apparently he's now married. And has a kid. Next time I'll be a little more thorough with my research.
Anyway. I booked a gig, but I'll be the first one to tell you that it was no big deal. In fact, I debated accepting the job in the first place. I know, can you spell diva? The pay was low, I didn't have any lines, and I was kinda frustrated that at this point in my career, I was being offered a glorified extra–like role. But then I heard "IMDb credit," "Nobody is working right now," and "You'll be playing a high school student," and suddenly, after dropping a decade from my real age, I felt a little sexier and oh so in demand. Count me in.
Of course, I went on to have the most wonderful of wonderful experiences on set. I had no idea what to expect. I was working on a feature film for an independent production company with a budget of about a half a million dollars. I was aware of the company and had made it my goal to meet as many people associated with the company as possible in my short time on set. With such a busy production company, it stands to reason that there would be more opportunities to strut my stuff in the future. I knew I was in good hands when the executive producer greeted me the moment I arrived on set and the 2nd A.D. quickly got me my SAG paperwork and walked me from wardrobe to makeup and hair. Makeup and hair? I had done my own, thinking I'd be walking onto a set where nobody cared what I looked like. I mean, I didn't have lines.
Not so. I was treated like a princess. The crew was amazing. The cast was amazing. The director liked what I did with my "moments." And, yeah, I got to be a badass emo girl…. I have no idea what about me and my appearance says, "emo girl/hipster," but it has been an ongoing theme in my theatrical life and I definitely embrace it.
I followed up today with a thank-you letter to the executive producer and sent my headshot and résumé for their files. I definitely hope that I get to work with them again in a larger capacity. They were more professional and kind than most "professional" sets I have worked on. Oh, did I mention that I got paid in one week? I'm so accustomed to fighting to get paid, I forgot what it was like to just get paid on time like all actors should be.
So, yeah, I'm glad I did it. I worked on the set for eight hours, worked at my day job for seven hours, and then picked my sister up at the airport that evening. Action-packed day. Action-packed life. One might call me Action Jackson. Hee, hee.
Stacey Jackson is a working actor who blogs on Back Stage's Unscripted.