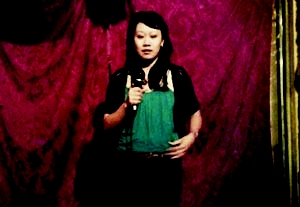 I have done standup now a total of three times, including my first time ever at the Improv, which I now refer to as "the time I got spoiled." The second time was in a vegan cafe in Hollywood called Elderberries, to an audience that totaled eight people—three of whom were my friends and five of whom were the other comedians performing that night. The third time, a few Wednesday nights ago at The Comedy Store, there were about 25 people, eight of whom were the host and other comedians. This is what I have learned: It takes a village to satisfy a comedian. Seriously.
It is a lot easier to make a room full of 500 people—like that night at the Improv—laugh than it is to make a handful of people, even if they are your friends, laugh to the level of satisfaction for a comedian that keeps you from wanting to blow your brains out.
I haven't wanted to do that yet. In other words, I haven't bombed yet. No deadly silence.
And I have the best friends ever. Honestly, as an actress it's hard enough getting people (your friends) to come see you in a play. But as a comedian (and I don't even consider myself one yet), it's crazy weird to ask people to spend money on cover and a two-drink minimum, not to mention parking, and to sit through almost half a dozen other comics until it's your turn. It's a whole other world.
There were some seriously funny comics there at The Comedy Store. And I am having fun. But it's a different kind of fun than acting, which I feel I prefer. Ultimately, I don't like performing alone. And as a comedian in training, I've earned a few demerits already. I've improv'd new material on the spot, especially with opening jokes. Apparently, you're not supposed to do that. I drank some Vampire wine before the second show. You're not supposed to do that either. Learned that lesson right away. Do not drink before you go up, even if you're really nervous. You're bound to start disclosing some really private stuff that should stay private. Oops.
The last couple gigs have been great learning experiences: how to work a smaller room; how to engage individual audience members; which new jokes work and which ones don't. I am grateful for it all. In acting, it's an ensemble piece, and you basically say what others told you to say and do what others directed you to do. And the applause is held till the end.
But in comedy you need that instant gratification, you need the laugh in order to kill the audience—otherwise the silence is what kills you, the comedian. And you're on your own.
My next show is June 8 at The Comedy Store, and then another at M-Bar on June 28, with a bunch of huge headliners. I'm kind of freakin' out. But I'm giving you plenty of notice. So be there, people. Please? Come be my village of laughers, okay? I promise, I'll "kill" someone by the end of the night.
Ann Hu is an actor and comedian and blogs for BackStage.com. Visit Unscripted at BackStage.com for more blogs from her and our other bloggers.