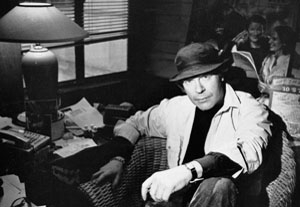 Inspiration is when you can't stop working because an actor has crossed your path and shown you something that you have never seen before, that you never even knew existed. That hit me one day in 2001 when a young woman named Tanna Frederick came into my office after having written me a letter containing what seemed to me singularly intelligent and well-thought-out praise for my then-current film, "Deja Vu." I called her in. She was a mess to look at: 30 pounds over her healthy weight, huge masses of red curls used to hide her face, which—when you glimpsed it—was so overly made up as to make her fully armored against really being seen.
Then she spoke. Intelligence, charm, humor, irony, and a unique, true beauty emerged when a ribbon was offered to pull the curls off of the face and soap was provided to wash off the mask. And lo: a pair of brilliant, gorgeous, happy, knowing, wise blue eyes and a nose so noble any Roman empress would take an asp to herself in jealousy. And that mouth, smiling, pouting, lighting up the room with its enormous capacity for joy. 
But what came through most? "Chen," a Jewish word my father used very sparingly to describe a kind of true natural charm, an inner glow and intelligent warmth and sweetness that cannot be learned nor imitated. One is either born with it or not, he said. 
And my God, was Tanna born with chen. But what about work? Could she act, this girl in her early 20s who had beaten a hard path to Hollywood from Iowa and for five years had worked countless jobs and auditioned when she could get in, for bits and scraps? And one day, when a fellow actor told her he had done a role in a Henry Jaglom film, she asked—though she'd never heard of me—how she could get in to see me. She was told Jaglom was an easy mark, a sucker for handwritten notes praising his work, so she sent him a note about a film he had just made. 
I was struck by the intelligence of that letter and its sensitive, sincere understanding of my intentions. So I called her in. I suggested she look at a play I had written years before, as I thought she could do a scene from it for her acting class. Instead, before I knew what was happening, it was being produced. 
Tanna was wonderful in "A Safe Place." She inspired me to work with her again. By the time she confessed she had written that letter without having seen the film she praised in it, I was hooked. I loved that she had done what every actor must do: go for it, fight against the incredible odds and the terrible statistics, keep persisting and finding ways to get yourself seen.
I used a part of Tanna's real-life story, coming from Iowa to Hollywood in a broken-down car, to star her in my next film, "Hollywood Dreams." Over the next four years we made two more films: "Irene in Time" and "Queen of the Lot." She also starred in two more plays, and I've just written a third—"Just 45 Minutes From Broadway"—that you can see her in now at the Edgemar Center for the Arts in Santa Monica, Calif. 
So what is the moral of the story? Actors must fight to be seen. They must hustle their way into offices and studios, do everything short of stalking to get the attention of those who can give them jobs. Don't let anybody tell you that you can't do it. Persist, insist, take chances, be brave, do whatever seems possible, whatever seems occasionally impossible. It is your fight, the actors' fight, and you can win it! And if you've got it, and most actors do, don't forget the chen!   
"Just 45 Minutes From Broadway" is Henry Jaglom's third play to be performed in Los Angeles. "Irene in Time," his most recent film, is currently on screens nationwide, and "Queen of the Lot," starring Tanna Frederick and Noah Wyle, is being edited for a 2010 theatrical release.