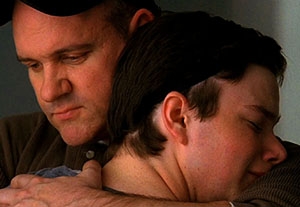 In the 2010-11 television season, some of the best dramatic acting was done by
Mike O'Malley
, an actor best known for his work on the light comedies "
Yes, Dear
" and "
My Name Is Earl
." Now on "
Glee
," O'Malley plays Burt Hummel, loving father to gay teen Kurt (
Chris Colfer
). In O'Malley's first episode, "Preggers," Burt dealt compassionately with his son's coming out to him. In another, "Wheels," Burt defended Kurt's right to perform a solo from "Wicked" traditionally sung by a woman. And in perhaps the actor's best episode, "Theatricality," Burt memorably confronted Finn, his future stepson, after Finn hurled a verbal slur at Kurt. It was no surprise that O'Malley was nominated for an Emmy Award for outstanding guest actor. What was interesting, however, was that it was in the comedy category.
It makes sense, as the producers of "Glee" submit it for Emmy consideration in the comedy category. However, the majority of O'Malley's work on the show is anything but funny. The father-son scenes are famous for leaving many viewers in tears. Colfer faces a similar problem: Though he gets to play his share of comedy as Kurt, the year saw him tackle a tough storyline about bullying and another about the pains of first love. Hopefully, voters will recognize that the category is "outstanding supporting actor in a comedy series," not "outstanding comedic actor."
Of course, it cuts both ways. ABC's "Castle" is an hourlong drama featuring a charming, breezy lead turn by Nathan Fillion. Is it fair to ask him to compete in a category opposite such work as Michael C. Hall's serial-killing Dexter or Bryan Cranston's "Breaking Bad" meth dealer? Given a shot at the comedy category, Fillion could receive a nomination—if not a win.
It's often a debate where to place a series in the Emmy categories. Would "Desperate Housewives" have earned so many nominations in its early seasons had it gone for the drama category? Probably not, but as an hourlong show, it could have placed itself there. Showtime's "Nurse Jackie" deals with a pill-popping nurse who cheats on her husband, but as a half-hour show it placed itself in the comedy category—and won an Emmy for star Edie Falco, who memorably said in her acceptance speech, "This is just the most ridiculous thing that has ever happened in the history of this awards show. I'm not funny!"
Maybe not, but it was a deserving win for a great performance. So sometimes, it seems, Emmy voters can look past the category and judge the performance not just by the amount of laughs or tears it elicits. It's also interesting to note that after the freshman season of "Desperate Housewives," when the show's producers decided to compete in the comedy category, it was not Teri Hatcher's physical clowning or Marcia Cross' biting delivery that ended up taking the prize. It was Felicity Huffman, generally regarded as the most "serious" of the housewives, whose storylines included prescription-pill addiction and corporate espionage. Though her work was perhaps not as hilarious as the antics of her co-stars, it was a powerhouse performance and it took home the gold.