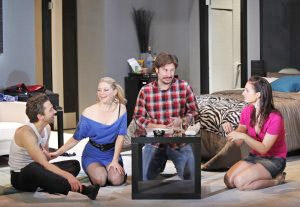 "I didn't have reservations about doing 'Extinction,' but I am select about who I bring to the play," asserts Stefanie E. Frame, who plays first-time hooker Victoria in the dark drama by Gabe McKinley, now running Off-Broadway at the Cherry Lane Theatre. "I'm happy for anyone to see it, but with a disclaimer, a warning that there is a dark side to this piece. If they're fine with it, I'm fine with it."
"Extinction," which ran in the late fall at the Elephant Space in Los Angeles, recounts what happens when two old pals, Finn and Max (James Roday and Michael Weston), get together in Atlantic City for their annual weekend of drugging, boozing, and indiscriminate screwing. The problem is that Finn is now married, his wife is pregnant, and he doesn't want to participate in a debauched lifestyle anymore. Or so he says. But the coked up Max doesn't buy it. He brings a couple of prostitutes into their room, and events spin out of control as the two men disintegrate emotionally. The repulsiveness of their attitudes toward women is topped only by the violence that transpires.
Like many plays and films of the last few years—Neil LaBute's "Fat Pig," Martin McDonagh's "The Pillowman" and the current "A Behanding in Spokane," Tracy Letts' "Bug" and "Killer Joe," Mitchell Lichtenstein's film "Happy Tears," and many others—"Extinction" straddles a line, attempting to reveal unpleasant truths while not turning off the audience. In-your-face theater is tricky, and unless you evoke some sympathy for your play's unsavory characters, says McKinley, "you can lose your audience quickly."
Back Stage also spoke with Roday and Weston about the challenges they face in playing misogynistic characters whose views and practices might cross the line for some theatergoers. Weston, who plays the more aggressive of the men, concedes that he almost turned the project down because he was so uncomfortable with his character. "The goal was to sell it to myself and say, 'Okay, I'm going to do this every night and believe it,' " he says. "I knew the material was good, but not sure where I fit into all of this. Making the character likable was hard for me, and though he was familiar—I've known male characters like this—it was hard to figure out what makes him tick. I jumped in blindly."
By contrast, Roday was immediately drawn to the play because of its Chekhovian elements, he says, especially in the first act, which is essentially a two-hander involving the men. The tone, he adds, is so suppressed and so beneath the surface, it's all subtext, "without a ton of things to say and do. Meanwhile, you're on stage with a guy who is all over the place. That's the challenge. For me, the play succeeds because it's honest, not because you're rooting for these guys. You know it's probably not going to end well."
During rehearsals, Roday says, the characters and their relationships grew more complex as McKinley refined and redefined the script. Still, the violence at the end of the play was difficult. But not simply from an aesthetic standpoint. The primary issue was plausibility, the artists maintain, suggesting that an audience will accept a repellent event on stage if it is not gratuitous. That's what happens, they say, if the audience can see the characters with some degree of compassion even while despising them. "Everybody loses part of their soul in these two rooms on this night," says Roday. "There is no triumph, only honesty and the natural fallout that follows."
McKinley talks about the difference in evoking sympathy as opposed to pity. If an audience pities a character, it's easy to be dismissive of that character, he says: "Then the character becomes a maniac." But all the actors in "Extinction" are careful to make sure their characters are not studies in psychopathology but rather the walking wounded, who, through a series of almost random events, spiral out of control. Inevitability and coincidence play their roles. McKinley hopes viewers appreciate "the near-misses" in the lives of his characters: Had they just taken another turn, it might have worked out very differently, he says.
A central ambition, the playwright continues, was to create a friendship between Max and Finn that is fully realized. Despite Max's alpha personality, he is the clinger, the man who feels most betrayed in the friendship. Max has also suffered a grievous loss recently, and rather than deal with what he really feels—not that he knows what he feels—he buries himself in his familiar hedonistic rituals, which are self-deadening. Fueled by drugs, Finn, arguably, does the same.
"While Finn's sin ultimately proves Max's theory" about the true nature of male-female relationships, says Roday, "it's also a matter of being at the wrong place at the wrong time for Victoria. No matter what, this man was going to become unglued and lash out at his world in the ugliest and most spiteful way he could imagine." Roday emphasizes that unless his character's revolting action served the play, he wouldn't have accepted the job, nor would have Frame, whose character is the target of his assault.
Frame admits that her role raises a number of tricky psychological, cultural, and aesthetic issues. Just what is an audience supposed to feel for a hooker who is victimized, and how is the actor to play it? Frame says part of the problem is solved by the script, which makes it clear that circumstances beyond Victoria's control have forced her into her current predicament. "It's a story that needs to be told," notes Frame. "So often, women are put in positions where they have to sacrifice their bodies, their morals, and their emotions for society or a man or just to survive. The scenarios may vary, but often they're stepping into a situation that they can't believe is happening. But they have no options."
Putting aside her politics, Frame says the scene in question works because of the sensitivity of everyone involved and because it was allowed to develop at a pace that was comfortable for the two actors. "I try to just go into it every night hoping for the best," she says, "and ultimately get surprised each time."
"Shocked" might be a better word for the character's response, which the audience might share. McKinley has no problem with an audience being shocked, as long as it makes sense and, equally important, the play is not shocking simply for the effect.
"Extinction" runs through March 14 at the Cherry Lane Theatre, 38 Commerce St., NYC. Tickets: (212) 239-6200 or www.telecharge.com.