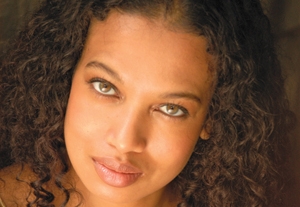 "This is Tyler," the dog's handler said to me with clear trepidation, observing my 100-pound frame. "You have to be firm with him; he likes to goof around." She handed me the leash, at the end of which was an enormous black Labrador with a happy tail and intelligent brown eyes. Of the six or seven dogs on set, he was easily the largest, and of the several actors on set, I was probably the smallest. The dog regarded me with the love that all good dogs give easily. His handler put a bunch of liver treats in my other hand. "You listen to what she says now, Ty-Ty," she said to him sternly before turning to me. "You sure you can handle him?"
"I got this; I used to be a teacher," I said. My mind flashed back to my former day job as a teacher when I would wrangle kids for school plays, and here I was, nine years and thousands of auditions later, shooting a Blue Buffalo dog food commercial and getting paid to hang out with Tyler all day. He was like a professional child actor. When he was on camera, he performed his commands with precision and the enthusiasm of someone enjoying the work. In between shots, he would sprawl on the floor panting, occasionally trying to mess with the other dogs, or take off at top speed toward whatever suddenly captured his interest, at which point I would go flying, much to the amusement of the crew and the peril of the equipment.
To be perfectly honest, the audition for this commercial doesn't particularly stand out in my mind, although you might think it would, since this is a project I actually booked. Like most actors who have spent years auditioning regularly, I never dwell on an audition, whether I'm happy with how I did or not. While I'm in the audition room, there are aspects of the situation that I can control—my breathing, voice, physicality, attitude, humor, focus, all of the details that my performance comprises—and I am there to manage those details 100 percent. But after it's over and I no longer have any influence over the situation, I don't think about it. I need the energy for the next audition. People who are not in the business always ask how I deal with the constant rejection that's an inevitable part of auditioning. The simple answer is: I haven't lost anything by not getting cast—I'm not any worse off than I was before the audition—and if I was content with what I had before, then it stands to reason that I ought to be content with it after.
So, months later, after the commercial has been shot and I have washed the dog drool from my hands and gotten paid, I am at my sister's house in New Jersey on a Friday night in November. My mom, my sister, and I are watching TV, and my nephew Xavier is sleeping on my sister's lap. For weeks at this point, people have been coming up to me and saying, "Corn gluten? Chicken byproduct meal?" because those were my lines in the commercial, but I have yet to see it myself. Lo and behold, in the middle of an episode of "Monk," there I am on the screen, saying "Corn gluten? Chicken byproduct meal?" while Tyler sits like a good dog by my side. "Oh my God, Sri, that's great!" my mom says, and I realize that not only is this my first time seeing this commercial, but this is the first time I have seen myself on TV with my family present. And on to the next audition.
In addition to working for the Back Stage casting department, Sri Gordon is a voiceover artist for Howcast.com, an improv actor for Mediation and Coaching Services LLC, and a karaoke DJ for Big City Karaoke. Previous acting credits include playing a BMW owner for a Maaco commercial campaign, independent films such as "Universal Love" and "Swing Vote: What Side Are You On?," and a legion of Off- and Off-Off-Broadway productions of Shakespeare.