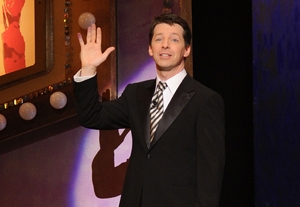 Amid all the high-decibel rock music and glamorous Hollywood stars, the most memorable moment at the 2010 Tony Awards was a brief, silent one. When actor
Marian Seldes
received her award for lifetime achievement, she eschewed an acceptance speech, gave the audience a look mixing impish amusement and profound gratitude, then walked off with a twirl of her cane. It should come as no surprise that this honor for a theater legend and several other awards—including best book of a musical and best score—were presented before the national broadcast on CBS. Apart from short clips in the main telecast, these presentations were seen only by those watching on the Tony Awards website or on local cable news channel NY1. It was emblematic of this year's ceremony. Broadway was being pushed aside in favor of less-ratings-challenged forms of entertainment.
Although the TV series "Glee" is making it okay to like musicals—and two of that show's stars
performed at the awards
—the producers of the Tonys almost apologized for celebrating the art form. The opening number emphasized the source of most of the nominated shows—pop and rock artists such as Green Day, Elvis Presley, Johnny Cash, and Frank Sinatra. Even "Memphis," the winner for best musical, was given a pass to nongeekiness because its composer and co-lyricist, David Bryan, is the keyboardist for Bon Jovi. Not that there's anything wrong with including these types of music in the Broadway songbook, but traditional show music—you know, the stuff written for specific characters and a story line—seemed to be treated like an eccentric aunt who should not be brought out of her upstairs bedroom when company calls.
Many of the most exciting musical works of the season—such as "The Scottsboro Boys," "Bloody Bloody Andrew Jackson," and "Yank"—were not on the stage at Radio City Music Hall because they played Off-Broadway and are therefore ineligible for the Tonys. This exclusion has been a continuing source of rancor in the New York theater community, but the entrenchment will likely remain. However, "The Scottsboro Boys" and "Yank" have announced plans to transfer to Broadway, and there are reports that "Andrew Jackson" may follow them. So these startling, new, original works—which feature character-driven songs and innovative staging—may yet be sampled by a national television audience. But edgy fare like "American Idiot" and "Fela!" was edged out at this year's awards in favor of safer work such as "Memphis." That may be due to the exclusion of the members of the first-night press list from the Tony electorate, leaving only producers and industry officials who have a financial interest in the outcome of the voting. One small element of objectivity may return next year when members of the New York Drama Critics' Circle—all 20 of them—are re-admitted to the Tony voters pool.
Plays were also given short shrift on the broadcast, but nonmusicals have always fared poorly in their Tony presentations. We've had video montages, live scenes, and brief clips, but these excerpts from the nonmusical nominees almost always lose their impact when taken out of context. This year we got only short plot summations from cast members, with computer-generated images of the plays' sets in the background. None of these plot guides came across as compelling enough to induce non-theater-savvy Tony watchers to cough up the money to see any of the four best-play contenders.
On the positive side, Sean Hayes, currently starring on Broadway in "Promises, Promises," was a wildly funny host, showing off his piano-playing skill and slyly poking fun at the recent controversy caused by a Newsweek commentary claiming that openly gay actors are handicapped by perception problems when playing straight roles. Hayes'
extended kiss
with co-star Kristin Chenoweth skewered the article's claim and mocked the idea that gays can't play straight.
Despite all the efforts to bring in new viewers, ratings for Broadway's biggest night dropped by 8 percent this year, losing the night to the NBA finals on ABC. Perhaps it's time for the Tonys—like the characters on "Glee"—to embrace their outsider status and stop trying to be the most popular kid on the block.