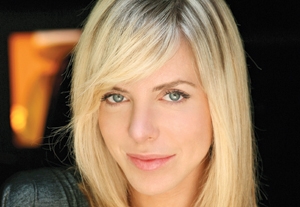 It's 11:15 a.m. Wednesday. I am sitting on my burgundy-leathery-circa-1940s chair in my office on the 14th floor of a famous banking building nestled amongst the other powerful high-risers on the Wilshire corridor in Los Angeles. Our staff meeting is only minutes away, but I'm reading sides and rehearsing for an audition I have on the other side of town in less than two hours. I hope those ambitious feminists know that they really paved the way for women like me in the Hollywood landscape today. Who would have ever thought it possible to be a working actress with a strong passion for the arts while simultaneously holding a V.P. position at a highly respected studio-based film company?
My job at Radar Pictures is high-paced, stimulating, uplifting, and inspiring. I get to partake in the development of a well-established company into its next phase. The oh-so-not-boring details of my job include dealing with financial elements, assisting investors if needed, and helping the rest of the team in developing numerous movies with A-list actors, directors, and writers. I dress in a tailored suit for the office, but underneath it, on this very day, I'm wearing a hot little white bikini, as I was told by my faithful manager that this project will be shot on a beach and that they are looking for a good actress who can also look hot in an itsy-bitsy bikini. I ponder, as I'm reviewing my last piece of dialogue, "If these people only knew that today I almost closed a deal for Anthony Hopkins and tomorrow I'm probably negotiating with an Academy Award–winning director." Yet I humbly keep my head down, focusing on my character, and then walk proudly and intently into the casting office, trying to score my next acting job. And now I'm back in a meeting with Wall Street folks. I'm wearing the suit again, put on in the back seat of my SUV.
Another outfit change to jeans and a tank, perfectly suited for "the girl next door" in an acting class at the Beverly Hills Playhouse, where I've put blood, sweat, and tears into becoming skilled at the craft of acting and understanding screenplays and literature—formerly taught by the late Milton Katselas. On other nights, I'm on stage at the Second City Training Center, doing sketch and improv. I stumble home late at night for my sixth cup of latte of the day, and I polish off the night doing international business on the phone and over Skype.
Certain traits paved the way for where I find myself these days: first and foremost a positive outlook coupled with innate optimism, the guts to take risks, a willingness to lead the way rather than follow and to take chances on new approaches, and definitely a belief that I can pull it all off. And then staying involved in almost every detail of my career, life, family, and all that's encompassed within those important to me. Add to that my innate integrity, to always be myself and stay true to myself, and not being afraid to work very, very hard. I demand from those around me—colleagues, family, employees, my team that agents and manages me—only that which I demand from myself: honesty, integrity, ethics, a sense of humor, staying real, and keeping things versatile. But the honest truth is I work really, really, really hard to be good at whatever I do. Milton always used to say, "When preparation meets opportunity, dreams really can come true."
Shirly Brener has more than a dozen projects currently attached to her name as actor or producer. She recently wrapped the lead in the indie "Touched" and the romantic lead in "Hit List." She is also the producer and an actor in the upcoming "The Chicago 8."