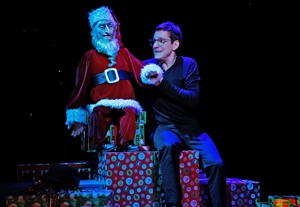 Two recent controversies prove that freedom of expression in the theater is still being challenged and that if you use a beloved icon to make a political point, you'd better expect pushback from the forces of intolerance.
Both controversies involve shows with homosexual content: the current Off-Broadway production of Jeffrey Solomon's "Santa Claus Is Coming Out," a one-man play about a gay St. Nicholas emerging from the closet, and a high school production of "Falsettos," William Finn's Tony-winning 1992 musical about a husband and father in the same situation. Not surprisingly, both are being pilloried for sending the wrong message to young people: that it's okay to be gay.
Solomon's work, in which he plays several different characters, has come under fire from right-wing bloggers for "sexualizing" Santa and for seeking to explore the possibility of providing positive gay figures for school-age children—heaven forbid! Focus on the Family education analyst Candi Cushman, at
www.citizenlinkblog.com
, also uses the play's content to indict the Gay Lesbian Straight Education Network for hosting a fundraising event featuring the play. By implication, Cushman also blasts GLSEN's founder, Kevin Jennings, now working with the Obama administration.
What Cushman and others are ignoring is that Santa has always been sexualized, depicted as a happily married heterosexual. In 1849, Mrs. Claus was introduced in a Yuletide short story, and she has been depicted in numerous TV cartoons and movies, from "Rudolph the Red-Nosed Reindeer" to "Santa Claus Conquers the Martians." No one got upset when the jolly old elf had to find a new wife in "The Santa Clause." The difference in Solomon's play is that Kris Kringle is in love with the great-great-grandson of the toymaker Gepetto. The conservative viewpoint seems to be that all gay sexuality or any depiction of gay people is automatically dirty and therefore must be kept away from children, especially in the schools.
The playwright is using a cultural icon to make a point about contemporary society. Solomon stated in a press release, "The theme of the play asks: What about the children? Heterosexual love is promoted to children in various ways—sailors can settle down with fish, princesses can get physical with frogs, and beauties can live happily ever after with the beasts who abduct them—but the child who may grow up to be gay has no reflection of himself. There is no happily-ever-after in sight during his or her formative years. What they can expect is taunting from other children at school and fear-mongering by adults. I was one of those children, and I can tell you that the fact that the subject was unmentionable and invisible when I was a child caused me a lot of unnecessary pain and shame. It is this invisibility that is explored in 'Santa Claus Is Coming Out.' "
Just as Terrence McNally touched quite a few hot buttons when he created a gay Messiah in his play "Corpus Christi," Solomon has shaken the jingle bells of the right by daring to suggest that young gay people should be assured by their educators that they are not sick or damaged. One school attempting to do just that is the Concord-Carlisle School in Concord, Mass., where the first high school production of "Falsettos" was recently performed.
MassResistance.com
labeled the show "depraved" and, by association, blasted GLSEN and Jennings, pointing out that the play's director—math teacher Peter Atlas—is a friend of Jennings.
With more and more gay-positive films, plays, and TV shows being produced, and more gay actors and personalities feeling comfortable enough to be open about their identities, it's inevitable that these depictions will find their way into schools. Because the right will continue to resist, it's as important as ever that these images and stories show gay students that they are valued and supported.