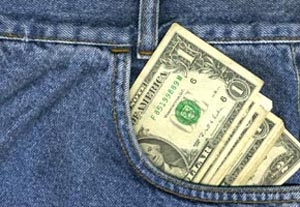 While you are planning your New Year's resolutions, focus on getting yourself financially healthy for the new year as well.
Holiday Spending
Have you already finished your holiday shopping? If so, you're definitely a good planner. If not, then develop a realistic holiday shopping budget this year, and stick to it. If you find yourself in credit card debt, come up with a plan to pay it off and not support the credit card companies with a lot of high finance-charge payments. You can find a great calculator on my website (www.davidcolley.wrfa.com) to help you figure out how long it will take to pay off your credit card debt. With the recent changes the credit card companies have made to increase their interest rates, it's important not to let this get out of hand.
And have you ever heard of a Christmas club account? It may sound old-fashioned, but this is an account you set up and fund monthly, so that by the time you get to December you've saved enough to pay for Christmas presents. If you put in $50 a month (that's the equivalent of a $1.75 cup of coffee a day), you wind up with $600 to spend on the holidays. These days, saving rather than spending is in vogue, so set up an account for 2010 and have some money in the bank next December instead of using credit cards to pay for holiday shopping.
Capital Gains
If you are lucky enough to have some investments, you will be happy to see that the stock market has made quite a recovery overall since its low mark in March. As the year's end approaches, it's important to review your portfolio to see if there's any rebalancing necessary to get set for 2010. If you have a taxable investment account, remember to take any capital gains into consideration. If you do have capital gains, you may want to consider offsetting them by selling some securities with values currently below your basis in them.
Remember, never act on selling a security just for tax reasons, but do take these tax considerations into account when making your decision. And of course, consult a tax professional prior to making any financially related investment decisions.
Retirement Planning


If you are covered by a retirement plan at work, make sure you consider whether you have made all the contributions you want to by year's end. Some types of retirement plans—such as traditional and Roth IRAs—allow you to make your 2009 contribution until April 15, 2010. But other types require that everything be done by Dec. 31. So understand your options and contribute accordingly.
Income and Expenses
Has your income changed this year, either up or down? Make sure you have had sufficient taxes withheld from your income or paid enough in estimated taxes. You don't want to be surprised come April. And if you are self-employed, consider whether it makes sense to push any additional deductible expenses into this year, such as business subscriptions, dues payments, or any work-related purchases. As always, a little planning can go a long way in making your financial life run more smoothly. Best wishes for a good 2010!
The opinions expressed are those of David Colley and are meant to be general in nature and should not be construed as investment or financial advice related to your personal situation. Please consult your financial adviser prior to making financial decisions. Colley is a financial adviser with Waddell & Reed, member SIPC, and can be reached at (310) 371-7036.