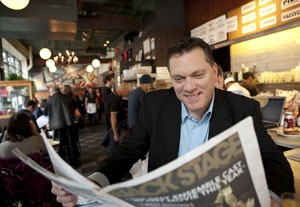 Every year, hundreds of aspiring artists pour into New York City with their eyes on the prize. But it doesn't take long for reality to intrude. Survival is not easy, with money heading the list of concerns. Indeed, a performer's finances affect everything from day-to-day living to long-term ambitions. Back Stage spoke with four performers at different stages of their careers to find out how they do it.
Randy Masters
Actor, Lawyer…and Magician
Age: 48
Hometown: Central Square, N.Y.
Years in New York: 2½ 
Currently earning $2,700 to $3,000 a month as an actor, lawyer, and magician, Randy Masters undoubtedly boasts one of the more striking journeys.
Though his sights were set on an acting career early on—he majored in drama at Syracuse University—his life changed course. He married, had a child, and put his acting dream on hold to make a living. Following a stint in the military (by this time he was a father of four), Masters entered Virginia's Regent University School of Law. After graduating, he practiced law for eight years. By 2006 he was divorced, his kids were grown, and he was free to pursue acting. His ambition was to move to New York and test the waters as an actor while working part time doing document reviews—a legal endeavor that doesn't require that he be admitted to the state bar, he says.
Masters put his résumé on Craigslist and soon had a document-review job in New York lined up and a shared apartment for $900 a month. For the next two years, while doing legal work, he took commercial and soap opera classes and attended meet-and-greet sessions with agents. When he was offered a high-paying job in Northern California as an anti–money laundering investigator for Washington Mutual Bank, he took it. When that job ended three months later, he decided to give Los Angeles a shot. Though he landed some background and featured work there and found the experience "fantastic," he says, the legal projects dried up.
A new course of action was called for. Masters began honing his skills as a magician—another old love he put on the back burner when he got married—and discovered that magic was a door opener. "Cultivating my magician skills enabled me to get cast as a telethon magician for the AFTRA show 'Parks and Recreation,' starring Amy Poehler. I was also cast as clown uncle Matt for the upcoming movie 'Judy Moody and the Not Bummer Summer,' starring Heather Graham. Both of those roles were featured and gave me a special talent upgrade, which means I got paid a higher base rate than the regular union rate. Because being a magician or clown is a special talent, you wouldn't merely be a background player. You would probably get a featured or possibly principal role."
Masters also found a few websites that book variety performers, such as GigMasters and GigSalad. He had himself listed and bookings followed. "You start getting reviewed," he says, "and the more and better the reviews, the more bookings."
Armed with his new skills but still hoping to make some serious money reviewing legal documents on a part-time or temp basis, Masters moved back to New York last September. "My goal was to get a legal project that would last three to six months, so that I could save enough money to get into SAG and Actors' Equity," he says. "All I need is one legal project. They pay anywhere from $30 to $50 per hour, and you can make a decent amount of money, especially with the overtime. For some of the legal projects I had in the past, I worked 50 to 70 hours a week. And some projects were literally a six- or seven-day workweek for the duration. I found a legal project on Craigslist, but it was a catch-22: They wanted someone who was on a document-review project more recently. One legal recruiter told me that since I hadn't done one in the last two years, it would hurt my chances of getting on one now. I told him, 'Well, it hasn't been for lack of trying. They just weren't hiring in L.A.' "
 Still, Masters has been able to land some trust and estate-planning work, mostly through his legal contacts in Virginia, and supplements his income with background and magician gigs. "I make a little more than $1,600 a month in unemployment insurance," he says. "I earn $600 to $800 a month as a magician. I also do background work on such shows as 'Blue Bloods' and 'Nurse Jackie,' earning on average $300 to $500 a month. Of course, all monies I earn are deducted from my unemployment money."
Masters is now back in his former apartment share, only now he sleeps on the living-room pullout couch, paying $120 a week. But the modest lifestyle is absolutely worth it, he says. "The springs are coming through the lumpy mattress and much of the night is spent tossing and turning, but the apartment is on the Upper East Side and the location is convenient." His iPhone costs $150 a month, and food expenses run to about $300 a month. He says he is looking into food pantries, which were available to him on the West Coast.
To maintain his presence on the variety-artist websites, Masters spends about $37 a month. So far he has not gotten new headshots. He owes $500 on one credit card, $600 on another, and $11,000 in back taxes. He is unable to save money, he says, but the good news is that he doesn't have alimony or child support expenses anymore.
"My goal now is to get one solid legal project that could last two or three months, be able to join SAG and Actors' Equity, and then get an agent," he says. "They say unless you're a member of SAG, an agent won't look at you."
Masters is hopeful, and so are the others. After all, they've come to the city where—for them, at least—dreams and reality can meet.
Natali Jones
Actor, Entrepreneur, and Jack of All Trades
Age: 28
Hometown: Garland, Texas
Years in New York: 5
Natali Jones, who has been able to survive on part-time, temporary, and seasonal jobs between acting gigs, says she loves the freedom her lifestyle affords. Not only is she available for daytime auditions, but she prefers "not knowing what's going to happen the next day," she says. "I like the constant change. It's scary, but I wouldn't have it any other way."
Consider her range of employment. "Along with promotional modeling, I've done extra work, surveys, focus groups, and even participated in medical studies when times have gotten really bad—but fortunately nothing hard-core, where they inject stuff into you," she says. "I have also applied to be an elf at Macy's over Christmas for extra cash. I have been fortunate enough to always keep a roof over my head. I'm now part of SAG. I just had a film called 'Fright Flick' released to DVD, which means I now have a total of five films on Netflix, Blockbuster, etc. I also have two films about to be released. One is called 'Imago,' in which I'm the lead, and one I shot in New York City called 'Daft Queens.' When times are tough, I know the trillion random jobs in New York City that can get you by. There's always a way."
Currently, Jones is working as a cocktail waitress at a nightspot in Manhattan's meat-packing district, doing 12-hour shifts on the weekends (often 4 p.m. to 4 a.m.) and shorter shifts the rest of the week. She is also developing an online business that promotes music and film events.
Between acting and her other jobs, Jones pulls in between $50,000 and $60,000 a year, she says. She pays $1,000 a month in rent, with two roommates also paying $1,000 each for their Lower East Side apartment. Her utilities average $50 for electricity and cable and $115 for her cell phone.
Jones needs $2,000 a month for all her living expenses, and she has set up three bank accounts: business, personal, and savings. "Once I have enough to cover rent, groceries, and bills each month—that's my personal account—I try to put 75 percent of what remains in my business account, which covers everything related to acting, such as headshots or business cards," she says. "And the remaining 25 percent goes into my savings account. This is money I dip into only for emergencies." Though close to 50 percent of her income comes from acting and acting-related jobs, she allots and spends those funds as needed. She refuses to use credit cards until she has paid off a $5,000 debt; when that happens, she adds, she may use a credit card for a major purchase.
Jones appreciates how far she has come. She arrived in New York with $500 in her pocket and lived on a friend's couch. Her parents' warnings about the harshness of an actor's life echoed in her ears. "They felt there was no way this was going to work," she recalls.
Still, Jones wishes she'd had more street smarts early on. "I used to be the sensitive girl from the South and let people get to me," she says. "Now, two minutes after someone has said something, I've forgotten it. You are your own person. Who cares what someone else thinks? Economically, I've learned how to save better. I'll be okay. As long as you keep aiming towards what you love, you'll be okay."
Jay Amari
Actor-Screenwriter, But Never Without a 'Regular' Job
Age: 55
Hometown: Savannah, Ga.
Years in New York: 23
"Since I came to the city in 1988 to complete my degree at Columbia and lived on $1 a day, I have honed the art of living on nothing to a pretty fine skill, although I don't usually list it on my résumé." So asserts Jay Amari, who has almost never been without a full-time job—sometimes more than one—since moving to New York. "I may not have an abundance of food, but my clothes always fit!"
Amari's jobs have included talent agent, manager, telemarketer, and nonunion background player. In addition to the few bucks he earned as an extra, the large amount of food available on the set was a further incentive to take background work, he says, admitting that he'd go back to the tables for refills and take home what he didn't eat.
Amari trained as an actor before switching to screenwriting, which was a natural progression, he says. "My acting background made me aware of structure and how character drives plot. But I guess economics also played a role." Though he hasn't sold a screenplay yet, he has had some nibbles, he says, and continues to believe that screenwriting may prove more lucrative than acting. Nonetheless, when time permits, he still auditions and has landed roles in several independent projects. The screenplay he's most excited about is an adaptation of the book "Operation Esther: Opening the Door for the Last Jews of Yemen," Hayim Tawil's account of his five-year endeavor to bring the remaining 1,200 Jews in Yemen to Israel.
Amari hopes this script will turn the tide. For the last three years, he has worked as an administrator at Yeshiva University, earning "in the mid-30s," he says. "There is no 401(k), but as a member of the local 1199 health-care union, I have medical benefits. My rent is under $1,000 a month, so one paycheck a month goes to pay the rent; the other goes to all my other expenses. Some months I don't pay the utility bill, and it can build up to $180. I don't have cable TV. In fact, I don't watch TV at all, haven't watched it in 22 years. I have a laptop at home, given to me by one of my professors, on which I do work for Yeshiva. It's equipped with a wireless card, so I have to search for available Wi-Fi signals. That means many times I have no Internet access. I also have another, older, smaller laptop that I inherited from a friend, and sometimes I use it to write on, but it has no wireless card installed, so I can't use it for email."
Amari found his headshot photographer on Craigslist and got to keep his digital shots in exchange for an hour of modeling. He uses coupons when he shops, and also a Pathmark card, which gets him $50 worth of food for $20, he says. But as tempting as it may be to buy in bulk, it can misfire: "If you buy too much, it'll go bad."
Amari has $8,000 in credit card debt and does not have a savings account, which is especially painful for him because when he left his last full-time job, he had $50,000 in savings. But six months of unemployment and Christmas expenses resulted in his current precarious position.
He is considering relocating to Los Angeles, believing there are more acting opportunities on the West Coast, especially now. Given his age and appearance, Amari thinks he could be cast as a dad, an uncle, or an executive on the big and small screens. "I want to market myself as an actor," he says, "before I'm too old."
Meredith Akins
Veteran Dancer, With Financial Planning Help at 23
Age: 36
Hometown: Englewood, N.J.
Years in New York: 13
When Meredith Akins was 23, her parents introduced her to a financial planner to advise her on money matters. She was an ensemble dancer—steadily employed in Europe, on Broadway, and regionally—and was about to embark on a national tour of "Footloose," but they were mighty worried about her future. At the same time, they were savvy enough to realize she would be making good money with the show and that this was the time to get her on the right financial path.
"My financial adviser set up mutual funds and a money-market account for me," Akins says. "I also set up a Roth IRA and a savings account. He advised me on how much to save weekly. On the 'Footloose' tour, I made $1,100 in a weekly salary, plus $700 nontaxed per diem. I lived on my per diem and banked my salary. From these savings, $100 was automatically deducted each month and put into one of the mutual funds. I followed these guidelines the two years I did 'Footloose.' In fact, seven years ago, I was able to buy an apartment in Brooklyn with the money saved and invested from 'Footloose.' "
Like many actors, Akins wasn't thinking in terms of property ownership at first. But after the tour, followed by five months with the show on Broadway, her view shifted. She found steady work in "Mamma Mia!," an established Broadway hit, and realized that "the show would not be going anywhere," she says. She had accumulated $35,000 in savings, and her parents suggested that she buy a property. So, for $180,000, with a 10 percent down payment and $3,000 in closing costs, she bought a co-op.
"I had more money than I thought I had," Akins says. "It's the actor's way to think you shouldn't—or don't—have money. Generally, we don't think about what we make a year but rather what we're making each week, and if we can save money at all, it's saving without goals. There is fear of homelessness or that we might not have money for food. We all deserve to think of goals for the future. But inherently, actors don't. I needed someone to sit me down and say, 'You can do this, and you need to think in a new way.' I know I've been very lucky in being in long-running shows"—"Mamma Mia!" was followed by three and a half years in "Wicked," in Chicago and on tour—"but in my head I was still the girl who was going to auditions every day. It didn't compute for me."
But fortunes change. For the first time in her 15-year career, Akins has been out of work for half a year. On the plus side, she had wanted a break to spend more time with friends and family, to "be able to have a date on Friday night or brunch on Sunday," she says. "My nephew is now 13 years old, and this is the first Christmas since he was 2 that I was able to spend more than one day with him."
Unemployment comes with a price, however. She still has to pay a $1,450 monthly mortgage and maintenance bill, plus $30 for electricity, $70 for cable and Internet, $104 for her cell phone, $160 for groceries, and $400 for eating out, classes, and miscellaneous expenses. She maintains a separate account for home improvements.
The good news is that Akins has savings and has always lived frugally. She uses debit cards, not credit cards—unless it's a big-ticket item, and then she pays the credit card bill in full. She acknowledges that if she does not land a dancing gig soon, she may have to think about a regular part-time job. "I've recently invested $8,000 so that I can generate some income while not working," she says. "It will not be nearly as much as what I was making, but at least it will make me feel better."
Her mood has also improved because she is going to more auditions. She is enrolled in a Spanish class, and she's in the process of creating a nonprofit mentorship organization called I Can Do That, which will pair Broadway dancers with disadvantaged youth who have an interest in dance. The program will inspire not only the youngsters, she says, but also the dancers, who can easily take their careers for granted or even grow bored. The kids' enthusiasm will be a much-needed antidote. Akins, however, has no career regrets.
All photos by Francine Daveta