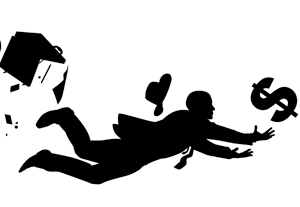 Like most actors, I didn't like seeing so much of my income taken out of my paychecks for taxes. That's why I started learning more and more about the tax process. My original goal was to figure out how to have the least amount of money possible withheld for the Internal Revenue Service. Yet at the same time, I enjoyed getting the largest refund I could at tax time.
I soon realized that these two concepts are in conflict. You can't very well let the government keep as little as possible and then expect a big refund. As I became more competent in my financial understanding, I learned that both situations are risky.
Consistent underwithholding—not having a sufficient amount taken out of each check—can lead to attention from the IRS. If underwithholding becomes routine with you, the agency won't hesitate to step in and force your employers to withhold more than necessary, to prevent you from owing taxes to the government at the end of the year.
At the same time, consistently large refunds can cause the IRS to wonder what is going on in your returns. Rule No. 1 in my book is to never give the IRS any reason to take a special interest in your filing. A performer's tax return is typically full of unique deductions, about which the average government employee doesn't have a clue. And, being trained to be suspicious, he or she will most likely want further investigation—in other words, an audit.
Although incorrect withholding is often not the actor's fault, you should still try to take control over the process. In general, the larger your weekly check is (usually determined by the size of your role), the higher the withholding rate will be. For most theatrical work (TV, film, and stage), you will generally see a fairly standard system.
Payments for commercials, on the other hand, can be incredibly frustrating. How long or how often a spot will run is usually unknown, so most actors have no idea in advance what their yearly gross income will be. Also, many commercial payroll companies have their own unique sets of rules. A payroll company once sent one of our clients a one-time $10,000 payment with nothing at all withheld for federal or state taxes.
That same company has paid out as much as $94,000 throughout the year to a client while keeping nothing back for her taxes. When she filed her tax return, she discovered that she owed $12,000—money she had already spent. It's normal to think that once the money is in your hands, your obligation to the tax authorities has already been taken care of. Not so. It's your responsibility to keep an eye on how much is being withheld—from every check from every employer—throughout the year.
Here's my suggestion: Periodically add up your year-to-date gross income from all of your employers, then check to make sure that what's been withheld for federal taxes is at least 10 percent of that total. If your expected income for the year is more than $40,000, you may want to start having even more withheld, as you will likely end up in a higher tax bracket. In this case, it's wise to consult with your tax preparer. (If the rate of withholding is correct for the feds, then the withholding rate for the state and/or city will usually be accurate as well.)
Remember, your goal is to have enough money withheld in taxes throughout the year from all your employers so that you won't owe anything when your return is prepared. Your desired outcome should be a small refund. Watching your withholding is crucial to avoiding an unfortunate surprise at the end of the year.