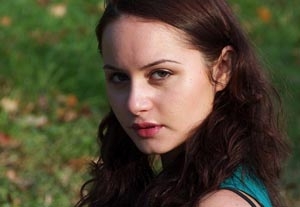 "Acting... is not only what I do to earn a living," said Danny Aiello, "but it's a distraction that takes me away from things that trouble me terribly, like the loss of my son."
"Acting is medicinal. It gives me a reason to keep living. I can't wait to get up because I'm going to act."
There are moments when the past, as much as we might have wished to let it go, comes rushing back, as if we were re-living it.
It was August 6, 1993. I was barely three years old.
Early in the day I was taken to the pediatrician—at my grandmother's urging—with a case of "uncanny paleness." Hours later I was sleeping in a hospital bed.  I had been diagnosed with Leukemia.
For my parents it felt like the most horrific nightmare. The kind you know you are in, and are just aching to wake up from, but can't. I cannot recall much about that nightmare, however.  All I can recall is escaping into the perfect land of Disney.
Always an imaginative child, those painful days were actually the beginning of my journey into performing. If you were a doctor, nurse practitioner, or anyone forced to stay at Hackensack Hospital between 1993 and 1995, you likely saw my hallway renditions of Bell, Ariel, Snow White, Jasmine and Pinocchio.
Yes, even Pinocchio! I pretended to be Pinocchio tied down by the irritating strings of a puppet. In reality, every time I was attached to "my strings"—the I.V.s that pumped cancer-killing chemotherapy into my fragile body—I would parade around singing "I got no strings to tie me down" to anyone who would listen. The staff of Hackensack Hospital were my first eager audience.
It took several years of treatment until, thank God, I was 'cured' of Leukemia. But I was just beginning to feel the effects of the bug that disease gave me: Acting.
From grammar school to high school, I began to joyfully perform in every play and musical into which I could be cast, my dreams of a Broadway career growing larger with every entrance on the amateur stage. However, when I was a teenager, I was given a horrific reminder of the kind of pain that had brought me to acting in the first place; a pain requiring escape. 
One beautiful afternoon, my mother and I had done some shopping and were driving over to visit my grandmother. 
"I'm not feeling well," my mother suddenly said. "I need to go home." She had felt a sudden aching back, dizziness and upset stomach. About halfway back to our house—a mere five-minute drive—my mother began to black out. Her hands were shaking and the car came to a halting stop. (Thankfully without injuries.) My mother was brought to the clinic, where the doctors ran numerous tests.  
A few days later my mother was informed that she was suffering from an aortic aneurism—a dangerous ballooning of the artery to her heart. She required open heart surgery immediately. If not, she would die.
After surgery, my mother seemed to recover beautifully. She was a strong-willed woman, determined to get back to a normal life. Two weeks later, her health took a turn for the worse. She began spiking dangerously high fevers.
The morning they rushed her to the emergency room, she was shivering uncontrollably from a spiking body temperature. 101,102,103... 104. The numbers rattled through my brain like marbles clanking against my skull.
The doctors were taking too long to see her. Her fever was getting higher and higher by the second. Each frustrated attempt to kindly ask for assistance went in vain. My mother turns to me and whispers "If you don't get me in there
now,
I am going to die."
Without a second thought I run up to the first emergency room doctor I see and passionately exclaim, "My mother needs help."
She had contracted a serious bacterial infection. Luckily, a heavy round of antibiotics seemed to cure it, and by the following month her health was slowly returning.
In November, I auditioned for my high school's version of "The Miracle Worker" and landed the role of Annie Sullivan. A woman whose strength defied all odds was mine to interpret. My parents, and especially my mother, were thrilled for me. They have always been my biggest supporters.
I remember being astonished that I had landed such an intense role. "I am nothing like Annie Sullivan," I thought. When I imagined Annie, I actually imagined my mother, not me.
One day after rehearsal, I expressed this concern to my director. She sat there quietly and listened as I babbled on about how "I'd never played a role that was so far from my
self
before."
She looked at me and said, "But you are wrong, Amanda. You are just like Annie." I wasn't convinced.
At home, things began to get worse. In December my mother was spiking fevers again, and worse. Her feet began to swell to the point where she couldn't walk. The infection was attacking her extremities. Doctors began to become concerned, but they assumed another round of I.V. antibiotics would cure it.
It didn't. Doctors concluded that the root of the infection must be related to her previous surgery. She would have to have open heart surgery again, in order to clear the infection.
All the while my headstrong mother argued that the root of the infection was the pacemaker wire a resident had left in her after her earlier surgery. No, the doctors iterated time and time again. The likelihood of that was slim. Plus, the risk of tugging the troublesome wire out—which could potentially put a hole in her heart—was greater than the possibility of it being the root of infection.
The only cures would be an extremely risky surgery, a surgery she might not wake up from, or an equally risky procedure. I couldn't bare the thought of my mother—whom I love more than words could ever describe—not being here with me.
That put everything in my life in a very clear perspective. No matter what I was doing or what I was feeling, I knew all I wanted out of life at this moment was to be there for my mother. Just the way she and my father have always been there for me.
And what did my mother want?  She wanted me to perform in the show.  She knew it was what I wanted, and she insisted I continue to rehearse and follow my dreams.
So I shuttled back and forth between visiting my mother and going to rehearsals. And with everything else going on, I still struggled with this notion about whether I knew how to play the role of Annie.
I pondered what my teacher had told me, trying to figure out how she could possibly compare me to Annie Sullivan. Suddenly, my imagination brought me back to the emergency room.
I thought of what I was prepared to do at that moment when I saw my mother in dire need—everything imaginable. I was prepared to go to every end, seek any assistance, stay there by her side. It was the only thing that mattered to me.
That was it. I suddenly realized that strength isn't something you find until you are forced to draw on it.  I realized that I did have strength. It's something I learned from my parents—especially my mother. It's something I had learned from my childhood adversity. "I am like Annie Sullivan because I am strong." I repeated this phrase aloud, finally believing it.
From that day forward I approached my endeavor to embody the unmatchable Annie Sullivan much differently. All I needed to do to find her was look inside myself.
Suddenly I understood the reason for her fervent determination. It was her pain too, the loss of her dear brother Jimmy, that both haunted her and urged her to press forward.
Like Annie Sullivan, I needed to press forward, despite all odds. Though at times my heart was breaking, I gathered all the strength I could muster and went to play practice, every day further immersing myself into the mindset of this wonderful woman.
It is this mindset that got me through the struggle of not knowing what would happen next. If it weren't for that play and the people involved in it, I don't know what I would have done.
Backstage before our
encore
performance of "The Miracle Worker," our director Jill Hackett called for a moment of silence.
"You don't have to believe in God to do this," she said, "But since I do, I am going to pray for Amanda's mother and ask you all to devote whatever you believe in to her recovery."
As I looked around the room, I was overcome by how intently everyone seemed to be putting their energy on my mother's recovery. I like to say that we all secretly dedicated that brilliant performance to her, wishing she could have been out there to see it.
My mother was right. The surgical wire was the root of infection. A brave doctor at Englewood Hospital opted to take the risk and extract the wire, which, ridden with infection, slipped out quite easily. It was as if my mother's heart was just waiting to let go of it.
My mother and I are now both healthy and closer than ever, thank goodness. I'm still looking toward a career as an actress, with my parents' support. And I thank God every day that I can share my dreams with her, as she shares her strength with me.
When I recently read that quote by the great Danny Aiello, whose son wasn't as fortunate as my mother to recover from a horrific battle of cancer, it brought all these memories and emotions back to me.  I can only imagine the pain he carries from his loss. I only hope that I can use whatever talents I have, as he does, to share these feelings through my craft. 
To Danny, for reminding me through craft and his example what is really important in life, I wish to say "Thank you."
Amanda Rose Antonucci was born and raised in New Jersey. She is currently a student of Marymount Manhattan College working towards an undergraduate degree in Interdisciplinary Studies with a focus on French and Italian languages and cultures. She is also attending William Esper Studio for acting, where she is a second-year student.

Amanda's New York performances include: Soloist in the Garden of Dreams Foundation concert at Radio City Music Hall, and Soloist for a Knicks game at Madison Square Garden. She has performed in numerous community theater and low-budget film projects. Amanda can be reached at aroseantonucci@gmail.com.