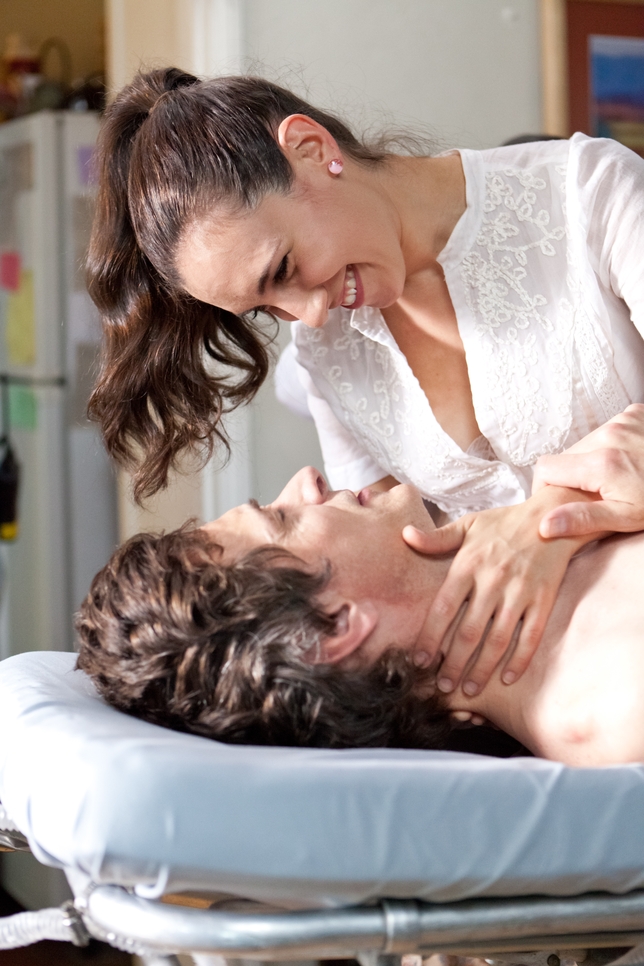 Pursuing the dream of becoming an actor is a lot like falling in love. You put your faith in a prospect that hasn't proven itself capable of showing up for you, and you choose to trust that something feeling so right can't be wrong. There's also that, doing the same thing over and over again but expecting different results routine, which Albert Einstein coined as the definition of insanity. But let's stick to the love metaphor.
My dream has always been to have a career filled with good, challenging work, talented collaborators, and stories that matter. With that in mind I vowed, through years of little opportunity, to continue working no matter the venue. I said yes to everything, and therefore have done more readings, workshops, tiny theater, and films no one ever saw than I can count. The world of Equity waiver theater was my playground, and despite the sense in L.A. that no one sees small theater, Dawn Steinberg does. She's the EVP of Talent & Casting for Sony, and she has been an extraordinary champion for me and so many other actors doing good work under the radar. She brought the wonderful casting director, Ronnie Yeskel to several plays that I was in over a couple years, and when the right role came up in an indie she was casting called "The Surrogate," she had me in to meet the writer/director, Ben Lewin.
Ben had discovered the story of a 38-year-old polio survivor in an iron long named Mark O'Brien who, despite his physical limitations, wanted to explore his sexuality, and had hired a sexual surrogate named Cheryl Cohen Greene to help him achieve intercourse. I was up for the role of Amanda, who serves as the catalyst for Mark's quest. She's an attendant of his who cares for him deeply and who he falls in love with, only to be left heartbroken. It's a lovely supporting role and John Hawkes was already attached as Mark. The audition was a dream, but it wasn't the first time I felt that way, and I was absolutely prepared for the disappointment that would follow. That call from my reps, "They love you, you're in the mix, but they're going to offer the role to a name…it could come back around." It never comes back around. But this call was different. It was from Ronnie, and she was overjoyed as she exclaimed "You booked it!" In the weeks that followed, I kept waiting for the role to be taken from me as Helen Hunt came on to play Cheryl, William H. Macy came on to play Mark's priest, and Moon Bloodgood, Robin Weigert, W. Earl Brown, Adam Arkin and Rhea Perlman joined the cast. But Ben Lewin and his incredible wife Judi Levine, who was producing alongside the awesome Stephen Nemeth, stood by me.
Shooting opposite John Hawkes was like witnessing a miracle. I had watched "Breathing Lessons", the documentary short on Mark O'Brien that won the Oscar in 1997, and I didn't think an actor could come close to embodying the nasally, contorted charm that was Mark. Not only did John have his physical and vocal mannerisms spot on, he was truly channeling Mark's energy. In playing such a dependent man, John himself was extremely vulnerable, and he didn't hesitate to put his total physical and emotional trust in me. I treasured every moment working with him. The greatest lessons I have learned about how to behave on set, both as an actor and a human being, were taught to me by John. He is as humble as he is talented and is only matched in his generosity of spirit by Ben Lewin.
At Sundance, the film played to two standing ovations, won the Audience Award, the Special Jury Prize for Ensemble Acting, and was the biggest acquisition of the festival, purchased by Fox Searchlight. In the audience, amongst the thunderous applause, I turned around to see my incomparably supportive family, who had driven in from Seattle to be in Park City for the premiere, sitting about 10 rows above me, weeping and cheering. Then I looked down my row to see Ronnie who made eye contact with me as if to say, "Can you believe this kiddo?" Then I looked at the man holding my hand, my fiancé Micah Hauptman, an amazing actor I met three years ago on an AFI thesis project, and we shared what can only be described as a WTF moment.
It's surreal, literally living the dream I dreamed up for myself: good, challenging work, talented collaborators, and stories that matter. Although I have no idea what comes next, now I know it's possible. Even the most elusive prospects can learn to love you back.
The film, renamed "The Sessions" will be released in theaters on Fri., Oct. 19.