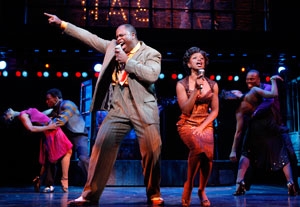 My journey began with "Memphis" in Fall 2003. That fall was an exciting time for me because I was waiting tables at BAM Cafe at night, and working for a temp agency during the day. I was hustling like every other young actor in the Big Apple, always auditioning and praying for the next acting gig to come. My reps submitted me for "Memphis," and I prepared to do and give my best, like always. I booked the role of Delray Jones, (now Delray Farrell,) which I originated, and thus began a nine-year relationship headed straight to the top of Broadway's best!
We opened at the North Shore Musical Theater in Beverly, Massachusetts for an east coast premiere and hit the ground running.  Joe DiPietro's book was an American story about race, love, and the universal language of music that brought people together during a horrible time in our history: the segregated South in the late 1940's.  
People fell in love with the show instantly, and from the start we were always Broadway-bound. David Bryan's music was a hit with the audiences and left people begging for more. The score was loved by older and younger generations, which gave us instant crossover appeal.
When we opened on October 19, 2009 at the Shubert Theatre, I made my Broadway debut. At the time, we were "the little show that could." No one really expected us to have the impact and presence that we created that year. We were against shows like "Fela!," "American Idiot,"  and "Million Dollar Quartet." All great shows in their own right.
Then, the unexpected occurred. We won four Tonys: Best Score, Best Orchestrations, Best Book of a Musical, and, most awesome of all, Best Musical! That night at the Tonys was overwhelmingly mind-blowing. Performing on the Radio City Music Hall stage in front of the whole world was a magnificent achievement and payoff for all the blood, sweat, and tears endured over years of regional appearances, several workshops, and fundraising. But, the fun and work had only just begun!
After reaching that level of success, I feel that it's always a challenge to keep my work fresh, have continuity, and have a fun eight shows a week. I try to allow myself to be a sponge: Absorbing and receiving information as if I hadn't seen or heard it before. Allowing myself to be in the moment of what is going on with Delray and what he has to deal with as the story progresses each show. Acting is re-acting and doing less is more, which gives me freedom to dwell within the show freely versus forcing things to occur. Sometimes I feel like I have to do something physically or act too much to bring truth to a moment. It honestly takes a strong imagination and a clear sense of who Delray is as a person.
Chemistry between castmates in a long run is imperative, as well. Chemistry allows me to make different choices without losing the integrity of the piece. The trust that a cast must have in one another gives us the green light to play and have fun, while executing the story to the fullest reality. I also respect our director, Christopher Ashley too much to obscure his vision and blueprint, which he has entrusted in me to keep intact. This is a collaborative art form and should continue to be performed as such. Live theater lives and breath day in and day out. I like to go on the ride and see where it takes me.
"Memphis" has opened some doors for me as far as business is concerned. Creating new relationships, access to exposure for my work, and learning the keys to great success on the Great White Way: Persistence, discipline, patience, and passion
We close on August 5. It's sad to see it all come to an end, but as we all know, the show must go on! Memphis will always live in me!
J. Bernard Calloway has spent the last four amazing years originating the role of Delray Jones in the hit musical, "Memphis," his Broadway debut. As a Florida native, currently living in New York, Calloway has had a versatile career spanning television, film, and the stage. Playing opposite Sam Worthington, Denzel Washington and John Travolta in "Man on a Ledge" and "Taking of Pelham 1-2-3" respectively, and guest-starring in all the "Law and Order"s, as well as "Person of Interest" and "Rescue Me," Calloway continues to push the limits of a multi-medium actor. With rave reviews from "The New York Times," "The Hollywood Reporter," amongst others, and "Memphis" coming to a close this August, J is ready for the next adventure!  This July, Calloway can be seen on the small screen, guest-starring opposite Matt Bomer in the USA Network's hit series, "White Collar."