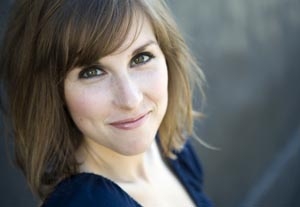 I grew up fairly sheltered, in a pleasant little tree-lined Pennsylvania suburb.  Let's be honest, it was a veritable Rockwell painting come to life.  I was a sweet, stereotypically diligent student. I starred in all the school plays.  I dated a football player.  I was even voted Homecoming Queen.
So I never actually imagined I'd be working with people in porn. 
That's right, porn.  Now let me explain.
One of my favorite casting directors emailed me; she wanted to call me in for an audition. Now, like every actor knows, getting asked in for an audition directly from a casting director is the type of thing that just, well…
rocks
. It's like winning a quiz bowl you didn't even realize you'd entered.  And this particular CD always runs a fun and uniquely enjoyable audition. So I was humming with eagerness—until I read the breakdown.
It was a mother and daughter scene.  I would play the daughter, natch. And the scene would be... buh... "largely improvised."
Bleh.
I hate largely improvised. I suck at largely improvised. (I suck at thinly improvised.)
It's ridiculously easy to convince myself I don't have enough experience, training, or natural talent when I'm crafting a scene on the spot. I get uptight and anxious and just end up talking over the other actors.
But... I was lucky enough to be asked in the first place by this CD, so I kept reading. The audition was for a new comedy. Awesome! They wanted fresh talent with a realistic style of humor. Sweet! And it would be all about porn.
I reread the email again.  My eyesight sort of clogged up when I got to the P-word.
Audition on Thursday. Comedy. Improv. "Starring a few well-known, well-regarded male porn stars."
I stopped reading again.
Real-Life Porn Stars
. And me.
Now, I know nothing about porn. (Porn doesn't exist in Pennsylvania; QVC does.) My slim knowledge of porn is based on a few key episodes of "South Park," and coverage of Sandra Bullock's divorce in People magazine.
So I start to get nervous. I think, there is
no way
I can book this job. But not just because of the pornographic part.
Because of the improv.
While I'm not well-versed at all in porn, my experience with improv is worse than un-well-versed. It's painful and embarrassing and usually feels like sky-diving with a napkin parachute.
When forced to improv, I generally just pretend I'm either a dinosaur or an alien, and let the scene deteriorate into strange growls so I don't have to come up with actual words. Or I just start fake crying.
So this particular opportunity to do improv—enmeshed with the whole porn element—seemed to be a Lose-Lose situation for me. I'd be totally over my head.
Yet, underneath it all, my pride kicked in.  This casting director thought I could do this; if she didn't she wouldn't have called me. Maybe I could. I started to feel weirdly resolute.
I decided I was
going
to do this.
So, just like any other audition, I studied the breakdown. I set my wants and objectives. I drafted a more talented friend who has a ton of improv experience to rehearse some possible scenarios with me. (I know, that completely obliterates the point of
improv
. Can you rehearse for the unrehearsable? I tried, yes, I did.)
I Googled the directions, showed up a tiny bit early to the audition at a large, imposing casting office, signed in, and sat down with the other women—all waiting with nervous little half-smiles.
The casting director called us in.  As we discussed the basics, she laughed—saying she'd never cast a show like this. (Me neither! Anyone want to give me some sides and make the whole thing easier?)
My audition partner Patty and I walked into the room, made our introductions, and shook hands with the kind and totally fantastic producers. That's when I saw him. Sitting in a big leather chair in the corner was the man of the day himself.
The Porn King.
He was there. To audition with us! I mean, I knew the show would be
about
him, but the man himself—the totally ripped, tan, and buff man himself—was getting up to improv with us.
Buuuuh... wait.
A thought suddenly struck me. Do porn stars improv? I mean, what if he was even
worse
than me?
He gave me a quiet little smile as he took his place beside me. More thoughts came. Are porns scripted? Or worse yet, what if he's an improv
master?
Panic flooded my temples. Is it time to start growling yet?
There is a brief second in every audition—after that last reassuring moment when they ask you to slate your name to the camera and you know exactly the right thing to say—when all thoughts immediately vacate your brainspace, and you realize you have no idea how you got there. You think strange, half-crazed thoughts.  Your life flashes before your eyes in utterly cliché and random ways.  You wonder, "Does the Porn King think I'm pretty?" and then, "Why did I ever decide to be an actor? This SUCKS."
I experienced a quick moment of amnesty: Patty jumped in and started off the scene with a chatty intro of who we were and why we were there to talk to the Porn King.
Meanwhile, my brain was sludging around like paper mache, words half-glued into my memory from my previous prep rehearsals. I sputtered out a vague protestation, "Moooom!" (Thank God, I got a semi-word out.)
The King and Patty traded some one-liners.  I noticed how calm, how effortlessly cool he was. Was it because he already had the part, because he wasn't the one in the hot seat? Or maybe that's what good improvisers do.
I suddenly remembered
I
was the one in the hot seat. "Say
something!!"
my inner Stage Mom screamed at me. "Do not get left behind!"
Something blurted out of my mouth. I could feel my fellow actors simultaneously turn their physical presence to me as all the attention in the entire room lasered onto my face.
Buuuuh...
There wasn't anything I could do, but say something else. So I kept talking. What did I have to talk about? Well... them.
I reprimanded Patty. She protested. I gratefully thanked him. He demurred. I begged her, I joked with him, we all laughed. (The producers even laughed.)
Without anyone else's written lines to buoy my performance, all my focus was on the two people who were standing right next to me. That's all I had to work with.
I interrupted Patty. We bickered. I waved to the King's off-camera invisible friend as we chatted about him. He waved at him too.
There wasn't time to think about my besmirched Homecoming crown, or wonder if the King was more comfortable with his clothes off or on, or think about what sound a Velociraptor would make in this situation.
I was in the moment.
Because, it suddenly didn't matter my scene partner was a porn star. We were both actors in an audition. We both wanted the scene to be amazing. We both were improvising.
"Oh my God!" I thought. "I'm improvising! I'm in it!"
In a moment of excited improv, I grabbed the King's big manly biceps and feverishly squeezed. Wowie. If there was any doubt before, the man is
built
. I'm not going to lie... I got some butterflies.
But, in the moment, it worked perfectly. Because I wasn't portraying a character who was a porn star herself. I was playing a girl who knows nothing about porn, a girl who gets fluttery around muscle-y men. I was playing
me.
And the Porn King was playing a porn star. And the characters we created—the ones I so frantically tried to invent a day ahead of time—turned out to be ourselves.
Who knew?!
And then, it was done. The producers thanked us profusely, the casting director thanked us some more, and the Porn King thanked us too. He shook my hand, and then I left. The audition was over.
He and I, we're two very different kinds of actors. Sort of... we're still playing the same game. And we both want to do some good improv when the scene calls for it.
Granted, I'm only successful part of the time, but give a girl a break. I'm making this stuff up as I go.
Originally from King of Prussia, Pennsylvania, Teresa Reilly studied at the Atlantic Theater Company Acting School at New York University's Tisch School of the Arts.  She has worked with acclaimed regional theaters Theatre Horizon, Florida Studio Theatre, and PianoFight Productions, and was most recently seen in the mockumentary webseries, "Nothing is Cool."  She lives in Los Angeles.