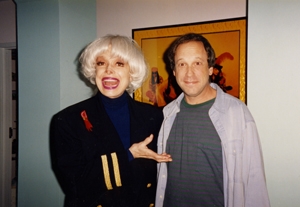 In 1993, I gave up my acting, writing, and directing career to become a full-time record producer. At that point, if you'd told me that I would produce more albums in a seven-year period than any record producer in history, I would have told you you were insane. But that's what happened.
One of the biggest challenges right off the bat was working with incredible Broadway singers, most of whom either had never been in a recording studio before or had only done cast albums. Some of them took to it right away. My first album was with Liz Callaway, and it was like she was born to be there. With that first album, I did something I don't think most producers do: I never looked at the singer when they were doing a take. Why? Because I didn't want to be fooled by watching them emote or gesture or whatever they do in there. It had to work only for the ear. That's all we have when listening to a recorded performance.  Because I had been an actor for most of my life, I knew the various processes actors have, but the studio and microphone is a completely different animal.
Some performers were used to belting to the rafters and doing stage-sized performances. They were brilliant performers, but it was too much in the recording studio. With those people, I'd just go in and say what would become my standard line, "The microphone is our friend." I asked them to imagine that the microphone was who they were singing to, and I told them they could belt, just not with quite their full power. The effect would be the same, but wouldn't blow the listener across the room. That subtle adjustment made all the difference in the world.
I had some performers who were so terrified of the studio they were actually shaking. I'd just let them do a take, we'd listen, and I'd start the process of making them comfortable. I ask them only to think about what the song is saying, to play an image or an attitude, and, most importantly, not do what I call "flatlining" a song – to make sure each verse has a different color so that the song is like a play and each act has its own feel.
No matter how big the person that I worked with, they craved the direction. (That includes Elaine Stritch, Dorothy Loudon, Lauren Bacall, and Petula Clark.) Sometimes wonderful actors would be so concerned about the singing part they'd forget about the acting part, and it was my job to make them so comfortable in the studio so that they could be free to just "play" the lyric and the music, and weave them into something magical. That's what I always wanted – the magic.
Every singer responds to different things. Laurie Beechman loved when I would give her imagery. Some like a more direct and specific approach, but whatever the method and the song type - whether ballad, up, comedy, romantic, sad - all I ever cared about was honesty in the storytelling. What was always amazing and fun was to hear the singers take whatever note given them and then make it completely unique and their own. But when you're working with such great actor/singers, it's all easy because we're all there for a great performance that brings the song to life.
One of my favorite stories is when Kristin Chenoweth came in to sing "Lion Tamer" on my Stephen Schwartz album. I always let the singer do a take right away so I can hear what they're doing. I always record that first take. Kristin went in, sang the song, and I got on the talkback and said, "You can go home now." She came in the booth and laughed and said, "Don't you want me to do another take?" I said, "Why? That was one of the most perfect vocals I've ever heard." I played it back for her, and she was thrilled with it. Then she turned to me and said, "I just sang it from the heart." And there you have it.
Bruce Kimmel is the author of "Album Produced By…More of My Rollercoaster Life" and eleven previous books, including a memoir about his acting, writing, and directing days entitled "There's Mel, There's Woody, and There's You: My Life In The Slow Lane." He has had an active career in one form of show business or another for over forty years. His record label, Kritzerland, issues musical theatre and soundtrack recordings. He lives in Studio City, California.