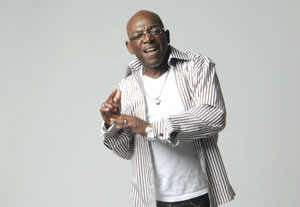 "You never really know where life will take you." That's a lesson I learned at the very start of my career. As a child I performed in my elementary school production of "The Nutcracker." Immediately after, I was selected to study at the renowned Jones-Haywood School of Dance in Washington D.C. That led to a full scholarship to study at the School of American Ballet in New York, under the direction of the legendary George Balanchine. I was only 13, and my intensions were clear: I was going to be a great ballet dancer. But a few years after landing in New York, opportunity came knocking.
A Broadway production of "The Wiz," featuring an all black cast began auditions, and as luck would have it, I was cast as a dancer. Just before the production came to Broadway, fate intervened again, and I made my Broadway debut as the Scarecrow, opposite Stephanie Mills. It led to starring roles in "Dancin'," "Dreamgirls," and "Sophisticated Ladies," for which I won my first Tony Award.
This business is about being fearless, never allowing barriers or shortcomings to dictate what you can and cannot do. The beauty is in finding a way around any challenge. I was not a hoofer, I had been a soloist with Dance Theatre of Harlem & Chicago Lyric Opera, but when roles demanded that I add tap to my repertoire I enlisted the help of the multi-talented Gwen Verdon, who made everything look easy. I went on to star in the "Tap Dance Kid," for which I received my second Tony Award, and in "Miss Saigon," which earned me a third Tony, and placed me in a league of my own, until the remarkable Audra McDonald walked away with a history making fourth and fifth Tony's.
I grew up watching stars like the Nicholas Brothers, Lena Horn, Fred Astaire, Gene Kelly, and Nat King Cole. Their careers revolved around Hollywood, and I wondered if there might be something worth exploring beyond the bright lights of Broadway so I headed West. My credentials as a Broadway musical star allowed me to pursue a recording and acting career. My skills as a dancer opened doors for me as a choreographer, and with each turn of the knob, I realized that I was gaining an incredible education. If Broadway was college, this was my Master's!
In Hollywood my recording career yielded some success, but didn't pay the bills. My acting and choreographic work on the other hand began to gain traction. I used every opportunity to gain a better understanding of how things came together from the concept, to production, to the final product. I knew this knowledge would come in handy for something I was going to do some day. I had had the experience of writing, directing, and choreographing a television project for WJZ-TV in Baltimore and that had started my wheels turning. But it would be years before I would have the opportunity to do anything like that again. In the meantime the stress that I had put on my body from years of dancing had begun to take its toll. The first signs that something was wrong became apparent when I returned to Broadway in "Chicago," and things got worse when I took on the role of Coalhouse Walker, Jr in "Ragtime." I left the show less than a year into the run to have major surgery on my hip. I would land in the hospital four times after that to have the same hip worked on. Each time I found myself in the hospital thinking, "What if they can't fix me?" Then I would quickly shift my thoughts to all of the other things I could do, given the experiences I have had if dancing was not an option.
I was already doing my fair share of acting and choreography, but once dancing had been taken out of the equation, I started to think more seriously about directing and then the writing bug started to take hold.
When I wasn't working on film choreography ("Idlewild"), acting ("Dreamgirls") or directing for the stage ("Evil Dead," "Marvelous Wonderettes," "Respect"), I was busy developing ideas for my own stage projects and writing gospel songs. Then came the idea for "LOVE LIES." Listening to the song "Treat Her Like A Lady," I started to put the framework of the story together. One man engaged to three women. The man who dies and leaves three fiancés behind. Three women show up at the funeral of their fiancé and all hell breaks out.
In between getting "Love Lies – Treat Her Like a Lady" off the ground, I have been one of the producers on the Off-Broadway gem, "SISTAS: The Musical," and recently collaborated with it's creator on another festival project, "What We Do for Love."
I moved to Atlanta a few years ago, and find myself returning to New York with renewed frequency, much of it having to do with theatrical projects. For almost two months now, I have been in New York preparing "Love Lies – Treat Her Like A Lady" for its debut at the Midtown International Theatre Festival. When I look back at my years as a member of the theater community, it has been quite a journey and I am not slowing down one bit, just shifting the focus. I started off being directed, now I am the director, the choreographer, the writer and all those lessons learned on bringing a project together, are now being applied.
"Love Lies – Treat Her Like a Lady" premieres on July 21 as part of the Midtown International Theatre Festival. For tickets and more information, visit www.midtownfestival.org.