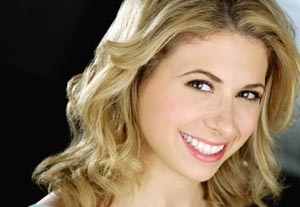 I met Evan at Spitzer's on Manhattan's Lower East Side. It was one of those mellow Monday nights in which no one is particularly drunk or looking for sex. Just cliques of old friends catching up. That night, my "clique" consisted of my old roommate Lucy and her friend Joseph.
I hadn't wanted to leave my shoebox-sized room—pleading fatigue after a long day of yet another ridiculous promotional gig. Worse, in typical "I didn't want to go out but here I am" fashion, within ten seconds of arriving Joseph knocked my Allagash Ale straight into my lap, splashing the beer on my shorts and—to my even greater dismay—onto the olive satin Prada bag that I bought on consignment in Paris.
As I scrubbed my purse with seltzer-soaked napkins, an inebriated girl reached out to me.
"Come, get in the picture!" she exclaimed, reaching over my shoulder and pulling me in as if we had run around naked together as kids. Happy to embrace her warmth as an antidote to my fashion-related trauma, I squeezed into her arm.  We beamed into the camera together—the emblem of a Clean & Clear ad.
Evan was our photographer.
"I'm Jess," the girl said, turning toward me, "and this is Evan." She gestured towards a well-polished young man I guessed was in his mid-twenties.
We all started talking, the energy of the couple drawing me in. Evan had gone to Choate, a prep school in Connecticut I had almost attended. (Long story...) Secret societies and yacht clubs aside, Evan and I were both in the same city, in the same bar and—as it turned out—in the same business.
"I'm a producer," Evan said shyly.
Well, that was a nice surprise, I thought. I almost never met people in the industry in New York; it seemed to be a city overflowing with I-bankers and fashionistas.
"What are you working on?" I inquired.
Evan launched into an explanation of his current project, a brainchild that had been in the works for seven years. Sounded cool.
"What about you?" Jess popped in.
"I'm an actress," I replied. Then the image of earlier that day—of me weaving through crooked traffic in a pink-and-blue bicycle helmet while mentally composing my Last Will & Testament—popped into my head. "Among other things," I added, laughing.
We chatted for ten or fifteen minutes until Lucy, annoyed, started gesturing to me.
"Well," chimed Evan, as I bid the twosome goodbye. "Here's my info." He proffered a business card. "I think the leads are already cast, but it'd be great to have you as an extra."
I smiled and thanked him, cringing inwardly at the word 'extra.' (I had sworn off extra work since being whomped by frostbite on "Gossip Girl." It was so cold that day that one girl hid in the bathroom to avoid exteriors.) But I liked Evan, and his girlfriend. I could envision us working well together—which, to me, was the most important component of being involved in any project.
Returning back to my trio, I tucked Evan's card in my damp Prada bag, placing my new beer on the opposite side of the table.
********************
Two months later... Thursday morning.
I logged onto Back Stage to upload my new headshots. I hadn't been on the site in months, thrilled that I finally had a new agent, Ingrid—someone whose job it was to submit
me
so I didn't have to deal with it. Out of curiosity, I clicked on the list of notices while my pictures loaded.
No f-ing way.
The very first posting was Evan's movie. I clicked on it, skimming through the breakdown.
"Cara," it read. "Blonde... Sassy, funny, sexy... Singing experience a plus." I would totally
rock
that—particularly since it was frighteningly close to a description of myself.
I wondered if Ingrid had already submitted me. If she had, she would have no idea I knew the film's producer. So I clicked to submit myself and then opened my Facebook friends.
'Evan Senate,' I typed, clicking Search. A few milli-seconds later, Mr. Choate himself appeared: It felt good to see his face.
"Evan, how are you?!" I messaged. "I saw your film up on Back Stage and would love to read for Cara. Tell Jess I say Hi!"
Ten minutes later my inbox popped. "Great to hear from you!" Evan responded. "We are seeing you on Tuesday."
Sweet!
I thought. Getting the appointment was never easy. Now I just had to get the
role... Tuesday... three hours post-audition.
Sitting on Prince Street with a mango salad and ginger tea, my phone started blasting Katy Perry. I picked up.
"Hey, Samantha?" a voice said. "It's Evan. We really liked you today and would
love
for you to come back in tomorrow and read for the director. Are you available?"
Talk about a quick callback! I was stoked.
"Tomorrow at one should work," I replied casually, trying to sound as if callbacks immediately following an audition were
quid pro quo.
I dug into my mango and repeated a mantra in my head: 'I am going to get this role...'
Wednesday... callbacks.
"Evan!" I said, giving him a warm hug in front of the studio door.
"We are just waiting for the actor who plays your brother," he said, smiling.
"No problem," I replied, taking the sides and going to sit in the waiting area.
Two other blondes were already there—one skinny and tall with straight shoulder length hair and cobalt blue eyes; the other around my height with plump cheeks, rosy lips, and thick rolling waves. We all smiled at one another in that way that appreciates a common pursuit, yet keeps in place the defenses that arise when competition is fierce.
"Samantha?" Evan finally said, popping his head out the door.
I read two scenes for them and sang a few verses of an unnamed song in the script, tailoring a melody to fit the context and words. The director asked for adjustments, and I made thoughtful revisions.
Leaving the studio, I was content. I had created high stakes and embodied energy and focus. I had let things flow naturally, living Cara's reality as if it were my own. I had remained grounded, my heart listening and instinctively responding to the circumstances.
In other words, I
nailed
it. Now I just had to wait...
Sunday... afternoon sometime.
I was sitting on a rooftop somewhere in the forties with a handsome British banker. As we lapped up the sun, sipping Pilsners and poking fun at each other, the Hudson River glazed a pristine blue before us. My phone pinged.
I reached for it automatically—a true Pavlovian dog.
"Evan Senate has sent you a message on Facebook," it read. My stomach flipped, nauseatingly tossing the Pilsner.
I clicked on it. "Hey Sam! I wanted to tell you that I loved reading with you, but that you didn't get the part. You were great—just not who we/team see as Cara."
Well, there goes my Sunday,
I thought, cursing Facebook's cunning ability to seep into our everyday lives.
**********************************
Later that night, I lay awake watching "Top Chef" off my DVR while eating an enormous plate of chicken parmigiana. As one of the contenders prepped a Beef Bourguignon, I replayed the whole series of events with Evan, trying to see what I'd missed, why I wasn't chosen.
I realized that as an actress, all you can control is creating your absolute best.
It's like competing in "Top Chef": we might make a damn good meal, but whether it comes out on top isn't up to us.
Our responsibility is to come ready with fresh, ripe ingredients: In the actor's world, staying "ripe" involves acting classes, voice lessons, studying human behavior, studying great actresses, continually opening our hearts and minds, etc.
When the audition comes, we prep the ingredients with the right spices and marinades for the role: experimenting with different choices, internalizing the lines, rocking the character's motivations and goals, understanding the context of the scene, etc.
Once the ingredients are prepped, then comes the scary part: we throw them on the heat. And that's the performance: electric, bubbling, sparkling, fiery, inspirational.
I was disappointed that I didn't get the part. But I realized I felt good about the process, from the beginning—meeting him and Jess at the bar—to the end, which I hope is nowhere in sight. I took advantage of every opportunity.  I played every step to the best of my ability.
My talent and ambition are intact. And I know I'll come out on top because I'm not afraid to try.
Samantha Karlin is a chef ...errgh, actress. She is a recent transplant from Manhattan's Lower East Side to Los Angeles, and has happily dived right into the LA scene.  You can see her on the Discovery Channel come spring as well as Episode 3 of the comedy TV series, "Dan TV". She also recently appeared at the Avery Schreiber Theatre in the sketch comedy show, "One Night Stands." Samantha is a singer-songwriter; her first album is currently in the works. And she is happy to say that her Prada purse has fully recovered.