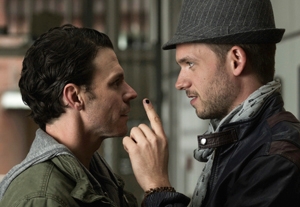 When I appeared in "The Good Old Boys" with Tommy Lee Jones, it was the first time I'd seen an actor star in and direct a movie. I was only 18 at the time, but I immediately knew it was something I wanted to do someday. (Also, a young actor named Matt Damon played my big brother, and he happened to be working on a script called "Good Will Hunting." Maybe you've heard of it?)
Now, I'm finally achieving that goal with "6 Month Rule," a realistic and funny look at dating, love, and friendship told from the point of view of a perpetual bachelor. I wrote and directed the film, and I also play the lead role of Tyler. "That's a lot of hats," you might say, but it feels like a very natural evolution to me. I started my career in Hollywood as an actor, and I wrote my first script because I wanted better parts. Later, I worked with a disappointing director, and I knew I could do that job better so I became a director.
As I was writing "6 Month Rule," I always intended to play the lead, but at a certain point, it looked like a studio was going to make the film. I knew that no studio was going to let me star in it so I agreed to strictly direct. During the ENDLESS studio dance for "6 Month Rule," I went off, raised financing, and made and got distribution for a film called "Weather Girl." It did pretty well. We played cool festivals and got a limited theatrical release and a lucrative television deal. That film legitimized me as a director, and I also learned that it was possible to make films outside the system and get it out into the world without the help of a big studio. That experience drove me to get my option back on "6 Month Rule" and try to do it the way I had always wanted.
As we were putting the film together, I ran into the first of many new problems. Apparently, no one had heard of me as an actor. (I know, I was shocked too.) I've been working professionally since I was 15, and for the bulk of my life no one knew me as anything BUT an actor. On my first film, a super low budget comedy called "Outside Sales," I played the third lead and directed. No one questioned my decision to act in it (mostly because I cast all my actor friends), though quite a few questioned my decision to direct. That movie turned out really well and got a respectable DVD release. Then I go and direct "Weather Girl," and everyone forgets that I act. Weird. A big part of putting "6 Month Rule" together was drawing from people I had worked with before as an actor.
When the director is also the lead actor, things run a little different than on your typical film set. We rehearse, set up the master, do it until I feel good about it, then I go watch the last take played back. I make adjustments to my own and my colleague's performances, and then we do it again until I'm satisfied. You know how sometimes the director doesn't have anything to say? Things are going great and he just asks for another one with no comment? Can't really do that when you're acting in the scene. Your other actors immediately think that all you care about is your own performance, and that you're not paying attention to them. And I don't blame them for that. I would think that too. It's my job to constantly show the talent that I am watching. The scariest thing is to think that the director is not paying attention. Believe me, I've been on a lot of sets where I felt exactly that way, only the director wasn't acting in the scene with me. He was 100 yards away in a black tent flirting with his script supervisor.
I get a lot of questions about the post-production process, like "Isn't it hard watching yourself?" Not as hard as you probably think. I spend the same energy editing myself as I do each of my actors with the same goal: To take the performance they've given me and make the best film possible.
Going through production as a director and actor is nothing compared to the awkwardness that occurs once you hit the distribution stage. I'm a partner in Secret Identity Productions so, along with my producers Brandon Barrera and Steak House, I have conversations and make decisions about distribution. It is really weird to have a brass tacks discussion about distribution or the trailer or the poster when the face on the poster is mine. During these times it helps to have a great producer running interference. I have two of them, and they are invaluable.
A quick note on distribution itself. All the terrible rumors are true. Films don't sell for millions very often. What is happening is distribution companies are picking up great films for pennies, dropping them straight into the DVD bargain bin, and then not fulfilling their financial obligations. This is true. But, the model is in flux, which can be great for indie filmmakers. We didn't meet our distributors at the filmmaker's cocktail party at our first festival. We had to seek these guys out. We had to improvise. But we open in NYC on Friday. So there.
There is no set path in this business. My path led from acting to writing to directing to an amalgam of all three with some producing tossed in. Weird? Maybe. But I like it, and I like the film that came from it. Come see it, will ya?
 "6 Month Rule" opens in New York on June 1 and Los Angeles and other cities on June 8. For more information, visit www.6monthrulemovie.com.Originally from Bossier City, Louisiana, Blayne Weaver has worked extensively
as an actor since moving to Los Angeles. In 2002, Weaver co-wrote and acted in the critically acclaimed feature film "Manic," which starred Don Cheadle and premiered at the Sundance Film Festival.  He then formed Secret Identity Productions alongside business partner Brandon Barrera.  They produced the popular short film "Losing Lois Lane," which Weaver co-wrote, directed, and starred in as Superman. He then wrote, directed and starred in Secret Identity's first feature film "Outside Sales," which won awards on the film festival circuit and was released nationwide through Echo Bridge Entertainment.  Weaver wrote, directed, and played a small role in SIP's next feature "Weather Girl" with an ensemble cast that boasted Tricia O'Kelley, Mark Harmon, Jon Cryer and Jane Lynch. "Weather Girl" had an extensive festival run followed by a ten-city theatrical and a worldwide television and DVD
release.  Next he stars in the dramatic thriller "Favor" for writer/director Paul Osborne, which has recently wrapped principal photography.