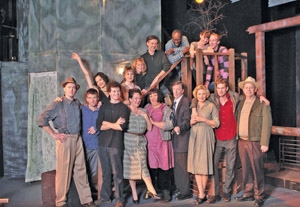 Acting students, if they're lucky, find classes that are satisfying, challenging, and fully worth the time and money. But once in a while, they wind up in a class that rises above and beyond mere satisfaction. Something about the rapport between instructor and students—and among students themselves—clicks perfectly. Everyone ends up making sweet, surprising artistic leaps forward.
When you find a class like that, it's only natural to want to keep the magic going. Actors sometimes decide to take the play they've been exploring in their scene study class, secure a theater, and put the whole thing up for an audience. Usually those plans fall apart pretty quickly. A week after the last class meeting, everyone has moved on to the next endeavor. But Back Stage found actors who didn't lose the momentum—who managed to collaborate with fellow students to create fully realized productions. These performers generously shared with us exactly how they managed to get the job done.
Familiarity breeds content
In her 20s, Liz Rebert tried putting together stage productions in collaboration with friends and acquaintances in New York City. "It was such a struggle," she recalls. "The only people you can invite to fundraisers are your other friends who have no money." Unsurprisingly, the groups disbanded in short order. Recently, however, Rebert—now living in California—had a more fruitful experience with peers, in a group led by playwright-director-actor-teacher Paul Kampf. Rebert and her classmates appeared in an hourlong film he wrote and directed, called "From Grace."
When Rebert came to Kampf's class, she was on the verge of putting a halt to her then less-than-robust acting career: "I thought, 'This will be my barometer. If I take this class and I'm not excited or into it, I'll know I'm not meant to be an actor anymore.' The first class wasn't even over before it became apparent that this was not something I could walk away from."
About a year into their association, Kampf told the students he had written a screenplay for them and that they would make the film together. Rebert says she and the others were doubtful. "I didn't want to be overly negative," she says, "but I didn't want to get my hopes up."
Kampf understood their skepticism. "They'd all heard this before," he says. "They'd been in the business long enough to have heard it." But years before, Kampf had been through the process of fulfilling theatrical dreams with his own classmates. After grad school in Illinois in 1993, he banded together with them to create Breadline Productions. The company produced dozens of world premieres, eventually leasing a theater facility in Chicago that helped make the whole enterprise self-sustaining.
A couple of years ago, Kampf and his wife made the move to Los Angeles, taking Breadline with them. He had moved into filmmaking, creating a film—starring Patrick Wilson, John Heard, and Neal McDonough—based on his play "American Gothic." That experience gave Kampf credibility and clout, and helped him gain funding and other support for "From Grace." Rebert says she waited for the day when she would be asked to make her own financial contribution to the film (something she would have been willing to do), but that pitch never came.
For Kampf, writing roles with particular actors in mind proved enriching. "You get to know the ligaments of every actor's talent," he says. "Some of the most successful things were the things that were developed with an eye for who would play the role."
Similarly, Rebert found that knowing her co-workers' talents and work habits so thoroughly made acting in the film seem almost "like cheating." "You already trust your scene partner. You know you can take a risk, and if you fall on your face, it's okay," she says. "It was the most rewarding artistic experience of my life thus far. I at one point referred to it as 'the Christmas morning of my career.' "
Since the film's completion, Kampf has made other, shorter films with different sets of students. The distribution prospects for "For Grace" are uncertain, but a companion piece—a documentary about the film's creation—is being readied. Kampf hopes to find a home for the paired films on television. Rebert lately appeared in another Kampf project, this time opposite him onstage in "11, September," which ran in L.A. earlier this winter. But she emphasizes that Kampf is not interested in having students work solely with him. "He wants you to come to class, get out of it what you can, and go off into the world," she says.
Of like minds
Sometimes it's up to a student—not the instructor—to take the lead in making a project happen. Two years ago, at a workshop taught by Larry Moss, Los Angeles–based actor Claudia Mason watched a scene from Tennessee Williams' "Orpheus Descending." Mason knew immediately that the role of Carol Cutrere was one she needed to play. Last year she was lucky enough to be cast in a small-scale, dinner-theater version of "Orpheus." Financing for that production fell apart during rehearsals. So Mason took matters into her own hands.
First she and another actor from the scuttled show presented scenes from "Orpheus" for a showcase. Mason turned to film director and screenwriter Louis Pepe ("Brothers of the Head") to lend an eye during rehearsals. Mason and Pepe had attended workshops taught by Kim Gillingham, an instructor who combines a traditional Actors Studio approach with Viewpoints techniques and heavy emphasis on Jungian psychoanalysis. Later, a collective grew out of Gillingham's workshops, a group that assembled regularly for further explorations. There Mason and Gillingham got to know each other.
Pepe explains the Gillingham approach: "It's understanding the connection between dream logic and archetypes and myths, and using one's own personal dream logic to tap into the dream and myth logic of the larger work." Adds Mason, "You go, 'Oh, my God—the part that I'm working on now? The orange and the cat in [that] dream are exactly what I needed to know about the role I'm playing.' "
Though Pepe had not directed theater previously, Mason felt an affinity with him based on their work together in the collective. So when she decided to mount a full production of "Orpheus Descending" for early 2010, she asked him to join the team. Likewise, she found the production's leading man, Gale Harold (Showtime's "Queer as Folk"), through Gillingham; Harold had worked with Gillingham but was not part of the collective.
Although they of course wanted paying audiences for the 24-performance run, Mason and Pepe were more focused on the artistic than the commercial potential of the production. Pepe recalls scouting with Mason for possible venues and meeting with a rep from a local theater:
"I remember sitting there talking to that guy. And he kind of gave us this attitude of, 'Well, you've never directed a play. And I've never seen you, Claudia, on stage. How do I know that you're the best gal for the role, and how do I know you're the best guy to direct it?' And blah blah blah. And I thought, 'This is exactly the attitude that doesn't belong in what we're doing.' "
The duo assembled the cast without holding formal auditions. For the leading role of Lady, Mason brought in Denise Crosby, whom she knew from Larry Moss workshops. Other performers were suggested by Pepe and by managing producer Ginger Perkins.
Because Mason—in her role as executive producer—was holding the purse strings on "Orpheus," she could set the tenor for the production. She struck a tone that echoed that of the Gillingham workshops. (Gillingham did not collaborate on the show but donated rehearsal space.) Clearly, the production's 11 actors—each was paid a few dollars per week under an Equity waiver arrangement—approached it in a spirit of creative exploration. Some were stirred by the challenge of playing multiple roles.
Mason contends it's telling that not a single actor in the large cast abandoned the team to pursue a more lucrative opportunity. Having artists that shared her values helped insure a smooth run. "What's great about classes and workshops and collectives is that you usually are with like-minded people," she says. Approaching such classmates to be collaborators, she suggests, makes perfect sense.
Come Monday
A strong leader—whether a teacher like Kampf or a student like Mason—can help a collaboration among classmate artists stay on track. As Rebert puts it, "If there's one go-to person that everybody can sort of trust and surrender to, things are going to flow a little bit more easily than when people go in different directions."
On the other hand, the idea of surrender doesn't always sit well. An ensemble without a single designated leader certainly faces serious challenges, but such a model isn't necessarily impossible. Take the case of the Collective, a New York–based company formed by graduates of a two-year program at the William Esper Studio.
Robert Z. Grant and Kevin Kane, two of the Collective's founding members, unabashedly describe their ensemble as adhering to "socialist" ideals. The company, they explain, was patterned in part after the Group Theatre, formed in New York in 1931 by Harold Clurman, Cheryl Crawford, and Lee Strasberg.
Kane says he and his fellow students were told by Esper faculty how lucky they were to be part of such a consistently strong class. "So we figured out a way to keep the fire going," he says. "We started with the idea of meeting and reading a play every week. It kind of started blossoming from there. Two or three of us got together and said, 'Well, who else do we want?' " Their first public performance was a fall 2007 production of Eugène Ionesco's "The Lesson," in which Grant took the lead. Since then, the group has narrowed its focus mostly to producing new work.
The centerpiece of the Collective's identity is the regular Monday-night meeting. Faithfully, members assemble each week in a New York theater space to present work and offer feedback. The Monday meetings provide them with a chance for career networking, but mostly these are process-oriented work sessions, offering
creative sanctuary to actors wearied by the daily pursuit of commercial gigs. "I find I work more on Monday nights than I do anyplace else," says Grant.
Collective member Quincy Beard adds that New York performers frequently find themselves subject to the whims of casting directors and agents. Artists in the Collective "have a lot of pride about the craftsmanship of the acting," she says, "because that's something we can control."
As the company expanded, it incorporated writers, directors, and non-Esper-trained actors. The group celebrates work that members do outside the Collective—as long as they come back and share what they have learned. The goal is for each of the Collective's public presentations to sustain itself through box office revenue. The group has also held fundraising events, including Collective Comedy nights, which feature sketches starring ensemble members as well as standup sets by the likes of Jim Norton, Judah Friedlander, and the Collective's own Amy Schumer.
In lieu of an artistic director, the Collective is governed by nine founding members and a five-member board of directors. Grant acknowledges that there was "a big tug of war" in the group's early history, but eventually the members sat down to draft a mission statement and clarify their goals.
Disagreement is, of course, impossible to sidestep entirely, however an organization is structured. The Group Theatre dissolved in part because of friction among its members. But the Collective's members keep any quarrelsome impulses in check by reminding one another that they are together to celebrate the process of acting. Says Kane, "I've been able to put myself around people who, if I was not working with them, I would pay to see—and would do anything I could to work with. And I get to do that every week. When you believe in the process of the person next to you, that [makes for] a strong ensemble."