Award-winning producer Lynne Parker created Funny Women in 2002, now the leading experts in female comedy helping women to perform, write, and do business with humour. The Funny Women Awards are in their fifteenth year and Lynne has produced shows at the Edinburgh Fringe and all over the U.K. Lynne also coaches women in business and public life based on stand up techniques to improve self-confidence and presentation skills both professionally and personally.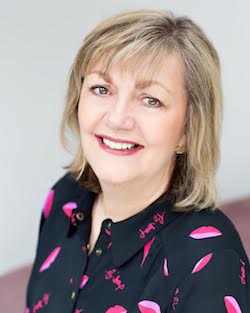 What makes a funny woman?
Much the same as for a funny man: the ability to laugh at yourself, not take yourself too seriously and translate that into how you communicate and relate to the world around you. I believe that everybody has the ability to 'be funny' and it's recognizing how you can use this in everyday life or to entertain.
What's the first step for a U.K.-based actor looking to get into comedy?
There are lots of great courses and workshops in the U.K., in major cities like London, Manchester, Brighton, and of course, Edinburgh because of the world-famous Fringe Festival. Getting involved with an organized comedy event will help you to connect and meet other performers and promoters who can offer you gigs or suggest where you can start performing. We get a lot of women taking part in our Funny Women Awards as a way of getting into comedy, particularly as we help them to network with each other and provide support and advice.
What are your favorite ways to hone/develop material?
I run workshops and 'playdates' to encourage women into comedy, which exist to help them write, develop and perform material. You can only talk about doing it for so long; there comes a point when you have to get up on stage and try material out! That's my favourite thing—when I see a woman performing stand up for the very first time. There's been quite a few over 15 years!
How can comedy training add to an actor's career?
Actors are reliant on a script so writing and performing their own material as a stand-up is a completely different discipline. Comedy coaching or helping somebody to perform stand up encourages them to think on their feet, improvise, experiment and create their own persona, the extreme end of that being to create an alter ego or 'character' act. This can really help with acting and comic timing is a brilliant skill to have. It's all about watching, listening and active engagement even though it appears very solitary. Your main relationship is with the audience if you are a solo act, and learning to 'read the room' is also a wonderful way to improve your performance as an actor, singer, musician, or public speaker.
What comedy trends have you spotted lately?
I book a lot of corporate events to promote and develop diversity so it's great to see how much more diverse comedy line-ups are becoming. We're not there yet sadly but it's a great deal improved from when I started Funny Women up in 2002 because a misogynistic comedy promoter told me that 'women aren't funny'. We have a lot of openly gay performers who can talk about things that relate to them and women are 'allowed' to talk more freely about their bodies, periods, sex, and previously taboo subjects. It's more open, inclusive and honest.
How has the comedy scene in London changed in the last five years?
It's got much harder to sell live comedy in London because there is so much on offer. You can see comedy any night of the week for free which is fine as long as we can still persuade people to pay for the good stuff. I am concerned that stand up comedy can be devalued so I would advise anybody visiting London to trust the established comedy venues who book big names 'off the telly' and pay for it. For grassroots comedy, free entry shows and competition nights are fantastic for seeing new acts who might be the stars of tomorrow. At the top end, arena shows are very expensive and some of the acts are now like rock stars! This isn't everybody's cup of tea so maybe try and see you favourite act on tour around the U.K. somewhere, which will be cheaper than the O2 or Wembley Arena.
What's your best advice for a joke that falls flat? How can someone recover from something like that?
Remember that nobody actually really dies on stage, apart from Tommy Cooper… but way to go, eh?! You have to get back on the comedy horse.
The best way to find out if something is funny or not is to try it out on an audience. We all have very short memories when it comes to comedy—like goldfish, we go around the bowl ready for the next laugh. Don't tell the audience off for not laughing (I've seen that...awful) and move on to the next bit of your set as they will soon forget the joke that didn't land. It's always good to try jokes out on different sizes, types, and styles of audiences. The family dinner table can be an excellent place to try out new material (or find it!), as can a long train or car journey with friends. If you can make family and friends laugh then it's a good start.
What's your best piece of industry advice?
Don't expect everybody you meet in the world of comedy to be funny. It is a deadly serious business and there are a lot of people making money out of comedy. It's very easy to be caught off your guard and think it will all be 'fun' when it's actually full-on hard work with inhospitable hours.
Check people out before you contact them. A lot of people introduce me as a comedian (or comedienne, which is even worse) when I have spent weeks liaising with them, booking the venue and acts, and doing the business side of things. Respect the roles of producers like me, commissioners, promoters, agents, managers, and bookers. Research what they all do and find out who is best to help you with your career.
What are your top tips for getting your foot in the comedy door?
Go and see as much live comedy as you can find the time and money for. I meet a lot of women who want to do stand-up but have never been to a comedy club. Live comedy is very different and far more challenging than the edited and censored version we see on television. Say hello to the organizer; we are always happy to meet new people and offer advice face-to-face. Plus, this shows that you are confident to put yourself forward in that venue. Do send short video clips of your comedy to promoters and bookers as, even if we have seen you live, it helps to be reminded when you see hundreds of new acts every year like I do!
What should anyone new to comedy do when writing their first piece?
Try it out on an audience—any audience, even friends and family and ask for feedback.
In your opinion, what are the major differences between comedy in the U.S. and U.K.?
It has become more homogenized over the last 20 years or so mainly down to the way comedy is bought and sold on television. Comedy series like 'Seinfeld', 'Frasier', and 'Friends' became staples of British comedy viewing and still are. The U.S. has a great table-writing culture which, although this has been accused of being a 'boys club', opens up comedy to broader audiences because there are lots of people involved in its development.
The U.K. is better known for its individual writers and partnerships. Equally brilliant and exportable. In stand-up terms, a lot of British performers look to the late greats like Bill Hicks and Joan Rivers as their benchmark. In actual fact, we originally exported the 'stand-up' format to America as a byproduct of the variety and music hall tradition. It was then polished up and exported back to us in pretty much its current form. Now satire is the universal common language of comedy...the only way we can cope with this mad, war-torn, politically challenged world of today.
Funny Women will be at the Edinburgh Fringe presenting Funny Women Fest, a daily show featuring stand up, show highlights and special guests from across the comedy industry at 12 noon every day from 2nd to 28th August Gilded Balloon Teviot. Book here.