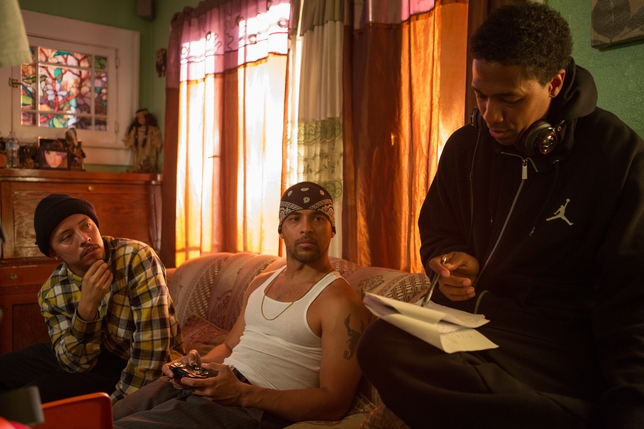 Nick Cannon's high school comedy "School Dance" employs a cast of talented young comedians and dancers assembled by Cannon and casting directors Kelly Wagner (who also produced this summer's upcoming film "Beneath," on demand now and in theaters July 25) and Dominika Posseren. Cannon's feature directorial debut revolves around Jason Jackson (Bobb'e J. Thompson) as he tries to gain the attention of his dream girl Anastacia (Kristinia DeBarge) by winning a spot on the school's dance crew. Having worked with Cannon before, the film was a natural fit for Wagner. "We knew each other's taste. On 'Wild n' Out' we had discovered a lot of great comedians who were going to end up being right for the movie," she says.
Cannon knows everybody, Wagner jokes. "He really had ideas of who he wanted for all the roles." For the leading role of Jason Jackson, Cannon had Bobb'e J. Thompson in mind, and he'd already attached the singing/dancing group when Wagner joined. They reached out to a lot of people Cannon had worked with on "Wild n' Out": Katt Williams (Darren), Spanky Hayes (Jerked Out Kidz), Anthony "Scruncho" McKinley (Stutta Cuz), and Affion Crockett (Coach Fontaine). Cannon also had Luenell in mind to play Mamma Tawanna, Jason's tough mother. They even got Kevin Hart to come in for a day. "We were begging him," Wagner says. Hart loved working with Cannon, so he agreed. "Ninety percent of the time these people love Nick and wanted to go do it."
After meeting with Wilmer Valderrama and Efren Ramirez about a role, Wagner and Cannon couldn't decide between them. So Cannon decided to write them both a role. "That's kind of a beauty of having the writer/director because they can tailor [a role to someone] if you see someone in session that you really like," says Wagner.
Despite the fact that many of the roles were offers, Wagner still had a lot of sessions. One of her favorite sessions was for the role of an elderly teacher, ultimately played by Tacey Adams. "Her scenes were hilarious, having all these 70-plus women read it was so much fun," Wagner says.
One challenging role to cast was Big Booty Becky, (Kayla Collins) who Wagner says was described as a "hot girl with this Kim Kardashian booty." Posseren went to Twitter to reach out to Internet personalities, especially ones outside the Los Angeles area. "I'm not very good at social media so I think it's funny that our company has a Twitter account for when we need something random we're having trouble finding through the agency," says Wagner.
Although Wagner says the chance of someone being cast from tape over someone in the room is small, it happened with the role of Bam Bam. Wagner wasn't familiar with comedian Lil Duval, but she says, "We were on the floor rolling" while watching the tape.
But casting funny people doesn't always guarantee a funny set. "You're not usually cracking up legitimately…I always remember ['School Dance'] as the one movie where I went to set and literally was rolling on the floor." In fact, she actually had to move back because she was laughing so hard.
"School Dance" hits theaters July 2 and Wagner's film "Beneath," produced through Wagner's Revolver Pictures, hits theaters July 25.