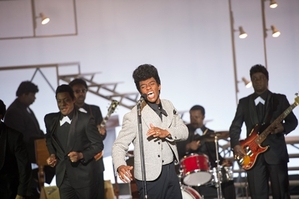 Pictured: Chadwick Boseman as James Brown and Nelsan Ellis as Bobby Byrd.
Director Tate Taylor's "Get on Up," a biopic of the late soul singer James Brown, features a powerful cast of actors recreating Brown's life, from his humble beginnings to his huge, worldwide success. Prior to casting "Get on Up," Barden/Schnee Casting's Kerry Barden had cast Taylor in "Winter's Bone." A few years later, Taylor would direct the Oscar-winning "The Help" with a cast assembled by Barden (for which Barden won an Artios Award). This time around, Barden was drawn to the way Taylor wanted to tell James Brown's story in a non-linear way. "He kind of turned it on its head and made it the wild ride that James Brown's life is," Barden explains.
The pivotal role of Brown presented a challenge, because Barden wanted to capture the essence of the man. "The big challenge with James was finding an actor who could move as wild and crazy as James does, because it's not just lip-syncing, which is the case with a lot of musicals, or looking like you're able to play an instrument," he says. "[Chadwick Boseman] had to do all those moves that James did on stage." That ability was key, because, as Barden says, "You can't lip-sync dancing." Barden had thought Boseman's audition on another project was phenomenal, so he called him in for the role. "We had to find someone who could carry that charisma James had and all the emotional depth that the film covers. We needed somebody that had that kind of range. We were very fortunate to be able to cast Chad in this."
Because of the biographical nature of the film, the creative team stayed as true to the real individuals as possible. "It was important to all of us, and especially to Tate, that the actors we cast understood what it was like to be a musician and to live a life being led by this visionary," Barden says. Because Brown wasn't a classically trained musician, "having some sort of musical ability was part of what we were looking for in almost all of the roles."
Barden had fun with the audition process and mixing and matching the people that came in. Jill Scott, who plays Brown's second wife Deedee, originally came in for a different role. After casting Nelsan Ellis as Bobby Byrd, Barden placed some of the others who had auditioned for that role as different band members.
Matching the younger versions of the characters was also a challenge. Tracy Kilpatrick found a lot of local actors with musical ability in Mississippi and around Louisiana. "We tried to cast as many people as we could location-wise, and she found the kids that played the young James, who are phenomenal," Barden says. "You have to find somebody that can match somebody that's as talented as Chad to play the early James."
Viola Davis and Oscar winner Octavia Spencer, as wlel as few other familiar faces from "The Help," will bring to life Brown's story on the big screen in theaters across the country Aug. 1.