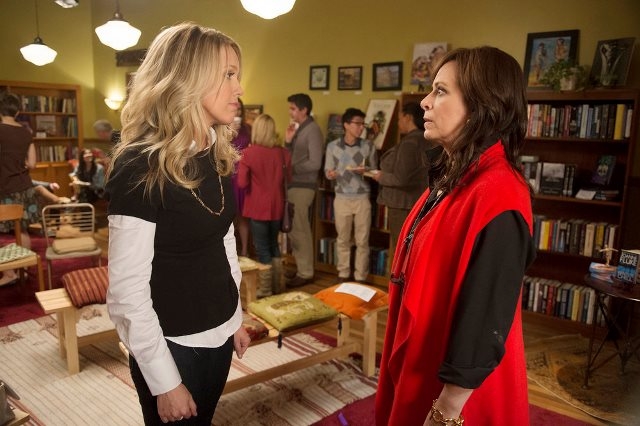 "Playing House," created by and starring Lennon Parham and Jessica St. Clair, premieres April 29 on USA with a supporting cast comprised of popular comedians. "There's a lack of strong female presence that came from this kind of [comedy] background on TV," says casting director Sherie Hernandez, who was excited to be a part of the female-driven comedy. Hernandez has worked with many casting greats, including comedy expert Allison Jones, and regularly frequents comedy clubs like UCB. "I have seen all these actors perform on stage, and to work with them so closely and to hear about their process is amazing," she says.
Hernandez joined the series after Marla Garlin cast the pilot and set up many of the recurring roles, but Hernandez has enjoyed bringing in great comedians for guest star roles (Jason Mantzoukas, Andy Daly, Bobby Moynihan, Ryan McPartlin). "The best part about casting this show is that every role is so different; even the costars that could have been just a line here and there had a joke and were so funny."
Working closely with Parham and St. Clair was important to Hernandez because they wrote very specific voices for the roles. "[So casting] had to be very collaborative or I would have ended up having session after session and not getting it." Despite the show being in production, Hernandez said Parham and St. Clair always made themselves available for casting.
Casting the role of Parham and St. Clair's girl crush required a group effort. "Who Jessica and Lennon would have a girl crush on, and who I would have a girl crush on, is a little different from what an audience would respond to. I think that was one thing where it was a little bit of a discussion about which direction we should go. [But] now we have the ultimate girl crush: Garcelle Beauvais."
Though many of the guest stars were from UCB because of the creators' connections there, Hernandez says they were also open to non-comedians. She mentions the biker roles as a great example, because "guys that are about 6'5" and are tatted up in their everyday life are not likely a part of a sketch group." But as with all the roles she cast, Hernandez knew as long as they could make her laugh, they'd be able to keep up with Parham and St. Clair on improv if necessary. "I feel like any actor that studies will be able to do that, whether or not they're in the sketch world," she says.
Hernandez was especially excited about guest star Jane Kaczmarek, because she's a fan. "I saw the dailies of the first day she shot, which was actually our first day in production, and I couldn't look away for two hours. I couldn't get anything else done because the three of them were killing me," she says. Another highlight was casting Ian Roberts, co-creator of UCB, as a cop on the show. "I feel like the girls wrote for him, and what I was seeing was Ian on stage, where he is absolutely his best," she says. Getting to watch what Parham and St. Clair wrote come to life onscreen was Hernandez's favorite part of the project. "It's an addiction to being around really funny creative people."
Pictured: Jessica St. Clair and Jane Kaczmarek on "Playing House."
Like this post? Check out more articles about and by casting directors!