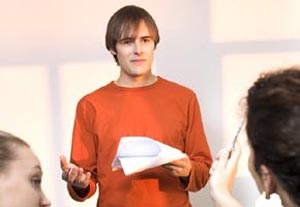 Several months ago as I was going through the piles of actor mail I came across a familiar piece of "Thanks for the audition... " correspondence but it had an odd twist. The actor writing me penned on the card: "Paul, it was great meeting last week at the Nebraska Shakespeare auditions! Thank you for the feedback." Uhmmmm. I wasn't there.
Because of the economy and budget cuts, NSF didn't utilize my services this season. So either there's a Paul Russell clone running around at audition studios (God help us) or this actor possibly attended the NSF auditions but didn't pay attention to
who
actually was in the room.  (Bzzt! Perception penalty. Thanks for playing. Next.)
After every audition or paid seminar I (as well as other casting personnel) receive these note cards of gratitude. I have no qualm there. It's a nice gesture by the actors who send them and I try not to feel guilty about disposing of each after they've sat on my desk for several years (the pile becomes a monster of dusty well-wishes that wishes to take over my desk).
Talent agents also receive thank you cards from actors they've met at "paid-auditions". This is also wonderful and keeps the U.S. Postal system issuing a rate increase every twelve months instead of every six. While both casting and agents get these notes of niceties, they often come from the people who
didn't
get hired or represented. The response from people who do get the jobs? Crickets. Rare is the actor hired for a project or the actor signed by an agent that sends a Hallmark or at least a Facebook freebie gif(t).
I personally don't mind the ignorance of manners so much. BUT, agents; they deserve more respect. Particularly from clients. Agents are an actor's champion. Daily, the agent is fighting for the actor to be seen. There's a lot of font and telephony exchanged between agents and casting as the talent reps push to casting their clients for a project.
An actor being called in for a project is not as simple as; the agent sends a submission to casting and expects casting to return with appointments for their clients. Hell no. There is a lot of salesmanship going on from agents for those coveted audition time slots. Your agent is working their ass off for you.
And let's go back to casting. It's not always agents who think of the actor for a project and then submits them to casting. Many times it's the casting director that thinks of an actor for a project, contacts the actor or their rep and sets them up for an audition. Without that casting person (a casting director, director, producer or writer) thinking of you, you wouldn't have been considered for the job that you landed. But where's the 'thank you'? The silence is often deafening.
On a recent project handled by my office seven actors were given jobs. Seven people getting paid for several months of work (some of those individuals are now earning union weeks towards health insurance and pension benefits).  We had seen nearly three hundred people. Some of them at open calls. The rest called-in by my office. Of the hundreds who auditioned, my office received thirty-three thank-you cards. From the seven people who were hired, partly due to my calling them in for an audition; two thank-you cards.
Two
.
I don't feel slighted for the lack of expressed graciousness by the five who did not send a missive of gratitude. But my wheels began to spin about the thirty-three thank-you cards that came from the people who didn't get work from the audition.
Would they have sent a thank-you card if any of them were hired? I would hope so (and it's for the benefit of the actor not me as you'll see further on in this post). Then I flipped that quandary. If any of the seven hired were overlooked for being brought onto the project would they have sent a thank-you card for the audition? Hmmmmm....
Now as I've said many times; don't put casting personnel or agents onto a pedestal. We're just glorified human resources. But it would be nice to hear more from the people who get the jobs, either at the support of an agent, casting director, director, producer or writer, than get what is typically a deluge of well-meaning notes of gratitude from the people who didn't get the jobs. We recall the people hired -- who sent thank you cards -- more so than those who didn't.
At present those two cards from out of the seven actors hired sit on my desk. I know the names of those two actors. I
honestly
cannot recall the names or faces of the other five. I would have to dig through my files to know who they are. Who do you think I'll be more readily able to recall for future casting?
So next time you get a job. Think of who in the chain of decision making got you there. Say thank you. Jobs are hard to come by, especially nowadays. Courtesy and remembrance is always welcomed on both sides of the audition table.
Paul Russell's career as a casting director, director, acting teacher and former actor has spanned nearly thirty years. He has worked on projects for major film studios, television networks, and Broadway. He is the author of "ACTING: Make It Your Business – How to Avoid Mistakes and Achieve Success as a Working Actor." For more information, please visit www.PaulRussell.net.