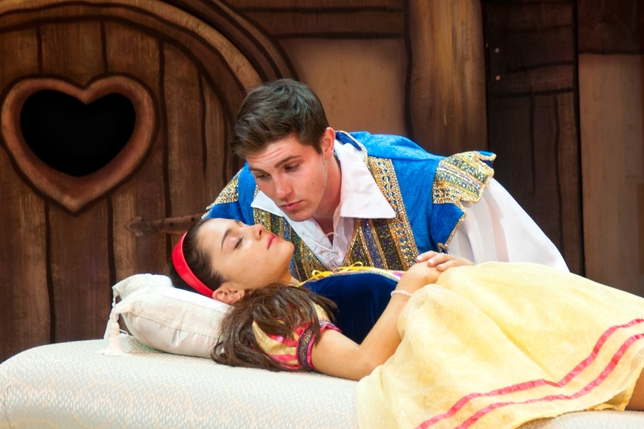 Becky Lythgoe has been casting the Panto style holiday specials she and Kris Lythgoe bring to the Pasadena Playhouse since 2010. The interactive theater combines classic Disney characters with popular pop songs. The special educational concert sing-a-long "Princess and Pirates" featuring Lindsay Pearce, Curt Hansen, Molly McCook, Cliffton Hall, Clarice Ordaz, Jonathan Meza, David F.M. Vaughn, and JP Dupe runs July 18-Aug. 10 at the Kirk Douglas Theater.
Highlighting songs from previous and upcoming Panto shows, "Princess and Pirates" also relies heavily on previous Panto production actors. "We pulled from our stable of stars because it's meant to be an education of what Lythgoe family production is and what we're doing with American Panto," says Lythgoe. The task wasn't too daunting considering the number of actors who wanted to come back.
Because of the interactive nature of the show, there are certain qualities Lythgoe looks for when casting. "Part of Panto is infusing your own individuality into the role. We do look at the individual before they begin to act or sing." Although it's similar to musical theater, there is a difference; while musical theater actors perform within the created world, with Panto it's important to perform a song and really break the fourth wall.
"Princess and Pirates" marks Molly McCook's first experience with Panto, in which she sings Cinderella, Aurora, and Wendy's songs. "When we had seen [McCook] audition and perform before, she was really warm with interacting with younger people in the audience and that is pivotal. You've got to have that professionalism of a Broadway performer but also really have the earnestness of carrying off singing these pop songs as truth, not winking at the audience about it and not making fun of it."
Lythgoe stresses that many actors they hire get on their radar or get hired from the open calls. "I just want to make sure the actors are encouraged to look at their Backstage every day or week and check out what new theater is coming up." Don't waste anyone's time, but she says, "If you're remotely close to a role and you aren't quite sure if you're the right type, always, always go in because I can't tell you how many people have come in and been wrong for this specific role we're looking for but right for something that's coming up.
"We tend to use at least 50 percent of the cast from AEA open calls and Backstage open calls," Lythgoe adds, noting that they also keep files on the actors they've liked from open calls. "One example of that is Jeff Sumner, who was one of our stepsisters in 'Cinderella' with Shoshana Bean and Fred Willard. He literally just walked in the AEA audition, we'd never met him before ever, and he's now been in two of our shows." The first time Lythgoe saw Clarice Ordaz (Jasmine) was at an open dance call.
Even the actors that are brought in for meetings through agents have to sing. "We make everybody, including Ariana [Grande], sing or do something. We know Ben Vereen is Ben Vereen. We know that Ariana is Ariana, but we do always have to see that they can do the difference of Panto, being able to break that fourth wall and being able to have that improv sensibility."
Pictured: Ariana Grande as Snow White and Curt Hansen as Prince Harry in the 2012 "Snow White."