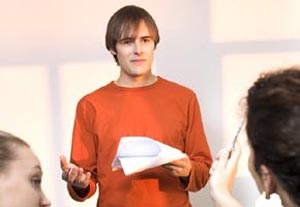 Laura Verbeke, of the New York–based Laura Verbeke Casting, was an actor for six years before launching her career as a casting director. She started her company in 2007. Though she also casts commercials, industrials, and music videos, most of her casting involves principals in independent films and cable programs with an indie vibe. Among her projects are "Flight of the Conchords" (background), the IFP Emerging Narrative staged readings, and "Shitty Advice for a Dollar," a Web series and TV pilot, directed by Alex Merkin. Send headshots, résumés, and demos as attachments or links to verbekeL@gmail.com or send headshots and résumés (no demos) by snail mail.
A Real Shot
Let me start by saying actors do not need an agent to be cast by me and I do look at submissions that come in unsolicited. In fact, I have cast actors in projects on the basis of cold submissions, which may arrive by snail mail or email. Either is fine.
The headshot is the door opener. It must be current. I personally recommend updating headshots every two years. All casting directors talk about the importance of a headshot looking like the actor, but this is essential for actors interested in appearing in independent films. Generally, indie directors are not interested in casting glamorous women and men. They're interested in actors who look real. It's not uncommon for me to ask actors for additional pictures—such as plain snapshots—and, on more than one occasion, actors have been called in to audition thanks to the snapshot.
Depending on the role, a director may want to see an actor at his worst, and I may tell an actress to send a snapshot featuring herself without makeup. Similarly, I may suggest that an actor submit a shot of himself scruffy and dressed down, especially if I'm casting a hipster. Of course, I will not submit these shots anywhere else.
What's on Your Résumé
?
The résumé and training requirements are the same for independent features as for any other job. I'm interested in seeing what teacher or coach an actor has studied with and what schools or theater programs he or she has attended. I'm also interested in seeing the range of roles that actors have played in all mediums. Because of my own theater background, I love seeing stage credits and theater training. If I'm casting a comedy, standup work and improv classes are pluses. But that experience would not deter me from casting an actor in a drama.
While background work is very useful in familiarizing an actor with a professional set, I would not put it on a résumé, unless the actor is memorably featured in an important scene. Background work will not help an actor get a role. In fact, most directors prefer that the actor not have background credits listed. By contrast, student films look fine on a résumé, especially if they were made by student directors from such name schools as NYU or Columbia.
The other nice thing about student films is that snippets of them—if those snippets are really good—can be included on a reel. I should stress that I will not look at DVDs of anything. I truly don't have the time. So please don't send me the DVD of your student film, no matter how terrific it may be.
Because of the abundance of submissions, I generally don't look at reels either, unless I'm considering an actor for a particular role. Either way, reels should be no more than five minutes and demonstrate the actor's range. Actors doing monologues and scenes with partners may be quite impressive, but I would not put them on a reel unless they're part of a larger package that includes professional work. If all you have is a student film and a monologue or two, I would strongly urge waiting to make a reel until you have something more substantial under your belt. It's not worth the time or money it would take. It's important that a reel be professionally made. I don't usually look at websites unless I'm interested in the actor, and I never search social networks for actors.
Auditions for Indies
The major difference between auditioning for an independent film and a big-budget production is that the atmosphere is far more relaxed on an indie. For example, we're always open to an actor asking questions about a character or scene. The interchange among everyone in the room is informal, and when we give adjustments the conversation is open to everyone, including myself, the director, and the producer.
But, like any audition, the key to success is preparation. Review the sides. That doesn't mean memorize your lines, but be familiar with them. If you're fortunate enough to see a full script, read it. You should know your character and his motivation so that if we ask you to improvise, you can do it. If you have the time, I would even suggest writing a brief bio of the character.
Also, indie directors like to see actors dress in character for their auditions. That doesn't mean wear a costume, but clothes that evoke the role. I have found it helps an actor get a part, especially if he or she is trying to get cast against type. I love to cast against type. Recently I saw an actor perform in a show and thought he would be right for the role I was casting. While his headshot and résumé did not suggest he was suited for it, my instinct said he would be perfect. I knew I would have to give it my all to convince the director that he was indeed perfect for the role. Likewise, the actor went all out—he was well-prepared for the part and dressed for it—and it worked. I also have no objection to an actor bringing in a few appropriate props to an audition.
An actor's ability to make an adjustment is crucial for the actor to nail the role or even get a callback. Often when actors are asked to make adjustments, they don't always take a moment to process the information before they do another take. They just rush into it, and that's not helpful to them or us.
Following the audition, whether or not the actor gets the role, a thank-you note is appreciated. This is a business, and it's a nice formality. It's also another way to remind the casting director of the actor's existence, not that it will determine whether I call the actor in again. If the actor is right for the role, I will call him in.
Post cards should be like cover letters: brief, direct, current, and about what's most important in your career. Actors should send post cards only when they have a significant update: an audition for a major part or a callback—if it's an important project. Thanksgiving Day cards are lovely but not necessary.