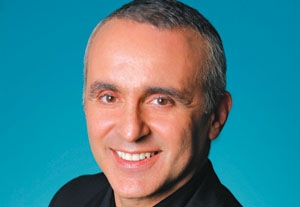 Jason La Padura made his Broadway debut as an actor in William Inge's "Summer Brave" before turning his talents to roles behind the scenes, including stage manager, production manager, and assistant to the director. He has been a casting director for 28 years. For more than 20 of those years, he and his sister, Natalie Hart, have run their own L.A.-based casting company, La Padura & Hart, casting a wide variety of film, television, and stage projects. Among these are NBC's "Heroes," "Crossing Jordan," and currently "The Event." For the Walt Disney Co., La Padura has cast all the "High School Musical" films, as well as the "Camp Rock" and "Halloweentown" series of TV movies. He has been nominated for two Emmys and 10 Artios Awards (winning for best children's program for "High School Musical") and is the recipient of a Media Access Award, presented by the state of California for his work in casting actors with disabilities.
No Facebook,
No Twitter
Depending on how busy I am, I may consider submissions from unrepresented actors, as long as they're post cards or come in letter-size envelopes. However, I'm unable to look at pictures and résumés in 8-by-10 envelopes. Ever since "High School Musical," I've been inundated with postal trays. I will get at least one full postal tray a day and sometimes up to three.
Though I will look at the headshot, it's not nearly as important to me as the résumé. Aside from experience, I most like to see training, especially from the bigger and better-known acting schools. That tells me that the actor can deliver. I don't need to see that the actor has taken workshops with other casting directors. If you've taken a workshop or seminar with me, that information can be mentioned on the outside of the envelope. Background work is excellent experience, but please don't include it on your résumé. But if you've done a few student films, especially from the better-known schools, these should be noted on the résumé.
I don't look at unsolicited reels, though if I'm not too busy, I may look at a reel on a website. Ideally, these reels should feature professional work, but it's not essential as long as the clips are really good and give me an idea of what the actor can do. Reels should look professionally produced, with good lighting and sound.
I do not look at webisodes, but others in my office do, and if they see an actor on YouTube they like and recommend, I might bring that actor in. The same is true for actors in showcases who may have been seen by someone on staff. I give audition workshops where I have found talent whom I've cast.
I do not use Facebook or Twitter.
Originality
Goes a Long Way
What is most likely to lead to a callback is originality, when an actor does something no one else has and I sit up and take notice. I like it when an actor takes a chance and makes an interesting choice, even if it's the wrong choice. I can always give an actor an adjustment.
Other than being unprepared or late, the most common mistake that actors make at auditions is coming into the room playing the character. You shouldn't wear a costume—and I don't like props—though you should wear clothes that are appropriate for the character. If you're playing a lawyer, wear a jacket. Don't come in wearing blue jeans and a T-shirt. If you're playing a blue-collar guy who works in a store, that's fine. But if you're playing the manager, put on a white shirt and tie. I happen to have a lot of experience, but there are many in the room who may need the visual aid.
I generally don't like it when actors ask questions at auditions. Ideally, if we say, "Do you have any questions?," your response should be, "No, let me show you what I have." Having made a choice, come in and give it your best shot. Only ask questions if you need information that affects your motivation. For example, if the relationship between characters in a scene is not clear, it's okay for an actor to ask, "Were they married? Were they boyfriend and girlfriend? Did they work together?" That kind of question is fine.
If you start a scene on the wrong foot, you can stop and say you need to start again. However, if you're halfway through it, you should be committed to what you're doing and should not stop at that point. At the end of the audition, don't comment on what you've done or say something like "Oh, that was terrible."
When I was an actor, I wish I had understood that the casting director was on my side. We're there to support the actor. We got the actor into the room in the first place. We want them to book the job more than anyone. We're the actor's friend. But the casting director's role has changed. Years ago we could take more chances. Now we're forced to conform a little more. But because I'm usually the oldest person in the room—the only good thing about aging—I will be listened to and able to cast an actor who might seem to be one of the less likely actors for the job.
Thank-you notes are nice, but they're not necessary. Natalie and I keep them from actors we've cast, but truthfully, we don't keep them from actors we have not cast. I don't like to receive gifts, because it makes me feel beholden. Keeping me informed of what you're doing is fine. I like to receive post cards and be reminded of who's out there. We do a new episode every eight days, and I do bring people in on the basis of a post card, even if it's from an actor I've never met. Unlike other casting directors, I don't mind if a post card says something like "I just got back in town" or "I just changed agents." It does not have to tell me you've done or are about to do a new show.
Jason La Padura will participate in the panel discussion "Television Casting: From Guest Starring to Going to Network" at Actorfest LA on Sat., Nov. 6. For more information, go to Actorfest.com.