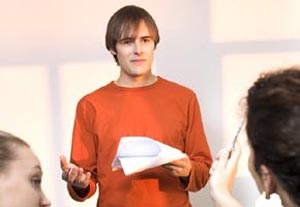 New York casting director Kimberly Hope is a co-founder of and a partner in
Boland/Hope Casting
, which is currently casting multiple feature films. She served as the casting director for NBC/USA's "Law & Order: Criminal Intent" for four seasons.
In addition to episodic casting, she has TV experience casting pilots (NBC, Universal Media Studios, Lionsgate, TNT, Wolf Films), MOWs (RHI Entertainment, Hallmark, Syfy), and miniseries (CBS, Paramount, the Firm). Hope recently completed work on the feature "Arbitrage," and she has worked extensively in the indie film world, contributing to more than 15 projects, many of which found great success on the festival circuit (Sundance, Toronto, Tribeca). She continues to provide New York and additional casting services for studio features.
She is a member of the Casting Society of America, the Casting Union/Teamsters Local 817, the Academy of Television Arts & Sciences, Women in Film and Television, Step-Up, and the IFP. Her company's website is
www.bolandhopecasting.com
.
Remember Your Hard Copy
We definitely are very open to actors who are not currently represented. I consider it very much a part of my job to be finding the actors, and I do not lean on agents and managers to do that work for me. When it comes to us reading unsolicited submissions, however, it does boil down to what is going on in that particular period. If we have a lot of time, then we tend to plow through mail and set up general meetings. If we are really slammed or doing an episodic television series, then it is more difficult to do that.
I don't think sending an unsolicited submission is always the best tactic or use of time and money by an actor, because more often than not, unfortunately, it doesn't get taken very seriously. If one decides to send in a headshot and résumé, they will have more of an impact if they're submitted for a specific role. But I can also use my imagination and do not rely on specific submissions from an actor or agent to determine what part I envision for that actor.
These days everything is done electronically. There are companies dedicating their entire model to building interfaces and programs so that clients and casting directors can contact each other online and set up appointments. I do prefer that during sessions, I'm still able to give the director or producer or whomever is in the room hard copies of an actor's headshot and résumé. If we set up an actor, I normally ask his or her agent to send over a headshot and résumé ahead of the appointment, or sometimes we ask that the actor bring those materials for the meeting. They're an important tool, and they need to be presented properly in an audition situation.
An Accurate Representation
In a headshot, I'm looking for an accurate representation of the actor. I prefer something that isn't going to typecast the actor, which normally happens if the picture is very much a caricature, something super serious or super happy. I like a very middle-of-the-road picture, and it should be recent—what you look like when you walk through my door.
For example, if a girl has really curly hair but in her headshot has very straight hair, that's a very different type of look. Beyond that, headshots are very specific to each actor. I don't think there is a blanket set of rules for what makes a good shot. It's helpful when the actor has a really good sense of what they're able to be cast in and the headshot is sort of marketing toward those roles. I don't like a lot of retouching. I like more of a natural, sort of authentic photo instead of more of a glamour shot.
I usually study a résumé most closely when actors are just starting out or if I'm meeting them for the first time. I tend to look at their education pretty much first, to see where they went to school, who they've studied with, and also just to see how seriously they're taking their profession. If actors are actively working toward honing their craft, that is more appealing than if they're not. Since the majority of what I do is on-camera work, I look at what, if anything, they've done on camera. I think any experience in front of a camera is helpful.
I look to see if they've worked with directors I know—either personally or by reputation—because those are people who have already approved of this actor in a way. I also think it's a good conversation piece in a meeting when I can refer to someone's résumé and talk about working with certain directors. I know a lot of people tend not to list directors, especially of episodic TV, but I think that's a really important thing. The regular episodic directors, especially in New York, all know each other, so they look to see who their friends are hiring. They might think, that director hired this actor, so that performer must be great.
Multiple Reels
You have to put down what you've got. If all you've worked on is three Columbia grad school films, then you should list them. I think you should be honest about the type of project, whether it was a graduate school film or a produced short. I always say, "If it's something of which you were professionally involved in the creation or for which you auditioned and received the part, then you could list it on your résumé."
When it comes to special skills, unless I'm looking for specific ability, which occasionally does happen, they are not completely essential to land a role. But sometimes I need random skills, like jump-roping. I usually peek at them, and even if a particular role does not require a special skill, I normally put an actor in my file because, for example, he speaks three languages fluently and is a lawyer. I always say, "If you have another profession under your belt, especially a white-collar profession, like a doctor or lawyer, or a fireman, cop, EMT, definitely put it in your special skills." I have worked on a number of "Law & Order" shows for many years, and we frequently hire actual firemen, EMTs, and lawyers.
I think it is essential for an actor to have a website in this day and age, and that definitely should be listed on everything an actor sends out, whether it be a résumé, postcard, etc. I visit people's websites and always watch their reels in order to learn about them. I always find it helpful, if you do have experience in comedy and drama, that you make two separate reels. It's easy to click on a drama reel link and a comedy reel link. A lot of people also create a commercial reel. Since these three types of material are very different styles, it can be confusing and a little off-putting if the actor's character is seeking a murderer in a drama and then the next scene is from a comedy. It happens frequently that I show a reel to a director and I have to say, "Okay, I just have to wait for this scene to be over," before we get to the stuff that's helpful.
The reels should be professionally shot and edited and be filled, if possible, with professional material. Some actors like to have musical montages of just different looks at the beginning of the reel, which I do not really prefer. I would rather just get into the material. I also think we do not necessarily need the scenes on the reel to make sense. I find that people put longer scenes on the reel so we understand the piece's context, but that is not really necessary. We are only looking at the reel to see what you look like and what your acting ability is in this quick moment.