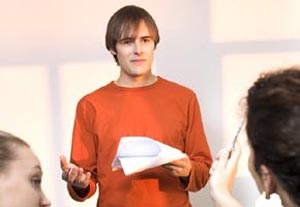 A trained singer, dancer, and actor, Pamela Kramer has been in casting since the 1980s. She formed her own casting company, Bradley Baron, based in New Jersey, in 1991. She has also coached and taught actors for 17 years and is now offering private career coaching. Her TV casting credits include Comedy Central's "Strangers With Candy" and pilots for VH1, MTV, and Nickelodeon. She also casts industrials, commercials, and voiceovers; her clients include Microsoft, Nokia, Merck, ADP, Pepsi, Kraft, Sanofi-Aventis, Panasonic, and Altria. She is currently in preproduction for the horror film "Torture Chamber."

Be the Product You Wish to Sell
If I'm asking for a business suit and you come in with jeans and a T-shirt, or you show up with dress pants but a mismatched top, that tells me a lot about you. If a business suit isn't requested, dress neutral, upscale casual, or casual but neat. No holes or wild things going on. No logos. I don't want anything smacking us in the face or taking away from your performance. You don't want to have something on your T-shirt while you're reading, because that's going to be distracting.
I want actors to be professional, certainly in terms of caring about the business and understanding that it is a business. Be on top of your studies and be professional. Be current. It's what I'd say to an agent. I want to see current pictures.
Attitude is really important. Actors are being auditioned from the minute they step into the waiting area, even before they audition. It's really essential that they leave their everyday cooties outside the door. These cooties may include rushing and feeling exhausted or being aggravated because the cat peed all over the floor at home.
I had one actor who gave a great audition but his attitude sabotaged it. He gave a snippy answer in front of the advertisers and my client while I was trying to give him a direction. That's something clients don't want to bring into their productions. A bad attitude definitely won't get you a callback.
Know What You're Auditioning For
If you're going out for a spokesperson role for an industrial that's informational and you have a heavy accent, you're going to be dismissed, because unless we're doing it in another language, you need to be understood. Accents are wonderful when they're requested. Obviously, you have to be right for the role agewise. Forty is not the new 20 in anybody's book. Many times actors need a reality check when it comes to their age range.
Then there are the height requirements. I'm often told precisely what the client wants in terms of height, for example. If a man is too tall, he may actually be too tall for the set they have created. I don't know who is telling actors to remove their height stats from their résumés. It's a horrible trend and bad advice. I can guarantee that if I have a thousand faces to look at and I like your face but there's another hundred that are just as nice and they have their height stats and you don't, I am most likely not calling to check what your height is. One opportunity lost is one too many. Don't make it hard for us.
For industrials, I tend to look for clean-cut, real-looking people. That's what's in demand. If a guy comes in and he's got a full beard and his hair is long, most often he's not going to be considered, unless of course he is willing to shave.
With commercials, however, there is more variation. Casting depends on the product, and there really isn't a norm anymore in the industry. Years ago we never would see someone who is full-figured or "charactery." Today, it's not just beautiful people who are cast in commercials. There's opportunity for many types, and that's actually wonderful.
Keep it Old School…
Regrettably, actors are not taking their craft as seriously as they did 15 years ago, which is disturbing to me. There are actors that have never stepped foot on stage. They have no foundation. I know that not everybody has to do stage work, but I always tell my actors to do at least one showcase. Even if you're not going to make Broadway part of your acting dream, at least know what it's like to perform in front of a live audience. There's nothing quite like it. In addition, I'm not seeing actors who understand the process of breaking down a character.
Actors should always bring a headshot and résumé to an audition. The old ways still hold true. My clients love to take the headshots with them when they leave. They like to have tangible materials other than the tapes. When actors forget their headshots and résumés, they are hurting their chances.
…But New School
I don't usually accept headshots through the mail anymore. I used to have stacks and stacks of headshots and files. I no longer have that. I can cast from anywhere in the world and be able to electronically send that particular casting session to my clients. The speed is spectacular.
I also look at actors' websites for a lot of the projects I cast. It's to your advantage to have a website and demo. If you don't have a demo in this day and age, I think you're cutting yourself out of a nice percentage of possible work. Not all my clients are able to have an immediate casting session. Reels and demos help me narrow down the actors I may choose to see. What I love about online services is that I can see a thousand people in an hour.
Utilize Your Resources
Just remember, another hundred people just got off that bus. If you still want to be in the business, remember that it's not only about your talent and the casting director's or client's vision, but all the other tiny things that determine whether you book a job or even get a callback.