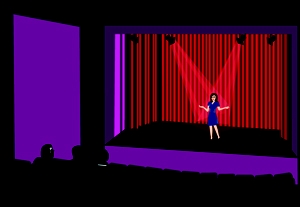 Prior to launching her own New York–based company, Antonia Dauphin Casting, Antonia Dauphin was a casting associate with Walken/Jaffe Casting for three years. Among her projects there were the final three seasons of "The Sopranos" and the pilot for "Entourage." In the last five years, Dauphin has specialized in casting independent films, including such upcoming projects as "The Flim Flam Man," starring Richard Gere; "The Grandmothers," starring Julianne Moore; and "In the Miso Soup," starring Willem Dafoe. Among her completed projects are "The Music Never Stopped," starring J.K. Simmons, Julia Ormond, and Lou Taylor Pucci; "Coco Before Chanel," starring Audrey Tautou; "Elvis and Anabelle," starring Blake Lively and Max Minghella; and "My Last Day Without You," starring Nicole Beharie and Ken Duken. Submissions can be emailed to
dauphincasting@aol.com
.
What Gets You in the Door
I look at emailed submissions from actors, whether or not they have representation. But my bringing them in depends on the project and its budget. I often consider these submissions if I'm casting a student film. The same is true if I'm looking for a role that's hard to fill. On occasion I'll even discover a young actor with little experience. However, if it's an independent film with a $10 million budget or an ensemble piece that requires recognizable actors, then the chances are I won't be considering these headshots.
I like headshots that are representative of the actor. They should be clear, direct, natural, and never posed. No artifice. I really don't like silly outfits, and if I see one in a picture—an actor wearing a policeman's or fireman's hat, for example—I won't keep it. Headshots can be in color or black and white, but I need one great shot only. I don't care for composites.
Cover letters are fine, but they should be brief: two paragraphs describing what the actor has done recently and the kind of work he's interested in. If there's a specific project I'm casting for which he thinks he might be right, the actor can mention that. Since many of my films are European co-productions, I'm interested in knowing if an actor can speak French, German, or Italian. That's especially helpful. I also like to know if an actor can ride a horse, fence, etc., or has standup comedy or improvisational skills. I go to comedy clubs, and many actors I've cast I've found at Upright Citizens Brigade Theatre, sometimes the PIT or Carolines. Some of these comics are wonderful, not simply in comic roles but also dramatic roles. I love casting against type.
Standup comedy experience, the ability to ride a horse, or a flair for foreign languages should also be noted under "Special Skills" on the résumé. Training is secondary to professional experience, and I don't need to know about roles that were almost booked. The actor either got the role or didn't. Background credits don't look especially good on résumés, though student films do. Some student scripts are excellent, the experience is invaluable, and in more than a few instances good student films make it to the festival circuit, which is terrific exposure for young actors.
If an actor interests me, I will want to see a reel and I'll check out his website for it. The website should be simple, to the point, and not overly adorned. The reel should be professionally shot, though the clips on the reel don't have to be professional if you don't have any professional credits. I have no problem with scenes that an actor has pulled together for a reel, as long as the acting is good and the acting partner is invested in reading with the actor.
I'll often meet with actors before auditioning them for specific roles, though these actors usually come to my attention through European agents I've worked with in the past. At these meetings, I'm attracted to actors who are able to convey a sense of who they are and where they're going. I also like actors who know how to have a conversation. Some actors, especially young ones, talk about themselves and ask for advice. I understand that and I'm fine with it, but it's also important to have interests outside of acting.
Rights and Wrongs—and When Wrong IS Right
At the audition, an actor who comes into the room with a definitive idea of who the character is, what he's doing, and where he's going is most likely to get a callback. Even if it's the wrong idea, it shows me that the actor has thought about it and can probably take direction. I look for an actor who has talent, ideas, and can take direction. I'm put off by actors who are nebulous.
Asking questions at an audition is fine. In fact, I will always start each audition asking if the actor has any questions. The best questions focus on character. Some actors behave as if they already have the job and ask about the shooting schedule and say things like, "I teach, so I'm going to have to get out of it, so let me know as soon as you can about shooting." That kind of thing doesn't happen all the time, but it happens often enough.
The other common mistake is the actor who looks directly into the camera, even after I've said, "Speak to me, since I'm reading with you." They're not listening and not speaking to me, and that will make me not want to hire them. Another mistake—again, more common with young actors than veterans—is the actor who is constantly looking down at the page. Lines do not have to be memorized, and I have no problem with an actor checking the script occasionally or riffing. And it's all right if the actor stumbles for words, makes mistakes, and then uses those mistakes in the performance. It's acting and preferable to reading from a script, which is not acting.
I also have no problem with an actor stopping an audition because he thinks he can do it better and wants another chance. I love actors and respect the process. I'm happy to do an audition again and again, as long as I feel it's going somewhere.
Actors should not come dressed in character. It's okay if they suggest a character. If the role is a lawyer or businessman, a tie and buttoned-down shirt is appropriate for the actor. If the character is a vamp, high heels are fine. But I don't need an actor wearing a white coat if he's auditioning for a doctor. I can imagine it.
If an actor has been cast, I'll call him and let him know it. If he wants to send a thank-you note after that, it's fine. But again, I prefer these to be emailed. Follow-up notes that tell me what the actor is doing should also be emailed. I don't want to be contacted on Facebook or Twitter. That breaks the fourth wall.