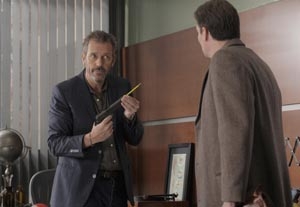 In her capacity as the executive casting consultant for Fox Broadcasting Company, Marcia Shulman, who is based in New York City, advises the network on key casting decisions and is responsible for expanding talent discovery capabilities both in and outside the U.S. She previously served as executive vice president, casting for Fox in Los Angeles, where she oversaw casting for several shows, including "House," "Glee," "Bones," "Fringe," and "24."
Previously, Shulman spent 10 years in New York as a movie and television casting director. During that time, she was active in the burgeoning independent film arena. The first movie she cast was the holiday favorite "A Christmas Story." Her television credits include casting the series "Buffy the Vampire Slayer," "Felicity," and "Dawson's Creek" as well as their pilots.

Always Seeking New Talent
I love finding new talent. Every casting director wishes to find new talent. That's what makes our jobs most rewarding. When an actor walks into an audition, we are praying they will be great.
When I was working on "Buffy the Vampire Slayer," Katie Holmes' manager at the time called me. He said, "I just saw this girl at an international modeling contest" and asked me to meet her for "Buffy." I did, but she was only 17, and because of the night hours we needed to cast people who were 18. I put her on file in my head, and we finished casting "Buffy." Then my next job was "Dawson's Creek." Katie was then 18, and I immediately went to her and had her send in a tape from Ohio that was shown to the producers. They didn't even bother looking at anybody else. In fact, when we had the network test, she didn't want to come in for it, because she was playing Lola in her high school production of "Damn Yankees," and the test would interfere with it. So we actually had to wait for her to come in.
David and Hugh Who?
The younger the character that you're looking for, the more chance you'll have to discover somebody. When I had to cast Angel on "Buffy," it was a one-line part. [Creator] Joss Whedon said to me, "It's just one line. Don't obsess about it." The breakdown said something like "the most mysterious, handsome, fascinating person." Agents were telling me, "Good luck finding this guy." Then a friend of mine was looking out of his window, and he said, "I'm sitting here, and there is this really hot guy walking his dog. He seems to fit the description of this role." I said, "Send him over," and in walked David Boreanaz. I thought, "This is exactly how I was seeing Angel in my head!" I took him down the hall to Joss Whedon, and the rest is history.
I had been a fan of Hugh Laurie's for a while. When I first got to 20th Century Fox Television Studios, I waited on the "Stuart Little" set for four hours so I could have lunch with him. Years later, when I had moved over to the network, we got the script for "House." The script itself was fantastic, but because of the complexities of that character, you knew this show was either going to be a big hit or a big miss based on the casting of that character. I felt in my gut Hugh could do it. He possessed some unique qualities that most audiences weren't yet familiar with. I knew he was a musician and wrote mystery novels. I also thought he was sexy in a different way than we were used to seeing on television. Our network president at the time, Gail Berman, couldn't quite picture the actor who was just in "Stuart Little" in this role, but once we saw his tape—and after his audition live in the room—it was undeniable. I felt a huge sense of relief, because honestly, I didn't know where to go after Hugh. I thought, "If it's not Hugh, we're really screwed." Witnessing that moment of the marriage between that actor and that role was thrilling. It was probably one of the highest points of my casting career.
Watch Your Confidence
Some actors just have an inherent star quality. When I'm watching an audition, I think, "Is that actor going to make me stop flipping through channels?" Basically, someone who has immense watchability in combination with acting ability and confidence. The truth of it is, when producers and networks set out to cast a show, there's always a bit of insecurity about being able to find the right person. I believe part of the actor's job is to show us his or her confidence in doing the role.
One of the things that we instituted a few years ago is giving the studio the option to do screen tests for network tests. Before this was available, the network tests involved three or four actors sitting in the hall, staring at each other, signing contracts, being nervous. Then they would walk into a room full of strangers in an unfamiliar space and would have a couple of minutes to either get a role or not. It was the worst possible scenario: They're nervous, seeing their competition, and rushed out. Now the screen test option allows actors to work with the director or casting director and really put together a solid audition. It's ultimately up to the studio to decide the best way to showcase an actor, either through a screen test or a live audition.
I have noticed there are people who have great acting skills and those who have great audition skills. Some can do both, but not everyone. Given that most of the time there is little lead time or rehearsal time, or no director on the show until after casting, it is very important to have both skills when you're auditioning for TV, because it moves very quickly, and it's a kind of a one-shot deal.