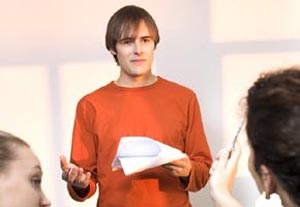 Mark Saks' résumé goes from comedy ("The George Carlin Show") to drama ("Numb3rs") and back again. His current projects include the prime-time dramas "Medium" and "The Good Wife," and he recently completed work on Showtime's miniseries "The Pillars of the Earth." Saks has offices in Los Angeles and New York but estimates that he currently spends about 80 percent of his time on the East Coast. "It depends on the season," he says. "But right now, 'The Good Wife' needs so much attention, I've been here most of the time in New York."

FORECASTING THE FUTURE
I'm probably the only person who ever wanted to be a casting director. I think it's pretty rare. I was an actor in high school and college, and I had been working at a summer stock for kids, and I was sort of doing their casting at an amateur level. My third year of college, I studied acting and directing at SUNY Albany, and I thought, "Jeez, I could never live this kind of life. This isn't for me." I couldn't live the day-to-day life of an actor. I needed more structure and discipline.
We had a visiting professor from New York, and he said, "What are you thinking about doing after school?" I said, "I don't think I want to be an actor. I think I'd like to get into casting, but I'm not sure how one approaches that." He said, "Next year, take as many directing classes as you can. Then it's really an apprenticeship business." The next year, I took some graduate directing classes and got the practical experience of working with actors. Right after that, I started in New York.
STAR SEARCH
Certainly, we go to the theater, first and foremost. And then when it comes to new actors, we attend all the school showcases, all the conservatory showcases. There are about 50 a year now, so it's quite a task come March, April, May, and June. We'll go to everything: independent films, the festival circuit—Sundance, Toronto, Tribeca. We look for actors who are emerging out of the independent film world in that market, especially here in New York, where it's so popular.

STYLE GUIDE
I would say if I have a pet peeve, it's lack of preparation. You really need to educate yourself. You need to know the style of a show. At least know who the series regulars are; at least be aware of the playing style. Obviously, if you were going in for an episode of "Frasier," when that was on the air, and an episode of "Married…With Children," they're two very different three-camera comedies. "Frasier" is a 23-minute Noël Coward play, and "Married…With Children" is a bawdy farce. The playing styles are very different, even though it's really the same genre. It's amazing to me when a show has a very specific feel—like "Pushing Daisies"—and actors don't know how to negotiate that material because they've never seen the show. They're working in a vacuum.
If you're an actor in New York, you need to be seeing at least an episode or two of every show that is shot and cast in New York. You do yourself a disservice if you haven't seen an episode of "Royal Pains," if you haven't seen an episode of "Damages," if you haven't seen an episode of "Nurse Jackie," if you haven't seen an episode of "Gossip Girl." I really appreciate actors who come in and have really done their research and their work, who have made bold choices in the scene, even if they're incorrect.

CASTING 'THE GOOD WIFE'
I knew it was all about finding the right lady. In my initial meeting with executive producer David Zucker and Scott Free Productions and Robert and Michelle King, who created the show, I brought a list of about 35 women to them, and we talked about a variety of choices. Julianna Margulies' name came up in that meeting, and fortunately she was looking for something. I think we all knew the script was terrific, but it's all about execution.
Somebody asked me, "What was the moment you knew you had a big critical hit on your hands?" I think there was one moment when we were auditioning people and I thought to myself, "If the scene sounds this good in the audition room, what is it going to sound like when it's on film?"
ON 'GOOD WIFE' EMMY WINNER ARCHIE PANJABI
She was brought to me by associate John Andrews; he's completely responsible for that. The part was written as East Indian; it was written specifically as somebody from that culture. We were down the line with another actress, who I was a big fan of and championing. Her manager called and said, "Looks like she's gonna take an ABC show." Then there was another actress we saw and liked quite a bit and we had her on callback, and John walked into my office and said, "Do you know Archie Panjabi? She did a movie with Ridley Scott," who is an executive producer on "The Good Wife." I had just seen her in "A Mighty Heart" with Angelina Jolie and was a big fan of her work in the movie. I said, "What a terrific idea," never thinking that we would find her.
To John's credit, he ran with it and found her in London and had her put herself on tape. The tape wasn't great; we had her re-tape, but in the meantime we had this extraordinary demo reel of her work, and we started floating that to the producers to get them excited. When we looked at the pilot, we said, "Wow, okay. No wonder people are calling her a breakout star."
A 'GOOD' MAN
It's hard to find true leading men in television. That is the toughest category when it comes to pilot casting. In "The Good Wife," our leading man is Josh Charles, and that was a very difficult role. We offered it out to several people, but those guys wanted their own show. Of course, the kinds of guys who would be on that list are guys who could get their own show. For that role, we always had Josh Charles on the list, and I really had to convince him to sign on, because he's been offered single leads in the past. He's a lifelong friend of mine. I was his camp counselor, so I've known him since he was 9 years old.
DISCOVERY CHANNEL
Early on, I gave Elijah Wood his first television job in a television movie. It was called "Child in the Night," with JoBeth Williams and Tom Skerritt, and he had just done "Avalon" for Barry Levinson. I remember seeing him for the first time and knowing, even at that very young age, he was special.
Josh Radnor came out of NYU. He did an episode of "Welcome to New York" for me, and now he's the star of his own CBS show ["How I Met Your Mother"].
Kyle Chandler: Early on, I cast him in a key recurring role in "Tour of Duty," his first arc in episodic television.
I don't think anybody really ever discovers anybody, but you do advocate and you do champion actors during their careers because you believe in them.
Mark Saks will participate in the panel discussion "Filming in New York: Getting Cast in Gotham" at Actorfest NY on Sat., Oct. 2. For more information, go to www.actorfest.com.