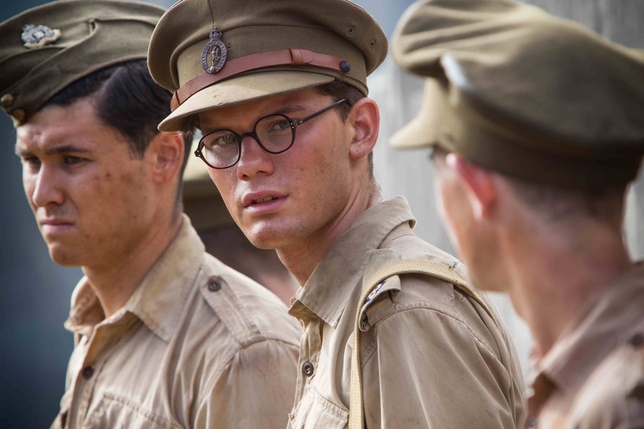 "The Railway Man" reunited casting director Nikki Barrett with director Jonathan Teplitzky and screenwriter Andy Paterson, both of whom she'd worked with on "Burning Man." "The Railway Man" is based on the autobiographical book by Eric Lomax, which tells his story as a prisoner in a Japanese POW camp during World War II and his journey to find peace in the aftermath.
"It was just such a unique and powerful story, and also quite a challenging story from a casting perspective, so that's always very engaging to work on," Barrett says. But the film turned out to be less of a casting challenge than she'd expected because of her prior relationship with the filmmakers. "We all had an existing dialogue and an existing trust and language," she says, "so we weren't discovering a relationship while trying to cast the film." The casting process was very collaborative, if slightly disjointed, because everyone was in different parts of the world.
Colin Firth came onboard first through his relationship with Paterson, followed by Nicole Kidman as Patti and Stellan Skarsgaard as Finlay. Meanwhile, Barrett was holding sessions in Australia, "so [we had] an ongoing dialogue across a number of continents," she says. The geographical locations of the team meant they had to get creative in their casting efforts; Barrett admits, "We did an enormous amount of casting via Skype and emails and phone calls rather than being directly in the room." Despite the logistical challenges, the casting process went smoothly; Barrett attributes this to Teplitzky's and Paterson's clarity about what they wanted, which "always makes it a lot easier to satisfy."
The film alternates between the present and the past, necessitating older and younger versions of many of the characters. "I've really been stuck on matching older and younger versions before, but this process was really very smooth because Colin [Firth] and Jeremy Irvine came on quite early in the piece." Finding the younger version of Finlay was a slightly longer process. "The focus was very much initially on Eric…we'd looked at a lot of people as a Young Finlay [in Australia] and then Sam Reid, who is Australian, happened to live in London and did a great test." Teplitzky met with Reid in London. "Sam was there and he had an impeccable English accent because he lived there and it just worked," Barrett says.
To round out the rest of the cast, Barrett took a different approach. They did general tests with a lot of young actors, which helped them find "really interesting actors" that they knew would be assets in any part, and then just "moved them around" to fill in the rest of the roles.
Barrett was conscious of the responsibility to respect the reality and the people involved. "Honoring a person's spirit and capturing their spirit is sometimes more important than replicating their physicality at the expense of the qualities of the human being." At the same time, she wanted to remain true to the world of the film. "For me, the most important thing an actor really needs to do is to really pay attention to the world of the film…sometimes people focus too much on just learning the lines."
Pictured: Tom Hobbs and Jeremy Irvine in "The Railway Man," which opens April 11.