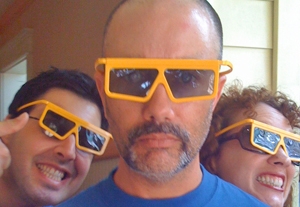 One might say that G. Charles Wright has spent his whole life preparing for a job in casting. "All my childhood was spent in front of a television instead of playing outdoors or doing homework," he says with a chuckle. He currently works on the hit TV show "The Middle," starring Patricia Heaton and Neil Flynn, and teaches a popular auditioning class in Los Angeles. Other credits include "That '70s Show," PBS's "Sid the Science Kid," and numerous pilots and Web shows.

Career Path
I started the way most casting directors start, which is accidentally—it really seems to be an accidental profession for people. I was an actor and I supported myself during the day working in the software industry. The company I worked for got bought, and it triggered a stock plan I was in, so I took some money and ran. I thought, "Maybe I want to become a TV writer." I started as an intern at Liberman/Patton Casting. While I was doing that, I met with TV writers and line producers and asked them questions about the writing job and kind of discovered that maybe that wasn't a job I would really enjoy that much. But what I came to discover quite accidentally was that I really loved casting. It pulls on my acting experience and it pulls on all my knowledge of TV, and it pulls on my sales and marketing experience in software—my organizational skills, my ability to keep track of contacts. All these things I'd been doing really clicked for casting. I've been doing it now for 10 years.
That's Comedy
I like finding people who are funny and good actors. With comedy, there are fewer guest roles to cast, but the trick is finding actors who are good who also understand the rhythms of comedy. Even if they're not delivering the punch line, they still have to understand the rhythms so they can assist in setting up a joke.
Variety Show
I watch a lot of TV, I go to plays, I go to showcases, and I talk to a lot of the agents and managers in town. I was on a panel with Debi Manwiller, who casts "24," and she mentioned that every season of casting "24" introduces her to a whole new segment of agencies, because one season she may have to cast a lot of Middle Eastern people, so she finds these agencies that specialize in Middle Eastern actors. It's sort of the same thing with me. When I was casting "That '70s Show," I knew all of the agents that really specialized in young, good-looking 20-somethings. Now I'm getting to know all of the kids agencies, since we have so many kids on "The Middle." I just keep getting introduced to new agents that specialize in certain types of actors.
Goal-Oriented
The goal of your audition is not to book the job. If you can remember that when you go in, it can really help to alleviate a lot of that stress. The goal of your audition is to do the job in the room. The only two things an actor has control over at an audition are their behavior and their performance. If you walk into a room and everybody seems mean or grumpy, you have no control over that. People who let that become the big stumbling block are doing themselves a disservice. If you give a good audition, you get known for being a good auditioner, and that's how people build careers in this town.
Sense of Direction
A lot of times actors think they'll just come in and let me guide them through the performance. That's a mistake. A flat read makes you look like you're not very good. You have to make choices so that I can see the direction you're going in, so I can tell you, "That's the right direction; let's just bump it up a little" or "That's the right direction, but don't be so charactery" or "That's not the right direction; you want to go this way."
Casting Challenge
The hardest role we had to cast on "The Middle" was Sue, the daughter, and that had to do with the fact that "The Middle" was a pilot that had already been shot two years before with a different cast. It didn't quite come together as ABC had wanted it to, but they really liked the story. It was a situation where the writers kept thinking about the girl they had from the first pilot, and it was hard for them to get her out of their heads. Eden Sher came in and pre-read for me. She was one of the very first girls we saw for the role. Brought her to producers and she went through that process, but at that time, I think the producers still had in their minds the performance from the previous actress, so they kind of dismissed everybody. I ended up bringing Eden back in again at the end. By that time, they had seen so many actresses for the part, they really started to look at her with new eyes. Eden was the only actress who came in and played that character with exuberance and zeal. Everybody else played her more goth, kind of down and mopey. Eden makes you remember and root for a character that nobody ever roots for.
Side Job
Casting has allowed me some really fun acting opportunities. Through the people I've met, I've been able to do some great voiceover work. I was on the second to last episode of "That '70s Show"—they wrote a little part for me. I manage to pull off probably one or two fun little acting jobs every year. My big plan for retirement is to go back to acting when I get old. Because I have discovered that it is really hard to find good character actors in that 65-to-75-year age range. Because if they get to that age, people either are too big to do small stuff or they've given up. Some of the best older character actors tend to be people who get into the business after they've retired from whatever their other job was. So that's my plan. I'm going to go back into acting, 'cause they'll need me when I'm 65.