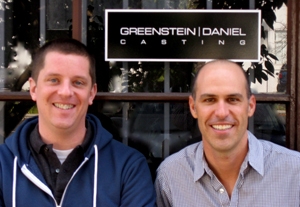 After apprenticing with some of the most prolific casting directors in the business, Brett Greenstein and Collin Daniel decided to join forces and strike out on their own. Five years later, the duo, based in Los Angeles, boasts a wide array of credits, ranging from the family-friendly comedies "10 Things I Hate About You" and "Rita Rocks" to the much-hyped "Melrose Place" reboot. The partnership works, says Greenstein, because they both like to have fun and are "even-keeled, mild-tempered people." Adds Daniel, "At the end of the day, we're just casting a TV show; we're not saving the world here."
Career Path
Brett Greenstein: I was working at a film production company and I was being groomed for a development-executive job. We were prepping a movie, "Nurse Betty," and I came to the realization that what I loved most about making these movies is the casting process. I thought that was the most creative; I thought that was the most fun. I got to intern with Heidi Levitt and Monika Mikkelsen, and that's where I realized, "This is what I should be doing." I started working at Imagine Television, Ron Howard and Brian Grazer's company, and I was working for Gayle Pillsbury, who was the head of casting for the television department. We worked on some great stuff, like "Felicity" and "24." She started her own business with Bonnie Zane, and I went with her there. After a couple years there, I was ready to leave, and that's when Collin and I partnered.
Collin Daniel: I started out here 11 years ago. I knew I wanted to work in TV and had always been interested in the idea of casting. I had gone to an arts school in Chicago, and I moved out here and started as an intern with Jeff Greenberg and worked my way up to casting director. Brett was kind of at the same place in his office: We both hit the wall, where you've popped out in that office as much as you can under someone else's company. A mutual manager friend of ours suggested that we meet and talk about partnering. The rest is history. We got a pilot right after that.
Takeoffs and Landings
Daniel: I think the biggest challenge [of pilot season] is the amount of actors we see. We will see hundreds and hundreds of actors for a series-regular role. It's great for us, because then if somebody's not right for that part, we keep their picture on file and we know they'll be right for something down the line.
Greenstein: It's a pressure-filled time. You're dealing with deadlines, and sometimes you're not getting the luxury of time. Some pilots we work on for 10 weeks; sometimes we have to do them in three weeks. We're dealing with a lot of cooks in the kitchen, because we usually have a group of producers and the studio executives and network executives, and a lot of decision makers are part of the mix. It gets a little nutty.
Pilot Auditions
Daniel: The biggest thing you have to figure out is: comedy or drama? And then if it's a single-cam comedy or a multicam sitcom—that's a big difference. Just knowing what type of show it is [is important], and generally your agent or manager can tell you.
Greenstein: And just do your homework. With pilots, most of the time you will get the script. Read the whole script; get the tone of the show; figure out who all the other characters are and where your character interacts with the others. Maybe even do some research about the writer or the producer. Look them up on IMDb and see some of the other shows they've done. It's just being informed about who you're going to be reading for and knowing the script really well.
Daniel: And a lot of actors don't take that time, I think, to do any kind of homework before their audition, especially during pilot season. They've got maybe three or four auditions a day. They don't take that extra time to learn about who's going to be in the room or who the director is, for example.
Talent Search

Greenstein: We do traditional breakdowns, especially for pilots. We take a lot of pitches; we have great relationships with all the agencies, big and small. We're really open to agents introducing us to new people. Our associate does workshops. She's brought in a lot of people for us to meet who she's met out in the field.
Daniel: We both try to see as much theater as we can. It's tough during pilot season, but there's definitely good theater here in L.A.
Greenstein: And Collin and I watch a lot of television. We're fans of TV, and we're constantly discovering new people just based on the work they're doing on television and making mental notes: "That guy would be great for this part we're looking for."
Casting Conundrums
Daniel: We did a series for NBC called "Kath and Kim," which was based on the Australian series. I think that's definitely been our most challenging [experience], because, first of all, adapting something from an overseas show, trying to make that translate, is a difficult process. There were five series regulars. We cast Molly Shannon, John Michael Higgins, Selma Blair, and Mikey Day, but the fifth role was constantly a struggle. It started out as a heavyset girl, then it went to a gay guy, then an ethnic woman—it just went through so many changes. Usually a pilot takes 10 weeks to cast. That pilot we were on for 39 weeks. And at the end of the day, the part went away. You can look and look and look, and then I think everybody comes to a cohesive decision that something's not working here, and it's probably the character that ultimately doesn't work—which was decided eventually.
Beam Him Up
Greenstein: One [actor] that we're really proud of and somebody who's really done something with his career is Zach Quinto. We put him in a pilot a couple years ago, "So NoTORIous," the Tori Spelling show. He played her gay best friend. He was somebody who came in and we knew right away that he was perfect for the part. That was a very specific character based on a real person—Tori's real-life best friend. He nailed it on all levels; he made that character alive. He was about to be snatched up by another show, so we didn't even take him in to the network, which you usually have to do. We taped it, ran it over to NBC—they were in a conference, offsite at a hotel. We had to get equipment and show this to everybody, all the executives, and they signed off on him in the room right there. It was the first role cast, and we were able to snap him away from that other show. And obviously, from there he's gone on to "Heroes" and "Star Trek."
The Changing Landscape
Greenstein: The way we do guest star and co-star casting now is basically we put people on tape and it's uploaded to a computer, so we don't have to have our producers in the room. And especially during pilots, it's great, because we have actors in Australia and Canada and London who are putting themselves on tape and all of our producers are able to see it.
Daniel: It really widens the pool of the actors we can see.