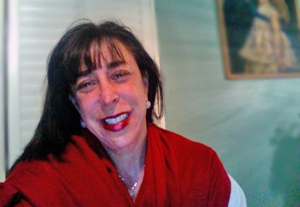 Robin Lippin initially imagined her move to L.A. as temporary. She was hoping to pick up some entertainment industry job experience before returning to her native New York. Two decades and dozens of casting gigs later, Lippin still calls Hollywood home. Her credits include the legendary Aaron Spelling hours "Charlie's Angels" and "Fantasy Island," tween hits "Saved by the Bell" and "Lizzie McGuire," and the Web series "Woke Up Dead" and "Valemont." Currently, she and Jeff Meshel are hard at work assembling the ensemble for the upcoming CW series "Life Unexpected." "It's an incredible show," Lippin says. "To do a show that has comedy and drama and such heart is really a great experience."

Spelling Class
Growing up, my sister was an actress, and I used to see plays all the time in New York. I knew I either wanted to be a casting director or an agent. I came out here to get job experience. Then I started working a lot. I worked at a few agencies, then I got the opportunity to work in casting on a show for Aaron Spelling. I did the show, and then the next year I took over the show. So I got into it at a really young age and I moved up really quickly, and I had to do a lot of homework to really know a lot of actors. At the time, I didn't know as many as I should have. I worked for Aaron for seven years, then I went independent.


Mixed Media
I did a lot of star casting for Spelling, so when I needed another job, they said, "Well, she only really casts stars." So I really understand how you can get pigeonholed. And then [casting executive] Lori Openden, when I went independent, she was at NBC and she introduced me to comedy, and that's how I got "Saved by the Bell." It was her giving me the opportunity that allowed me to switch gears, when other people thought that I could only do one thing. That's why, as a casting director, I've taken risks with actors that have never done comedy before, because you just never know what somebody can do if they don't have the opportunity.
In the Room
I usually read with people, or Jeff will read if I'm casting stuff with him. If I think that there's something there, then I'll definitely work for them. I'll work with them to a place where I think that the producers are looking for that kind of performance. And if I think something's there but it needs more [work] than the time that I would have, I would probably recommend they go to a coach and work with a coach and then come back and work with [me] again. If I think there's a shot, I'll definitely give them every opportunity to come through.
Top Tips
If it's a series, you should be familiar with the series before you come in, so you know the feel of the show. If it's dramedy, you know if it's played real; you know if it's played over-the-top. If it's a pilot, it's harder, because that's a brand-new thing. But maybe just try a different take on the character, something that maybe has a little more than what's on the page, more depth. And if you find that you're a nervous wreck when you walk in the room, just stop yourself and take a moment and say, "Look, can I start again?"
Straight to Tape
Actors are going on tape a lot more these days. They're not necessarily having a producer session, which I think has been a big change in the industry. Producers are looking more at audition tapes and making decisions based on those tapes. You miss the personal contact the producers used to have, but as a casting director, at least you feel like you can give the actor a good shot. You can work with them; you don't have to feel like there's a time constraint.

Finding Attila
I did a miniseries called "Attila," which was Gerard Butler's first American job. That was one of the most challenging things, casting the part of Attila. Some executives wanted me to go to a gym and try to find him. It was a casting director in London who mentioned [Butler]. He wasn't even submitted here through his L.A. agent. And then once I met him, I thought he was definitely it. The struggle was that he was Scottish, so he had to work on the accent, and I think someone at the studio just had a different vision in mind. So the process was getting the director and the producers behind Gerry and saying, "If you really believe in him, we need to fight for this guy." There was a point where I said, "Look, I'll give back my money if you guys aren't happy." I think what I like most is when you really believe in somebody and you're able to fight for them and it works out.
Open Call
You hope to have the time to [see everyone], because sometimes, on certain pilots, it's such a limited amount of time and you have to cast it so quickly. You just don't have the personal manpower to see everybody. But when you do, you have to be really open to [giving] people a shot. You never know. Somebody could have a small agent and be incredible, and somebody could have a powerful agent and not be as strong. It's such a luck of the draw sometimes, and I think being open to meeting as many people as you can helps.

On the 'Net
I definitely have reached out to YouTube and the Internet a lot more to find people. On some of the pilots I've cast, I've found people on YouTube that have done skits, and they ended up testing for the show. That's pretty exciting.
Worldwide Web
I've been lucky enough to work with [executive producer] Stan Rogow on all of the Web series I've done, and with him, because we have a long-term relationship, he trusts me. I think for me, probably the good thing about doing the Web series when I started them was, at that point, nobody knew much about them and actors felt they should get involved in this new medium. [For] the one I just did, "Woke Up Dead," which was with Jon Heder, a role was written a certain way, and I suggested an actor who was very opposite from the way the role was written [Josh Gad]. Stan said, "He doesn't look like [this character]." I said, "I know, but that's what makes it great." And he ultimately was an incredible get for the show and really stood out. For an actor, I think [a Web series] is more creative, because it's a much looser atmosphere; it feels much more collaborative.