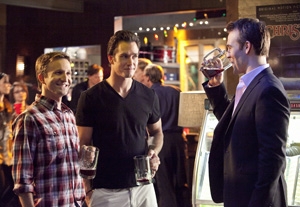 Los Angeles casting director
Russell Boast
was born in South Africa, where he grew up surrounded by artists. "I was the kid next door who always wanted to put on a play," he says. Boast graduated with honors with a B.A. in English and communications and a technical degree in film and television from the University of South Africa. He then began to produce theater and at 21 won the Nelson Mandela Artists Award for his contributions to theater in his native country.
Boast produced and directed numerous stage shows and corporate videos before working as a casting assistant for European television commercials. "I had tons of performer friends and began casting almost by default," he says. "Clients wanted actors, and I knew and was friends with those actors the clients needed. After a brief stint in commercial casting, I was picked up to source, book, and coordinate over 3,500 extras on the Angelina Jolie feature 'Beyond Borders.' I relocated to Los Angeles almost eight years ago and was mentored by my now business partner
Rick Pagano
."
Alongside Pagano ("X-Men," "Alien: Resurrection," "Hotel Rwanda") and
Debi Manwiller
(TV's "24"), Boast works at Pagano/Manwiller Casting, currently casting the hit show "Franklin & Bash." He is also a founding partner with Pagano of Rocket Propelled Ltd. (www.rocketpropelledltd.com), a resource company for artists and entertainers. In L.A., Boast has been involved in staging more than 30 theater productions and producing and directing a cabaret troupe called GravityWorks.
Finding Rewards in Casting
I am immersed in this business. I create, produce, direct, and teach, so I am being introduced to new talent all the time. I love teaching and frequently cast students I have worked with. I try to make myself as accessible as possible. After all, as casting directors we get paid to know actors, so I generally maintain an open-door policy and welcome postcards, headshots, and emails.
The thing that motivates me the most is providing opportunities for artists and entertainers. Casting gives me a platform to enable others and provide those opportunities. There is nothing more rewarding for me than placing an actor in front of a client and the client falling in love with that actor.
I can't pick one favorite project I've worked on—all my projects end up being my favorites. I love to sit incognito in a screening of a film I have cast, take a deep breath as the lights go down, and pray, "I hope the audience loves the actors I cast as much as I do."
One of my most difficult projects to cast was a job I did last year. Three weeks prior to shooting, it required the casting of just over 70 featured roles! I felt like I was casting "A Chorus Line." As a result of time constraints, I was literally lining actors up in the waiting room and saying, "You three stay; the rest go home," prior to even having the actors read. Not my favorite way to do things, but that's the job sometimes.
Hosting the Audition Party
It is important to me that actors feel relaxed when they come in for me. The more relaxed the casting environment is, the better the performances I see in the room. I tend not to read with the actors. I prefer to have actors come in as readers, so I can watch the person auditioning instead of "acting" with them.
Rick Pagano and I teach actors how to be "the host of the party" when they're in the room. Hollywood is all about who you know, then what you look like, and lastly your ability. If you come into the room focusing purely on your ability, then you are essentially wasting 80 percent of your sometimes brief encounter with us. Treat your audition like a business meeting. Do your homework, study the people you are about to meet, know what you're talking about, and then get out of your way and perform.
Get Out of Your Own Way
For most of us, the biggest problem we have in manifesting what we want is ourselves—we get in our own way. I spend hours speaking on this topic to actors, because there are so many artists who simply don't trust themselves. They have been fed conflicting information about what works and what doesn't work, but no one is training actors to define what works for them as individuals. They walk into the studio not knowing what we want, questioning what they want, and with no clue of what works for them. My advice, and the simple answer as you approach the preparation of an audition for anyone, is get the hell out of your own way.
Stop listening to advice that isn't working. Stop spending money that isn't offering a return. Stop asking the same questions if you're looking for a different answer. Different actions create different reactions. Stop evaluating yourself and understand that everything you hear is true until it isn't. Work out your own strategy and be prepared to change that strategy if you find it isn't working.
Remember, there is no right way, only your way.