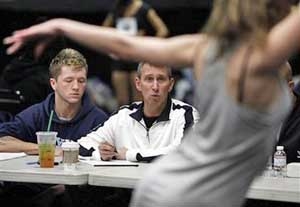 Carol Hanzel Casting is a boutique-style full-service casting office for Broadway, Off-Broadway, regional and international theater, television, on-camera commercials, voiceovers, and film. Recent projects include the Broadway-optioned "Wanda's World," seen in 2008 at Off-Broadway's 45th Street Theater; "Reel to Real," a multimedia stage musical, directed by Tony nominee Lynne Taylor-Corbett, that premiered in Huairou, China, and is now playing at the Edinburgh International Festival; the world premieres of the plays "The Good Counselor" and "Lost Boy Found in Whole Foods," both presented by New Jersey's Premiere Stages; and the world premieres of the regional musical hits "Cagney" and "Backwards in High Heels," both done at Florida Stage in West Palm Beach. Other career favorites include the Tony-nominated musical "Swing!" and the York Theatre Company's Off-Broadway musical "My Vaudeville Man"; the TV shows "Hi-5" (Discovery Kids and the Learning Channel) and "Wonder Pets" (Nickelodeon); and the feature film "A Very Serious Person," directed by Charles Busch.
Think it through
The most important thing in casting is how close the actor is to the requirements of the breakdown. Once that's resolved, it comes down to a number of things.
If the submission is coming through an agent, it's important for me to know if the actor is actually available for the project, let alone available to come in and audition. A lot of times we get submissions of actors who appear perfect, only to find they're not even in the country! That's very disappointing for us. We need the agents to be aware of whether or not their actors are actually available for the project.
If actors are submitting without an agent, they should also be sure to read the breakdown (preferably more than once), because it's to no one's advantage to submit yourself for a role that you're not even remotely right for. Don't submit yourself just because it sounds like an interesting role. If you're not right for it, move on.
Perfect Your Résumé
Having been in the business as long as I have, I've sort of become the Sherlock Holmes of reading résumés. My job as a casting director is to present the very best talent available for the project. Giving people breaks is something I have to pursue on my own time. But when it comes to working on a breakdown and working on a job for a producer, I have to be very careful that the people I bring into the room are absolutely right for the project.
Actors should be sure to list any languages they speak and any accents and dialects they can do. If you have any crazy circus skills (especially if you're in musical theater), put them down. If you're a dancer or have aerial skills, that is useful information. "Works well with animals" and "Great with kids" isn't very effective.
But never put a special skill on your résumé unless you really have that skill. Many years ago, when I was casting a shampoo commercial and looking for a model who had to ride horseback, a young lady said that she was a rider and had equestrian skills. So we brought her in for a callback at a stable in New York to see her ride. I don't think this girl had ever seen a horse up close, let alone ridden one! It was a painful experience for her and also a painful experience for us.
Take a Chance
Most important, don't edit your own career. Recently, a non-Equity actor came out to an Equity principal audition for a wonderful new play that's in production. She was up against some serious competition. Not only did she get a callback but ultimately she was offered the role. She was shocked, literally saying on the phone, "Are you kidding me?" And good for her! She didn't have the experience, but she had the ability. Moral of the story: Submit even if you don't have the experience. Let us make those decisions.
Up-and-coming actors have to be self-promoting. You can't sit back and wait for the phone to ring. The competition is fierce, but there will always be opportunities for actors who have the talent and drive to pursue a career.
Breaking through in the business is a process. There's no shortcut for it. It's great if you happen to be fortunate enough to be cast in a show in New York that people are going to see, you're wonderful in it, and the show's successful. But most people put in years of hard work before that happens. If you're planning to have a long run in the business, you'll continue to build your career, résumé, and relationships. That's what it's all about.

We're your Friends
Casting directors are on your side. We're sort of the cheering squad, there to root for you. If we bring you into an audition, we want you to do well. It makes us look good, and it makes you look good. And if you have gotten as far as an audition, we obviously believe in you. We're there to try to nurture actors and make a safe place for them to present their best work.
I think what actors also need to know is that it's a business and we both have something at stake. Casting directors are only as good as their last project. We want to do the best work we can for the producer, and you're going to help us do that. So it's symbiotic—we're all part of a circle. So you do the best you can, and we'll do the best we can to make it a pleasant experience for you.

Be Interested
I think the biggest mistake is to be unprepared. That is a big no-no all around. If you don't have that preparation, everything sort of falls away, especially if we haven't worked with you before. It shows when you've done the homework. You can have all the skills in the world, but it won't matter if you haven't read the script or the sides. I hate when actors say, "Oh, I just got into town last night and haven't had a chance to look at this." That's just not good enough. If that's the case, then don't come in, or tell your agent you need a later appointment.
I personally welcome questions. It's your audition, and if there's anything unclear, that's your opportunity—or rather, it's your obligation—to ask.
Also, if you have no interest in the project, do not accept the audition. More than I care to recall, people who have no intention of accepting the role have gone all the way through callbacks. It's a big deal at that point, and when you're under consideration for the role and spending the time and working on material, it's an investment for everyone involved.
Say Thanks
If it's from someone who has never auditioned for you before, there's something about that little thank-you note that's special. It might not be for everyone, but I like it. If I'm meeting with a business producer and we've never met before, I am certainly going to send a thank-you card. I think it's just doing good business. Is it imperative? No. I just think it's a nice thing to do.
Post cards are very important, because they're a way to keep us constantly updated. Whether you just worked on a new play, you signed with a new agent, you're going out of town, or you have a movie coming out, it's a way for actors to keep in touch with us.
Accepts pictures, résumés, and voice CDs by mail at Carol Hanzel Casting, 48 W. 21st St., 7th Fl., New York, NY 10010.